New England Revolution
Revolution face a tough early season test against FC Cincinnati
The top two Eastern Conference teams meet at Gillette Stadium on Saturday.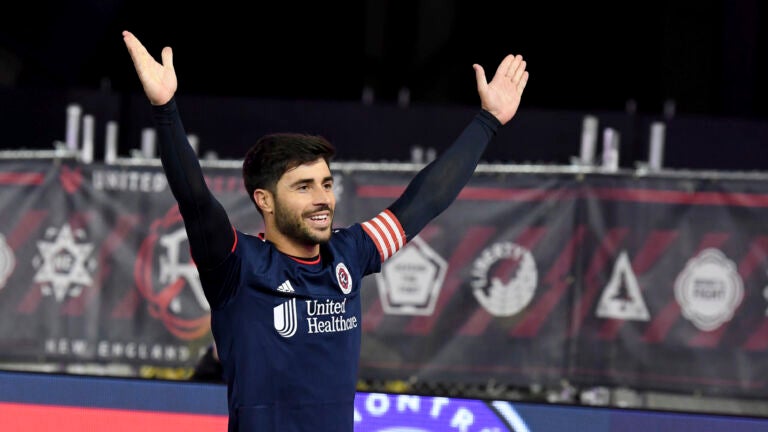 Through the first nine games of the 2023 MLS season, only two teams have reached 20 points. Both are in the Eastern Conference: The Revolution, and FC Cincinnati.
On Saturday, the two league leaders will meet at Gillette Stadium for an early season showdown, with kickoff set for 7:30 p.m.
And while New England head coach Bruce Arena once notably asserted that "in MLS, the second half of the season is the season," he sounded excited to see how his team — currently on six-game unbeaten run in all competitions — looks against Cincinnati.
"They're a very good team clearly," Arena said on Thursday. "How we match up, we're going to find out I guess on Saturday."
The Revolution are in the midst of the team's busiest stretch of games to this point in the season. After downing Sporting Kansas City 2-1 last Saturday, New England managed to grind out a 2-1 win over Hartford Athletic in Wednesday's U.S. Open Cup game.
Playing three games in eight days (Cincinnati on Saturday being the third) offers a chance for Arena to explore the depth options on the roster.
The midweek game in particular provided opportunities for some of the team's younger players. The Starting XI featured five Homegrown players for the first time in team history. Joshua Bolma, the No. 4 overall pick in this year's SuperDraft, also made his first Revolution start.
Though it was far from a perfect victory — Arena reluctantly subbed on several veterans to help make the difference — it was ultimately a positive result.
"They've all got some important minutes in the early going, so that's a positive," Arena said of the young players. "Hopefully we're going to see them continue growing throughout the season."
Fellow 18-year-olds Noel Buck and Esmir Bajraktarevic have seen the most playing time of the academy players. Buck in particular has looked mature beyond his years in MLS this season, having already garnered seven starts.
Revolution captain Carles Gil, who provided the winning assist against Hartford, praised the contingent of emerging talents.
"Obviously, they are young, young players because they are 17 or 18 years old, some 19," said Gil. "I think it will be very good for them to learn and to be involved in this type of season. And yeah, they are very talented, and they are showing that."
Going up against Cincinnati will present several challenges.
Brandon Vazquez and Brenner (who is expected to be available for the game after finalizing a $10 million summer move to Italian club Udinese earlier this week) will be a stern test for New England's backline. Sergio Santos, the club's leading scorer so far with four goals in 2023, offers a super-sub off the bench.
In midfield, Argentinians Alvaro Barreal (deployed as a left winger) and Luciano Acosta (Cincinnati's playmaker No. 10) are able to cut defenses open with incisive passes and (in Barreal's case) good crosses.
And in defense, 21-year-old Colombian center back Yerson Mosquera and former Chelsea defender Matt Miazga anchor a solid unit. Goalkeeper Roman Celentano, who earned his first U.S. national team call-up in January, is tied for the most clean sheets in the league to this point (with five).
In terms of tactics, Cincinnati head coach (and former Revolution player) Pat Noonan has used a version of 3-5-2, pressing opponents often (his forwards, perhaps counterintuitively, have played an important defensive role in this regard).
The Revolution faced a three-back system during the 1-1 draw away at the Columbus Crew earlier in April. New England looked like the better team for much of the game until winger Dylan Borrero received a second yellow card and was sent off in the 65th minute. Down a player, the field slowly tilted against New England until the home team found an equalizer in the final seconds.
Still, despite his ill-timed exit against Columbus, Borrero's role is likely to be crucial against Cincinnati. His ability to potentially get in the space between right wingback Ray Gaddis and center back Nick Hagglund (and run at them) could help to create a goal, as it did in the Columbus matchup.
Get the latest Boston sports news
Receive updates on your favorite Boston teams, straight from our newsroom to your inbox.