New England Revolution
4 takeaways from the Revolution's 1-1 draw with FC Cincinnati
Dylan Borrero's injury marred a physical but entertaining matchup between the Eastern Conference's top two teams.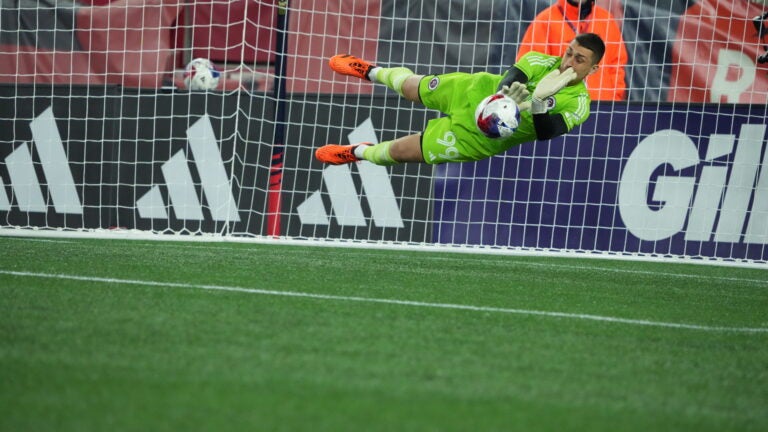 The Revolution finished with a 1-1 draw against FC Cincinnati on Saturday, as there was little to separate the two top teams in the Eastern Conference.
New England was put on the back foot early but recovered as the game progressed. Emmanuel Boateng's first goal of 2023 was enough to cancel out Yerson Mosquera's opener for Cincinnati.
A season-high crowd of 30,080 witnessed an interesting matchup, replete with an intensity and physicality that belied the fact that the playoffs are still more than six months away.
One unfortunate outcome was winger Dylan Borrero, one of the Revolution's most exciting young talents, exited on a stretcher with what head coach Bruce Arena admitted after the game could be a "serious knee injury."
Here are a few takeaways:
Slim margins in a choppy, physical game
Cincinnati came out flying in the opening minutes of the first half. The Revolution, undefeated at home so far in 2023, were largely trapped in their own half of the field as the visitors unexpectedly seized the early initiative.
"I think the first 10 minutes of the game, they dominated us physically," Arena said after the game. "We didn't adjust too well to it. It took us a little time."
The team was without forward Giacomo Vrioni, who sustained a training injury and was not named in the lineup as a result. Given that fellow forwards Gustavo Bou and Bobby Wood were also returning from injuries (and could only make the bench), 24-year-old homegrown striker Justin Rennicks got his first start of the season.
Though his movement was good, Rennicks was unable to consistently make too much of an impression on the game, and he struggled in an admittedly difficult situation (facing a trio of Cincinnati center-backs in the team's 3-5-2 formation).
As has been the case before when struggling to generate offense, the Revolution funneled attacks through outside backs DeJuan Jones and Brandon Bye. Both players answered the call, jumping into the game. It was Bye who eventually broke free down the right, crossing to the back post for Boateng's equalizer.
Both teams competed with an intensity befitting their successful starts to the season, with tackles flying all over the field. Revolution defensive midfielder Matt Polster as well as center-backs Dave Romney and Andrew Farrell played vital roles to help stifle Cincinnati's attempts to play in forwards Brandon Vasquez and Sergio Santos.
Borrero's injury could have major ramifications.
Having only just survived Cincinnati's initial stretch of dominance over the first few minutes, New England was dealt a serious blow when Borrero went down in the 15th minute. Instantly, the 21-year-old clutched his left knee and began calling for the training staff.
The moment happened when Borrero tried to jump over the attempted tackle of Mosquera. The New England winger landed awkwardly, which appeared to cause the injury. Mosquera, a fellow Colombian, was visibly upset afterward as he realized Borrero's injury.
While the team awaits tests on Borrero to confirm what happened, Arena voiced the obvious concern afterward.
"I haven't gotten confirmation, but I think it's a serious knee injury," Arena explained.
Borrero, who has two goals and an assist so far in 2023, is one of the team's emerging talents. His potentially extended absence has huge consequences. Should he miss part of (or all) of the remaining season, it inexorably shifts New England's entire game plan.
Djordje Petrović reminded everyone that he remains elite.
In close games, the Revolution have become confident throughout the Arena era of having superior play from the team's goalkeeper. That was undoubtedly true with Matt Turner (now with Arsenal), and it remains just as accurate with Turner's successor in New England's net, Djordje Petrović.
The 23-year-old Serbian was called upon yet again following the referee's controversial first-half decision to award a Cincinnati penalty kick despite replays appearing to show that Rennicks' hand-ball (the cause of the penalty) took place just outside the box.
Still, faced with the task of stopping Cincinnati playmaker Luciano Acosta's spot kick, Petrović proved himself up to the task.
It was Petrović's fifth career MLS penalty kick save, a feat he's accomplished in what is a league record time (just 31 career games). He made several additional saves during the course of the game that were, as usual, almost routine in their excellence.
Boateng and Noel Buck provide exactly what the Revolution needed.
Midfielder Latif Blessing missed the game having only recently returned from Ghana, where he was helping his family move to the United States. In his place stepped 18-year-old Arlington native Noel Buck, playing in his third game in eight days.
Buck shook off his fatigue and had one of his best days as a professional. Faced with a combative Cincinnati midfield that was quick to tackle, Buck navigated the middle of the field energetically, connecting with Revolution captain Carles Gil and helping spread the ball around.
Boateng, one of Buck's frequent options on the wing, also connected with Gil to help unlock the visitors' defense. His first-half cross to New England midfielder Esmir Bajraktarevic was nearly perfect. The only thing missing was Bajraktarevic's finish, which went sailing over the bar.
Though he is often used as a substitute, Boateng proved he can make an impact as a starter. His 45th-minute equalizer was the result of both his quickness and intelligence. If Borrero is indeed out for an extended period of time, Boateng could be one of the players Arena uses to help fill the void.
Newsletter Signup
Stay up to date on all the latest news from Boston.com