New England Revolution
Bruce Arena has tactical decisions to make ahead of the Revolution's road trip
Dylan Borrero's season-ending injury will be a difficult hurdle to overcome.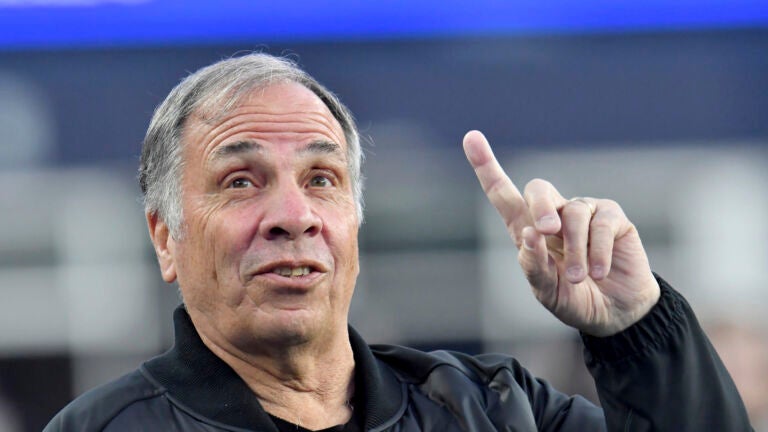 Having opened the season with a league best 6-3-1 record, the Revolution's early success will be tested over the next month as the team heads into a stretch that includes five out of the next six league games coming on the road.
This will mean trips to Toronto (this Saturday at 7:30 p.m.), Miami, Philadelphia, Atlanta, and New York City (to play NYC FC). The only home games in that time will be a midweek U.S. Open Cup clash with USL Championship side Pittsburgh Riverhounds on May 9, and a May 27 league match with the Chicago Fire.
By the time Bruce Arena's team emerges from the upcoming slate of mostly away games, he will likely have a much better idea regarding the capacity of his team. This is not only because of the road match-ups (several of which are against potential Eastern Conference contenders) but due to a series of recent injuries.
Injuries remain a concern
Center-back Henry Kessler, who opened the season as a fixture in the backline alongside Dave Romney, had surgery in late April on a hamstring injury, ruling him out for four months.
Forwards Gustavo Bou, Bobby Wood, and Giacomo Vrioni have all missed time. Several midfielders, including Tommy McNamara, Maciel, and Nacho Gil, have been sidelined all season. Injuries, a major factor in limiting the team's 2022 playoff push, remain an unwelcome subplot in 2023.
Granted, it hasn't all been bad news. Bou and Wood returned in Saturday's 1-1 draw with Cincinnati, and Vrioni trained with the team on Thursday (suggesting he could make a return in this weekend's matchup in Toronto).
Dylan Borrero is out for 2023.
Still, the most serious and impactful injury is that of winger Dylan Borrero. The 21-year-old Colombian international, who had totaled two goals and logged in assist in the opening weeks of his season, suffered a torn ACL during the draw with Cincinnati.
Even before the official confirmation regarding the extent of the injury, Arena noted on Monday that Borrero would have surgery and miss the rest of the season.
Beyond any statistical contributions, Borrero added a dimension to the Revolution attack that could prove difficult to replace.
His speed and ability to run at defenses had a positive influence on games for New England, providing a simple but effective outlet when facing an opposing team's press. This was certainly true in the 1-1 draw at Columbus on April 15, when Borrero's direct running and early cross led to the Revolution's goal.
How the Revolution might adjust without Borrero
Finding a way to overcome Borrero's absence in the lineup will be a challenge for Arena.
"I dont think it'll be a like-for-like replacement," the New England sporting director and head coach told 98.5 The Sports Hub's "Zolak & Bertrand" on Thursday.
"We have options," Arena added, referencing Bou, Vrioni, Wood, and Jozy Altidore. "It's just a question of making slight adjustments to our team to accommodate for those players, but I'm confident we can get the job done. We're obviously not going to replace Dylan with a player that [has] the same kind of characteristics, but there's no reason to believe we can't get guys playing closer to goal [and] that they can be dangerous in the attack."
Though the New England coach often appears uninterested in tactical discussions, his reference to getting "players closer to goal" appears to suggest that he's considering some changes on that front.
In truth, the answer may not even mean a formation shift. New England was already operating mostly out of a 4-2-3-1, with Borrero featuring as a true winger who was given license to cut inside.
The answer for Borrero's replacement likely revolves around Bou, the 33-year-old Argentinian. While he may prefer to play as an outright forward, Bou has shown himself capable of playing in a wide attacking role before. His game is certainly different than Borrero's, but is undeniably effective when he's in-form (especially given his chemistry with Carles Gil).
Arena could insert Bou in for Borrero and keep playing Emmanuel Boateng (New England's only other traditional winger) on the other side of the attack. Vrioni or Wood would start as the lone striker, and Gil would remain in his typical No. 10 role behind the striker.
Another potential option, which Arena has deployed before, is a 4-3-1-2 (also described as 4-1-2-1-2 with a "narrow diamond"). In that system, Arena could perhaps better utilize his personnel, with Bou partnering alongside Vrioni or Wood upfront, Gil as the attacking midfielder, Noel Buck and Latif Blessing as shuttling midfielders, and Matt Polster as a defensive midfielder.
Should he opt for the latter, Arena will count even more on outside backs Brandon Bye and DeJuan Jones to provide width for a narrower midfield. This can be an effective system, though it was occasionally shown to be vulnerable to counterattacks during some of its usage in 2022.
Whichever option is chosen, it will be immediately tested in difficult circumstances. Borrero's injury came in the team's final league home game until May 27. With road games ahead and beset by injuries, the Revolution will have to find some alternative routes towards goal.
Get the latest Boston sports news
Receive updates on your favorite Boston teams, straight from our newsroom to your inbox.