New England Revolution
3 takeaways from the Revolution's 2-0 win over Toronto
"We wanted to go out there and play and get after them."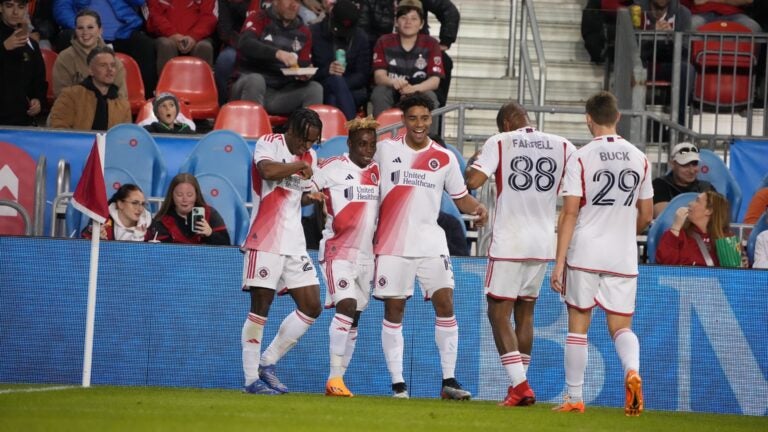 The Revolution pulled off a 2-0 win in Toronto on Saturday night, starting a difficult stretch of the team's schedule by taking all three points.
Forward Bobby Wood opened the scoring for New England in the 19th minute, pouncing on a turnover from Toronto center-back Sigurd Rosted. In a game that changed tempos multiple times — each team pressed the other at various points — the Revolution were able to largely contain the play of Toronto's Italian duo, Lorenzo Insigne and Federico Bernardeschi.
In the second half, left back DeJuan Jones added a second goal to give the Revolution some insurance, jumping on a rebound created by captain Carles Gil's initial shot.
As a result of the win, New England (7-3-1) stays atop the Eastern Conference.
Here are a few takeaways:
Another good sign in a road win.
New England is now 3-1-1 away from Gillette Stadium in 2023, a promising record for a team that struggled to hold late leads a season ago. The win on Saturday was accomplished by playing an aggressive game plan.
While Toronto pressed New England, it was the visitors who were able to utilize a press of their own to full effect on Wood's opening goal.
"We wanted to go out there and play and get after them," Bruce Arena explained after the game.
Both teams were playing short-handed, with Toronto missing several players in both midfield and defense. The Revolution, officially without Dylan Borrero for the rest of the season (due to a torn ACL) and Henry Kessler for several months (hamstring surger) were also missing Gustavo Bou on Saturday. According to Arena, Bou picked up a "slight injury" and wasn't able to feature.
In a sense, this made New England's performance that much more impressive. Missing three regular starters, Arena's team was still able to put together a composed, winning performance on the road against a talented Toronto attack.
The tactical evolution of DeJuan Jones.
As has been the case especially since Emmanuel Boateng was inserted into the Starting XI (with Borrero's injury), Jones has evolved from his traditional role as a left back.
Instead of merely overlapping along the touchline, the 25-year-old has begun drifting in-field more often. With Boateng playing as a traditional winger, Jones has started to run inside ("underlapping," as the term is called). Cutting onto his right foot, the left-sided Jones could also be designated as an inverted outside back.
"Ema being wide, that creates space for me inside, essentially attacking the goal," Jones had said following the draw against Cincinnati on April 29.
"It's all about the personnel," he added, explaining his partnership with Boateng. "A guy like Ema's really good at crossing the ball, so we want to give him as many opportunities to do so as possible. I'm just trying to find the space and get him in the one-on-ones out wide."
This paid off against Toronto, when Jones's inside run in the 62nd minute created space for Boateng out wide on the left wing. The latter's cross found Gil open in the middle of the box. The Spaniard's shot was saved by Toronto goalkeeper Sean Johnson, but Jones — having cut inside and toward goal — was in perfect position for the tap-in rebound.
It was a good illustration of how something that Jones has been adding to his game over time led to a goal, and helped New England get the road win.
He has been one of the more prominent players for New England when the team is in possession. His 80 touches on Saturday trailed only Gil (83) for most on the team.
Noel Buck showed versatility, defensive presence.
In what has become an early staple of the 2023 season, midfielder Noel Buck put in a solid performance all across the field on Saturday.
The 18-year-old Arlington native has been incredibly consistent for such a young player, and that proved to be a critical element against Toronto. Fellow midfielder Matt Polster had some rare misplaced passes (especially in the first half).
A year ago, a Polster off-night would've spelled serious trouble for the Revolution. So far in the new season, Buck and Latif Blessing (a newcomer in 2023) have helped bolster the midfield around Polster.
In the second half, Buck was shifted into a wider role as Arena used his substitutions (and Blessing was brought on, moving into the center). Even still, he continued to harass Toronto defensively, making a team-high seven tackles.
His ability to go forward combined with his defensive presence (and capacity to play multiple roles) is making him an increasingly indispensable presence for Arena.
New England will have a quick turnaround, with a midweek U.S. Open Cup matchup against the Pittsburgh Riverhounds at Gillette Stadium on Tuesday (7:30 p.m.) before heading back on the road next weekend for a tough test in Miami.
Get the latest Boston sports news
Receive updates on your favorite Boston teams, straight from our newsroom to your inbox.