New England Revolution
Takeaways: Revolution lose 2-1 to Red Bulls, Andrew Farrell has last-minute goal ruled out by VAR
Both Bruce Arena and Brandon Bye called it a "soft" decision to give Latif Blessing a red card in the 60th minute.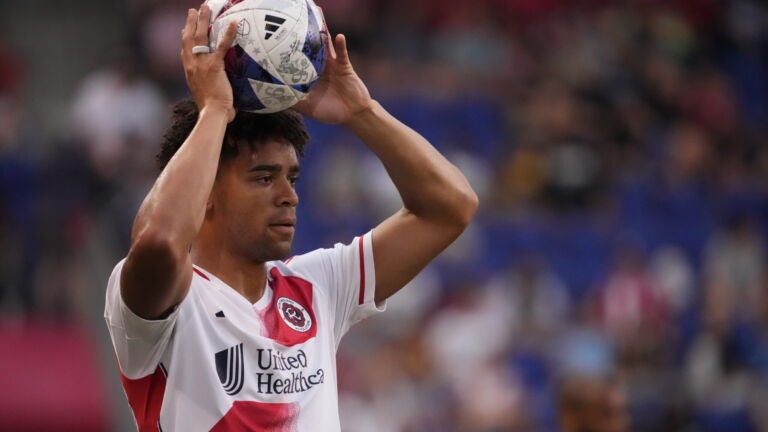 The Revolution lost to the Red Bulls 2-1 on Saturday at Red Bull Arena. The defeat ended a seven-game unbeaten run for New England, though it came in controversial circumstances.
Trailing 2-1 in stoppage time, the Revolution appeared to find a miraculous equalizer from an unlikely source: Center back Andrew Farrell, who unleashed a powerful drive from the outside the box following a corner kick that deflected in at the far post.
Unfortunately for New England, the goal was disallowed after a Video Assistant Referee (VAR) review, canceling what had briefly appeared to be a career goal for Farrell.
Here are some takeaways:
The importance of Carles Gil.
In general terms, the most important (long-term) takeaway from a Revolution standpoint was underlining the importance of Carles Gil, who was suspended for Saturday's game due to an erroneously awarded yellow card in last week's draw with Cincinnati. Without him, New England was a different team.
The 30-year-old midfield playmaker orchestrates overtly recognizable moments — his seven goals and nine assists so far in 2023 — but also many more subtle moments in possession. He keeps things running smoothly, making clever and efficient passes to open up space and allow for more coherent movement.
Without the skillful Spaniard, New England struggled to keep the ball for large periods of the game. At halftime, though the score remained 0-0, the Revolution had possessed the ball less than 40 percent of the time, and had completed just 66 percent of the team's passes.
Though things improved slightly in the second half, it was still a glaring issue for New England.
Should Gil miss any time due to injury, which has happened in the past, Arena will need to find a more convincing alternative plan and lineup than what was put together against the Red Bulls.
Officiating changed the game.
Not for the first time this season, a VAR decision might have potentially cost the Revolution points.
Even before the late drama involving Farrell's would-be goal, a sequence in the second half resulted in a major swing against New England. It started with the Red Bulls' opening goal, scored by New York midfielder Frankie Amaya on a header after he snuck between Revolution defenders.
One minute later, New England center midfielder Latif Blessing was late making a high tackle on Amaya, and was promptly given a straight red card.
Revolution players appealed on procedural grounds: That the tackle should've been given a yellow card originally, and that (per MLS rules) it could've been reviewed and potentially upgraded to a red card by VAR. But since the call went directly to a red card, there was no VAR check to confirm it. Both Arena and outside back Brandon Bye called it a "soft" red card.
The decision to waive off Farrell's late goal was, at the very least, debatable.
"That is extremely difficult to be clear and obvious," MLS analyst (and former Revolution striker) Taylor Twellman said in the Apple TV+ recap.
Even the initial amount of stoppage time — three minutes — drew an apoplectic appeal from Arena, considering the numerous substitutions made in the game (as well as the red card to Blessing). Ultimately, given Farrell's goal and the ensuing VAR review, the total stoppage time stretched to almost double that amount.
Set pieces almost won another tough road result.
Though reality got in the way of Farrell's moment, a wider angle takeaway was that the Revolution were very successful on corner kicks Saturday.
From a total of five corner kicks over the entire match (testament to New England's inability to keep the ball or create consistent chances), Arena's team still managed a goal and a goal that was only belatedly ruled out by VAR.
Brandon Bye, who accumulated the second most touches on the ball for New England during the game with not only Gil out but left back DeJuan Jones away playing for the U.S. national team, tied the game in the 76th minute with a powerful header on a Gustavo Bou corner kick.
In the long run, this ability to create goals from set pieces — something the Revolution have grown into over the course of the season — could prove to be an important part of a formula for grinding out tough results on the road.
Newsletter Signup
Stay up to date on all the latest news from Boston.com