New England Revolution
3 takeaways from the Revolution's dominant 4-0 win over D.C. United
Despite Wayne Rooney's aggressive tactical approach, New England eventually overwhelmed United.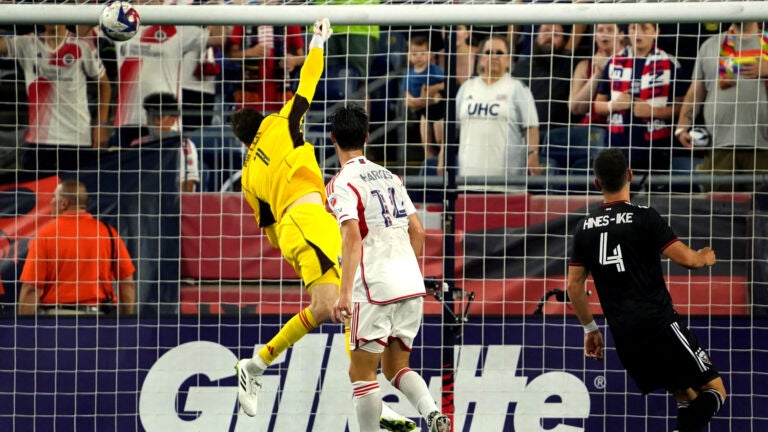 The Revolution started slowly but wound up with a convincing 4-0 win over D.C. United on Saturday night in front of 29,884 at Gillette Stadium. The victory extends New England's unbeaten run at home in league games to 13 in 2023.
After a relatively uneventful first half, Carles Gil jumpstarted things for the Revolution in the 45th minute, lofting a perfect cross into the box which Gustavo Bou flicked over the outstretched hands of United goalkeeper Tyler Miller to give New England a 1-0 lead. Moments later, a poor turnover from Miller and DC midfielder Russell Canouse led to Ian Harkes scoring on a well-weighted chip.
The second half produced a more lopsided display of Revolution dominance. A second goal from Harkes and an additional DC own goal capped a comprehensive display from Bruce Arena's team in their final MLS league game before the All-Star break and the Leagues Cup.
Here are a few takeaways:
D.C United went against the usual approach at Gillette Stadium.
During the Arena era in New England, a majority of teams traveling to play the Revolution at Gillette Stadium have adopted a similar strategy: sit deep in a low block and look to play on the counter (or on set pieces).
DC head coach Wayne Rooney opted for an opposite approach on Saturday. As has been the case for much of the season, he deployed a high line defensively. He also tasked Polish midfielder Mateusz Klich with man-marking Gil.
This plan, running counter to what Gil and the Revolution are used to facing in home games, appeared to cause some hiccups in New England's efforts to create chances during the first 45 minutes of the game. The usually ubiquitous midfield presence of Gil was held to a limited number of touches.
His — and the Revolution's — best chance for most of the half came on a counterattack, when Gil was able to shake free of Klich's tight marking, bursting down the middle of the field before firing a low shot that deflected off Wood and out for a goal kick.
Eventually, adjustments were made as Gil and his teammates picked up on the opposition's plan.
"We talked about it right away once we noticed it," Harkes said of United's man-marking strategy. "Carles was dragging him kind of out of the way. He's smart in the way he plays that, so we were able to open up some gaps and expose it."
This, plus a degree of good fortune, was how the opening goal was created. After Klich fell over trying to play a pass on the left side of the field, Gil quickly shifted to the right.
Free of his marker, Gil received the ball from Bou and was able to compose himself before looking up and spotting the Argentine's clever run into the box. Given time and space, New England's Gil-Bou duo made no mistake in combining for a goal.
Ian Harkes and the Revolution press exploited Tyler Miller's positioning.
With forward Bobby Wood back in the lineup after being rested in the midweek win over Atlanta United, New England was more able to press DC in order to win back the ball.
Though used sparingly on Saturday, the press delivered a turnover ahead of the Revolution's second goal. Coming in stoppage time of the first half, it began when Miller tried to play a pass into Canouse, who was standing in a central position.
Both Miller's pass and Canouse's touch were at fault, in retrospect, as Harkes quickly poked the ball away. Wood latched onto possession, and spotted Harkes tracking in behind the United defense.
Seeing Miller — who Rooney has notably committed to playing in the role of a sweeper keeper — well off his line, Harkes calmly chipped him. Though Miller was able to get a hand to the ball, he could not keep it from bouncing over him and (eventually) into the net.
"We've seen [Miller] do it throughout the year and Wayne Rooney talked about that as well," Harkes said of Miller's positioning. "He wants them to be aggressive, come out and attack the ball. We knew they'd take some chances and thankfully, we capitalized on them."
The game opened up in the second half, but not in the way United intended.
Trailing 2-0, Rooney subbed on forward Nigel Robertha and shifted systems. Klich went away from his man-marking of Gil, and United dropped deeper defensively.
The result, somewhat predictably, was that New England began to monopolize possession, with Gil orchestrating an increasing number of the Revolution's moves in the attacking third.
The Spanish playmaker — held to an abnormally low number of touches for much of the first half — finished the night tied with left back Ryan Spaulding for the most touches on the team. No longer tracked continuously by Klich, Gil flourished.
He combined with Harkes on the edge of the box for a flowing one-two, with the latter applying a clinical finish for his second goal of the night.
With the win, the Revolution remain second in the Eastern Conference. New England now heads into the All-Star break before beginning the new version of the Leagues Cup. Gil and goalkeeper Djordje Petrović will be the Revolution's representatives at Wednesday's All-Star Game (in which English club Arsenal — potentially with former Revolution goalkeeper Matt Turner in net — will feature as the opposition).
"Don't work too hard for MLS All-Stars," midfielder Matt Polster jokingly instructed Gil in the locker room following the game.
Despite enduring his team's share of challenges over the first part of the season, Arena praised his players for managing to still get results.
"We've had a rough 23 games with injuries, suspensions and [international] call-ups," Arena said. "Our guys have hung in there and have done well. I give them a lot of credit. They've done a good job."
Get the latest Boston sports news
Receive updates on your favorite Boston teams, straight from our newsroom to your inbox.