New England Revolution
Revolution players keeping focused amid injuries and off-the-field uncertainty
"I know there are a lot of things going on, and there's a lot of noise, but I think within the locker room, we're together."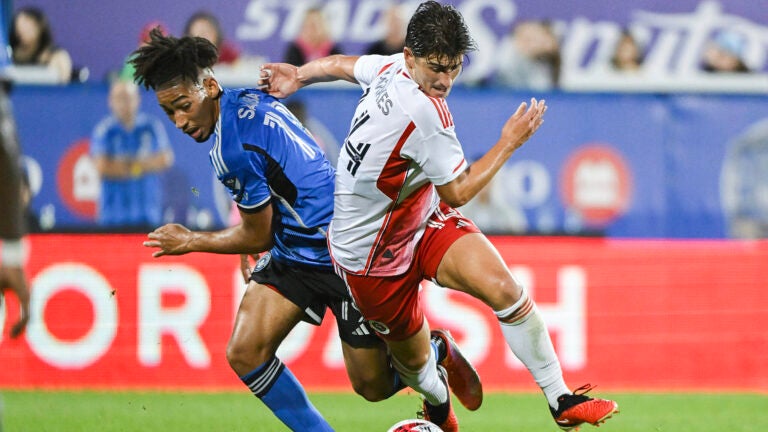 Despite the midseason departure of its All-Star goalkeeper, a lingering investigation of its head coach, and several injuries to important players, the Revolution are somehow still within striking distance of MLS Cup.
Though those circumstances are absolutely not of equal substance — Bruce Arena being placed on administrative leave for making "insensitive and inappropriate" remarks is a serious and unprecedented development in the club's history — the myriad of off-the-field events in the last month have been collectively referenced by players as "distractions."
From their point of view, the only thing they can focus on in the short term is the remaining slate of nine MLS regular season games, followed by the strong likelihood of a playoff appearance.
One player who has already come to epitomize the team's perseverance amid uncertainty is goalkeeper Earl Edwards Jr.
The 31-year-old was unexpectedly elevated to a starting role when Djordje Petrović was sold to Chelsea in late August. Petrović, the 23-year-old Serbian international, was lauded as one of the best goalkeepers in MLS. Now that he's gone, Edwards has had to quickly step up to fill the void.
"I think we've been a team, in terms of our leadership, that's always been put into circumstances where we have to figure things out on our own and adapt as players," he told reporters prior to a midweek win over the Red Bulls. "I think that's something that has prepared us all for the stuff we're facing today."
Edwards backstopped a makeshift defense — missing three of its regular starters — to a 1-0 win over New York. Making several saves in the process, Edwards helped extend New England's 13-game unbeaten streak at Gillette Stadium in 2023 regular season games.
It also helped the Revolution keep pace in the Eastern Conference. Through 25 games, New England has totaled 46 points on the season, currently good enough for second place (trailing only FC Cincinnati).
In purely soccer terms, it's been a successful season to this point simply based on the rash of injuries that have so far not derailed playoff aspirations.
The Revolution have recently been playing without two regular center backs (Henry Kessler and Andrew Farrell), both starting outside backs (Brandon Bye and DeJuan Jones), winger Dylan Borrero (out since May with a season-ending ACL tear), and forward Gustavo Bou. Fortunately, Farrell and Jones (and possibly even Bou) might be able to return as soon as this weekend.
Yet even finding additional goalkeeper depth to help replace Petrović has not been seamless. The Revolution are still waiting for a visa to be granted for goalkeeper Tomáš Vaclík, a 34-year-old Czech international signed as a free agent.
And of course, there is the situation with Arena, New England's head coach and sporting director. Placed on administrative leave by the club on Aug. 1 as the league investigation began, very little information has emerged since that time. There is also no timeline for its resolution.
"No one knows anything, trust me," remarked midfielder Matt Polster earlier in August. "I think I'll find out before through Twitter than anywhere else."
Polster, who has played almost exclusively as a defensive midfielder during his four season in New England, has recently been converted to a right back with Bye out for the year after suffering a torn ACL in August.
He summarized the team's professional response to the current moment.
"I think that we've had injuries throughout the entire year and have found ways to win," he told reporters. "I think when you look at that, I don't think anything changes. This team will continue to adapt. When you sell a key player like Djordje, it's difficult because you don't want to see your best players go, or your best players be injured, but we have a more than capable goalkeeper in Earl where I think he can step in and get the job done for us."
Edwards, speaking earlier this week, concurred. He may as well have quoted the oft-cited phrase of fellow Gillette Stadium occupant Bill Belichick: "Ignore the noise."
"I think it's something that we're equipped to handle," he explained. "I know there are a lot of things going on, and there's a lot of noise, but I think within the locker room, we're together. We're positive. I still feel like we're in a very good spot in the season to close out strong to make a run in the playoffs."
Maybe the most overt demonstration of the team's collective resolve came in a testy moment in Wednesday's win against New York.
After Red Bulls midfielder Frankie Amaya committed a strong and cynical tackle on Revolution playmaker Carles Gil, New England players leapt to their captain's defense.
In the view of center back Omar Gonzalez, it was a heartening display of unity.
"When Carles got fouled out there," Gonzalez remarked after the game, "guys ran from everywhere to come support him, and that's what you need: A team that's together that fights for each other. It's in those moments where you really feel that camaraderie, that chemistry.
"And anyone else comes at us again, we're all going to be ready."
Get the latest Boston sports news
Receive updates on your favorite Boston teams, straight from our newsroom to your inbox.