New England Revolution
4 takeaways as the Revolution clinched a playoff spot alongside a 2-2 draw against Chicago Fire
New England will be heading back to the postseason, but looked like a work in progress in a back-and-forth game.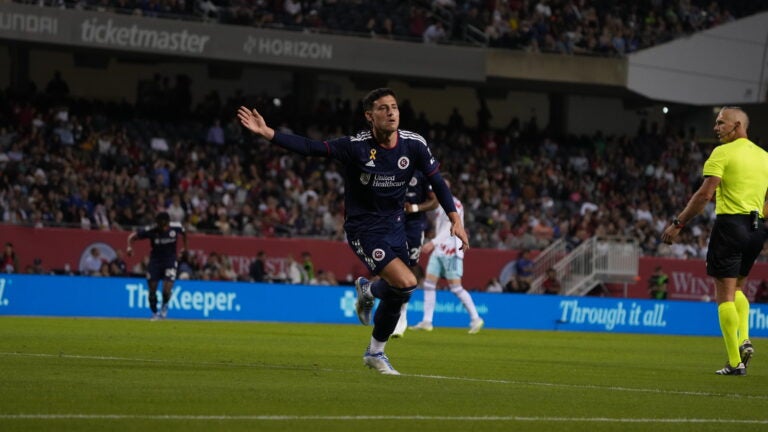 The Revolution earned a road point with a 2-2 draw against Chicago Fire FC at Soldier Field on Saturday night. Independently, thanks to the New York Red Bulls' 5-3 win over D.C. United (which finished earlier in the night), New England also officially clinched a playoff spot.
The game's result mirrored the news of clinching a postseason berth, as both felt underwhelming in the circumstances. Facing yet another team that entered the game on a prolonged scoring drought (Chicago, like Colorado the week before, hadn't scored in five league games), New England promptly surrendered a pair of goals.
But buoyed by goals of their own from winger Tomás Chancalay and team captain Carles Gil, the Revolution managed to avoid defeat.
The game was notable for showing signs of Clint Peay's tactical preferences, with Matt Polster deployed in a particularly interesting role (even if it didn't completely work).
Here are a few takeaways:
Revolution heading back to the playoffs.
After missing the postseason in 2022, New England — though clearly a club still reeling from multiple coaching changes — will be back in the playoffs.
With five games to go, the Revolution's seeding seems to change by the hour (the team is currently sixth). One point currently separates second place from sixth. This should be encouraging news for New England, a team that has traversed this minuscule gap in the last seven days after the loss to the Rapids a week ago.
Of the five teams crowding each other in the standings, the Revolution will play three of them (Columbus, Orlando, and Philadelphia) in the final weeks of the regular season. It should be a stretch that serves as a measuring stick for how New England stands in comparison to its eventual playoff opponents.
Clint Peay put his tactical stamp on the lineup.
After fielding a fairly recognizable 4-2-3-1 setup in his first game in charge as interim head coach in Colorado a week ago, Clint Peay made a few changes to the Revolution on Saturday.
Ian Harkes was rotated out for Noel Buck in midfield, and Matt Polster returned (with Andrew Farrell to the bench).
Polster, New England's 30-year-old versatile midfielder, was nominally deployed as a left back. DeJuan Jones, the Revolution's usual left back, was shifted to the right. But as quickly became apparent when Peay's team got the ball, Polster moved infield towards his more familiar position as a defensive midfielder.
This tactical tweak (Polster playing as what's known as an "inverted fullback") is a distinct choice from the Revolution interim coach. Essentially, the function of a player in that role is to take a space as a left back in defense, but move to a midfield role once his team has possession.
It created what could be described as a 3-2-4-1 for New England when they had the ball. Out of possession, Polster returned to his left back spot to, as Peay explained, add defensive width.
"Matt is a guy that we think is important and we wanted to be able to incorporate him in a way that would play to his strengths when we had the ball, but also could help us in terms of how we wanted to defend and give us width across the back," Peay said after the game of Polster.
The move had a profound effect on the game. On one hand, it elevated Polster — an underrated player who is gifted both in possession as well as defense — to a literal central role. Roaming inside when his team had the ball, he accounted for more touches (94) and passes (81) than anyone else in the game.
Still, Polster was constantly tasked with tracking back to his starting point as a left back as soon as New England lost the ball. This proved a tricky line to walk, even for an experienced player.
Both of Chicago's goals resulted from pushing the ball down the left wing. It was a corridor of space that the home team found periodically uncontested, especially when they were able to dispossess New England and strike on the counter.
"I think it's something that he's adjusting to and open to doing," Peay said, hinting at some of the growing pains for the Revolution in the new system. "I think with time it will get better, but overall, I thought he did a good job the first time out and trying to accomplish this difficult task of being an inverted outside back."
Peay's admission that "with time it will get better" seems to imply that he will continue with this system for at least another game. This is a tactical feature he's used while coach of Revolution II, and it could provide an answer to the quandary of replacing right back Brandon Bye (out for the season with a torn ACL).
As Saturday's game showed, however, the system is not without its drawbacks. New England is already a team vulnerable to counterattacks, and Polster's new role — at least in its first attempt — seemed to exacerbate the problem instead of remedying it.
Tomás Chancalay hit his stride.
The Revolution reportedly have an option to either extend the loan or acquire Chancalay on a permanent transfer after the 2023 season, per the terms announced when he joined the club on loan in July.
Based on his performance Saturday, Robert Kraft might want to get a check ready. The 24-year-old Argentine looked dynamic, creating the buildup to the first goal with a skillful turn before accelerating away from the Chicago defense.
He ended the sequence by smashing home the ball when it came back to him inside the box.
Chancalay possesses both skill and speed, something the Revolution have missed since winger Dylan Borrero went down with a season-ending injury in April. He's also not afraid to shoot, leading the game with six attempts.
Assessing the rest of his game, Chancalay showed he has the capacity — if not always the willingness as a committed practitioner of the "shoot first" mentality — to be a creator. He cut a 26th minute cross to Giacomo Vrioni in the box that looked perfectly on point. Unfortunately for New England, Vrioni wasn't able to redirect it towards goal.
Earl Edwards Jr. has filled in admirably after Djordje Petrović's departure.
With the transfer of All-Star goalkeeper Djordje Petrović in August to Chelsea, New England has turned to Earl Edwards Jr.
The 31-year-old has taken on the impossible task of trying to replace a keeper of Petrović's quality with admirable professionalism. On Saturday, he made five saves, several of which were anything but routine.
Edwards also looked comfortable with the ball at his feet, picking out a few line-breaking passes.
With 34-year Czech goalkeeper Tomáš Vaclík (who New England recently signed as a free agent to help fill the loss of Petrović) now training with the team, Edwards could head back to the bench soon, but it won't be because he has played poorly in this stretch of games.
Neither Chicago goal could be blamed directly on him. Both resulted from shots inside the box, and — especially with Polster vacating the left back spot — were derived more from poor marking and positioning than anything else.
Newsletter Signup
Stay up to date on all the latest news from Boston.com