New England Revolution
3 takeaways as the Revolution fall 3-2 to Orlando City
New England has now conceded multiple goals in four of the five games of interim head coach Clint Peay's tenure.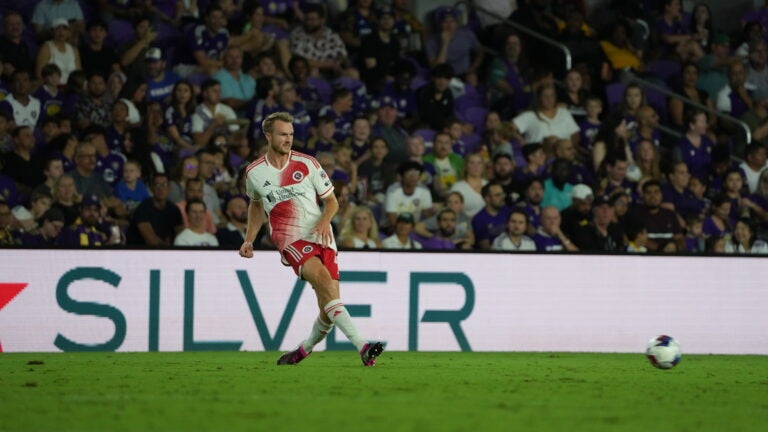 The Revolution fell 3-2 to Orlando City on Saturday night at Exploria Stadium, a second consecutive loss for interim head coach Clint Peay.
The defensive struggles continued for New England, having now allowed multiple goals in four of Peay's five games in charge.
Orlando attackers Duncan McGuire, Facundo Torres, and Iván Angulo tallied goals for the home team while New England Captain Carles Gil provided the only bright spot for the visitors, scoring in both halves (his second coming in stoppage time via a deflection).
Here are a few takeaways from a forgettable night for the Revolution:
The defensive issues continue.
As has become an unfortunate theme for the Revolution in recent weeks, the team was unable to defend with consistency, especially against counterattacks.
Orlando, harnessing the clever passing of midfielders Mauricio Pereyra, Cesar Araujo, and Wilder Cartegena, eventually settled into the game and outmaneuvered the attempted Revolution defensive press.
Though Peay's aggressive game plan led to several early turnovers from Orlando inside their own half, the Revolution were not able to take advantage (Argentine winger Tomas Chancalay came closest, hitting the crossbar in the 24th minute).
The other issue for New England was with Orlando outside backs breaking forward and causing defensive overloads. This played a large part in multiple goals for the home team.
"They get both outside backs moving forward," Peay said after the game. "I thought that on goals two and three in particular that we didn't do a good job of dealing with overloads that they created high up the field. And then obviously backtracking a little bit.
"They do a good job of attracting you," Peay said of Orlando's movement when in possession, "so they were patient on the ball, were able to pull [Mark-Anthony] Kaye and Noel [Buck] a little bit, and then get in behind and now it's a foot race into the box. Again, I didn't think we did a good job in terms of managing those moments."
The second half brought a change of system.
Trailing 3-1 at halftime, Peay opted to make a trio of substitutions, moving from the inverted fullback system he's used for several games to a more traditional 3-5-2 (with wingbacks DeJuan Jones and Emmanual Boateng — one of the players subbed on — providing width in possession).
The changes seemed to provide more certainty in terms of the team's positioning, and Boateng in particular looked dangerous as always crossing from his favored left wing.
"I just felt more comfortable on the field and in that position," said Matt Polster of the second half switch. Polster, who has operated as a hybrid outside back-midfielder in his inverted role, moved to a more familiar defensive midfield spot in the second half.
"I think some guys felt more comfortable," Polster said of the switch, "and were able to float around, and pick up good spots on the pitch to hurt Orlando at times."
Of course, adding an extra player to defense — along with shifting Chancalay to a forward position alongside Gustavo Bou (subbed on at halftime for Giacomo Vrioni) — meant taking numbers out of the midfield. This didn't escape the attention of Orlando, who promptly began monopolizing possession.
It was only after Orlando subbed off a trio of attackers (Pereyra, Torres, and McGuire) that the Revolution regained a foothold in the game, but it proved to be too little too late.
Henry Kessler makes his return.
Almost six months since making his last appearance for the Revolution, center-back Henry Kessler was back on the field Saturday. Though it didn't end up making a difference in the scoreline, the 25-year-old's return is an undeniable piece of great news for a team in desperate need of it.
Sidelined for months after hamstring surgery, he reacclimatized quickly and did not look off the pace of the game.
As with all of the games remaining in the regular season, the Revolution view it through the prism of the oncoming playoff picture. Recent losses have sent the team plummeting down the Eastern Conference standings, and potentially looking at a postseason spent mostly on the road.
Yet if Kessler is able to return to something close to his pre-injury form, it could help shore up New England's backline, potentially providing the much needed stability to achieve better results on the road.
Newsletter Signup
Stay up to date on all the latest news from Boston.com