New England Revolution
3 takeaways from the Revolution's 3-2 loss in Nashville
Another change in the system produced disappointingly similar results from a defensive standpoint.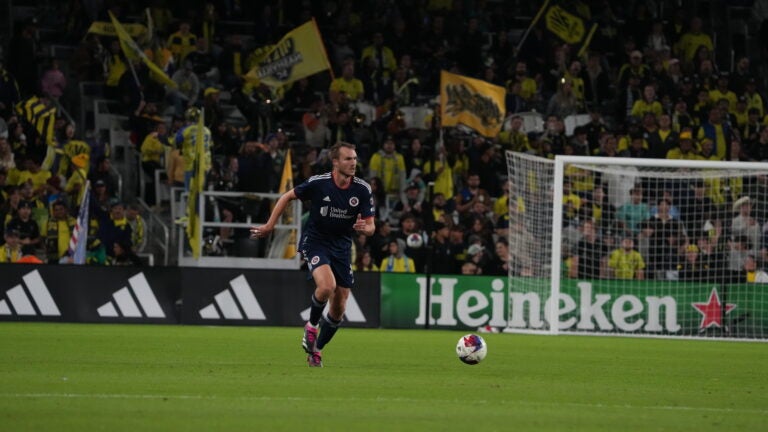 The Revolution fell 3-2 in Nashville on Saturday, a third consecutive defeat for Clint Peay's team.
New England produced a disastrous opening 45 minutes and trailed 3-0 at halftime. In the second half, behind a bevy of substitutions, the Revolution pulled back two goals (both scored by Tomás Chancalay).
In the end, it was too steep of a hill for New England to climb. Playing without both DeJuan Jones and Noel Buck (both away for international call-ups), the already short-handed Revolution roster was stretched noticeably thin.
With a playoff spot already clinched, it's yet another week where the Revolution lost to a team they might see again in a few weeks (Nashville has also clinched a postseason berth). New England falls to fifth in the Eastern Conference as a result of the latest loss ahead of the final regular season game next Saturday at Gillette Stadium against the Philadelphia Union.
Switching to a three-back system did not work.
After unsuccessfully trying to implement an inverted fullback system over the past few games, Peay — New England's interim head coach — shifted to a fairly aggressive 3-5-2, with Nacho Gil and Emmanuel Boateng as outside wingbacks.
Despite some early promise (with Carles Gil almost giving the Revolution an early lead after his run through the middle of the Nashville defense resulted in a curling shot sailing inches wide of the right post), a harsh reality soon set in.
Facing a disciplined Nashville lineup adept at striking on the counter and converting crosses, the Revolution suffered breakdowns from virtually all aspects of the defense aside from the goalkeeper. Nashville tallied two goals from dead-ball restarts (a throw-in and a free kick), each culminating in a cross. The third goal resulted from a classic counterattack.
Given that neither Nacho Gil nor Boateng are regular wingbacks, both — while spirited in their commitment — were simply less able to provide defensive cover. Each of the first two goals resulted from the home team finding space either in between New England's center-backs and wingbacks, or in behind the latter when they were caught upfield.
In addition, the promise of defensive solidity with three center-backs on the field failed to materialize. Miscommunications led to poor marking, and Nashville took full advantage. Even in midfield, Matt Polster (returning to his favored role after several games as a hybrid left back) and Mark-Anthony Kaye were caught out of position on the third goal, as well as several other sequences in which Nashville playmaker Hany Mukhtar was able to dribble in open space through the middle.
And for all of the criticism that Peay caught for the supposed vulnerability of his inverted fullback system against counterattacks, the Revolution looked equally (if not more) susceptible to counters on Saturday in a 3-5-2.
Despite garnering just 39 percent of the possession at halftime, Nashville held a commanding lead.
Tomás Chancalay led an admirable second half effort, but a larger issue remains.
In response to the 3-0 debacle, Peay made three changes at halftime. Tommy McNamara, Jack Panayotou, and Ryan Spaulding came on for Nacho Gil, Kaye, and Boateng. New England shifted to a flat 4-4-2, with center-back Henry Kessler shifting to right back (and Spaulding entering to play his natural left back role).
The results improved, though it was also partly due to Nashville removing center-back (and U.S. international) Walker Zimmerman given the healthy lead, with perhaps one eye on the playoffs.
Chancalay, working well in combination with Carles Gil and Gustavo Bou, pulled back two goals for the visitors. It created an enjoyably dramatic final 20 minutes, even if the Revolution looked equally — if not slightly more — vulnerable at the back as Peay continued to ratchet up pressure going forward.
The defeat, as with several in recent weeks, offered more questions than answers for Peay and New England management. And with only one more game before the start of the playoffs, the interim coach acknowledged that he doesn't know who his best 11 players are.
"I mean, obviously, tonight was tough," he said in response to Seth Macomber of The Blazing Musket. "We were missing several players, a big one being DeJuan Jones. I think the best lineup is still to be determined, to be honest with you.
"We still have some guys who are still trying to get match minutes, Kessler, Bou, and we're still trying to figure out which guys are going to show up and commit to playing the game the way it's supposed to be played for 90-plus minutes."
Jacob Jackson's MLS debut had some nice moments despite the result.
In a surprising move, Peay handed 2022 first-round pick Jacob Jackson his first MLS start.
It was an identifiably tough assignment for Jackson, even before it became clear that Nashville had the upper hand on New England's defense.
While he might want to have the third goal back — though it was well placed in the corner by Nashville striker Sam Surridge — Jackson played as best as he could in the circumstances.
His first half save on a stinging effort from Mukhtar gave a glimpse at his shot-stopping ability, and he added a few more saves in the second half when the Revolution began throwing more numbers forward.
Newsletter Signup
Stay up to date on all the latest news from Boston.com