New England Revolution
3 takeaways from the Revolution's regular season finale win vs. Philadelphia Union
New England will now face Philadelphia in the first round of the MLS Cup playoffs.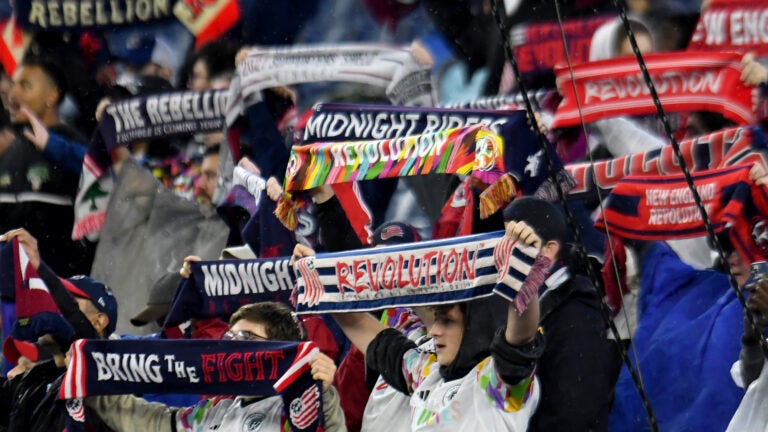 The Revolution rallied to earn a 2-1 win over the Philadelphia Union in the 2023 regular season finale on Saturday evening, and now prepare to face the same opponent in the first round of MLS Cup playoffs.
A pair of goals from Gustavo Bou was enough to overturn a 16th-minute opener from Union forward Julián Carranza.
Despite the win, the Revolution were unable to overtake Philadelphia in the standings on MLS Decision Day, thus meaning that the Union (as the fourth seed in the Eastern Conference) will hold home-field advantage over New England (fifth seed) in the best-of-three series.
Here are a few takeaways:
A return to a familiar system (and a few familiar faces) brings back winning ways.
After a fascinating but unsuccessful tour of various systems and formations over the past few weeks, interim head coach Clint Peay returned to an old friend on Saturday: 4-2-3-1.
Granted, the selection against Philadelphia was easier than a week ago against Nashville, as Andrew Farrell (injury), Dejuan Jones (international duty), and Noel Buck (also international duty) were all back in the squad.
Jones moved again to right back, with Ryan Spaulding coming back into the lineup as a left back. Farrell paired with Dave Romney in the center.
Matt Polster was back in his favored defensive midfield role, while Tommy McNamara made his first Revolution start since MLS Decision Day 2022. In attack, Noel Buck operated as a shuttling center midfielder, while Carles Gil flitted in and out of space as a No. 10 playmaker. Tomas Chancalay remained mostly in a winger position, but added some customary runs inside and recorded five shots as he kept active in the attack.
At forward, Bou — though he does not prefer to operate as a lone striker — showed his effectiveness nonetheless.
New England enjoyed long spells of possession, with Gil, Chancalay, and Bou all proving adept at moving to find space. Each had passing averages at or above 90-percent for the game, an unusually high percentage for a collective group of attacking players.
With Philadelphia operating with a three-player back line (that looked more like a 5-2-3 in defense), New England was able to dominate the midfield. This was especially true with Bou dropping deeper to connect with Gil and Buck.
Gustavo Bou might be getting back into form at the perfect time.
Though he missed time due to injuries in the second half of the season, the return of Bou — and the fact that he tallied two goals on the eve of the playoffs — seems to bode well for New England's postseason chances.
Befitting his nickname, "La Pantera," the 33-year-old Argentine proved hard to track for the Union defense. Far from a traditional center forward, Bou often found space in wider areas, and was effective with his hold-up play when he received passes.
Contrasting his performance with other Revolution striker options (Giacomo Vrioni and Bobby Wood), Bou provided a multifaceted attacking approach. It was unsurprising that he was far more involved — tallying 52 touches and making three key passes on top of his two goals — in the build-up play, and that fellow possession-oriented players like Gil and Chancalay looked more comfortable with him as the forward in a single-striker formation.
Even facing three opposing center backs, Bou was able to catch them out of position on several occasions, including on his decisive goal (made possible by a quality Gil assist). His run from deep was not tracked until it was too late, though Union goalkeeper Andre Blake made an uncharacteristically poor bid at a save.
For the Revolution to have any chance against Philadelphia (or anyone else) in the playoffs, Bou (and Gil) need to be at their best. Each looked strong on Saturday, potentially signaling good news going forward.
Looking ahead to the playoffs.
Despite earning a decidedly deserved win over Philadelphia, the Revolution will have a difficult test in a playoff series against the Union. Whereas the shock upset win against Philadelphia in the playoffs in 2020 came in a single-elimination matchup (the Union were then the Supporters' Shield winners), this time New England will have to defeat their rivals twice to advance.
MLS is expected to release the full playoff schedule on Oct. 22. The Union will host the first and (if necessary) third games, with the middle matchup being played at Gillette Stadium.
As Peay's team showed on Saturday, they are fully capable of keeping the ball and outplaying Philadelphia (a team that, conversely, does not default to a possession-oriented style).
Still, the win on Saturday was not without its nervous moments, including an apparent 86th-minute Union equalizer off of a free kick that was ruled out for offsides.
In addition, the Union are also built to exploit the kind of turnovers that have put the Revolution into so many difficult moments in defensive transition over the past few weeks.
In other words, the postseason matchup promises to be an enjoyable clash of styles.
Newsletter Signup
Stay up to date on all the latest news from Boston.com