New England Revolution
Former Revolution coach Thomas Rongen discussed seeing his life portrayed in 'Next Goal Wins'
Rongen also recalled getting hired by Robert Kraft after a single conversation, and his first run-in with the "hard-headed" Bill Parcells.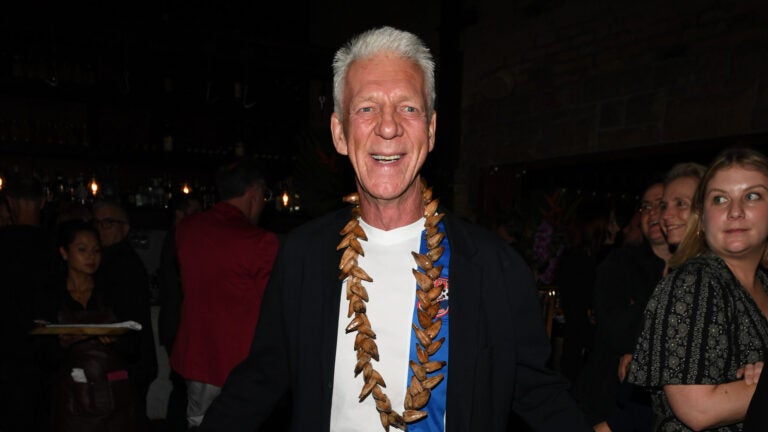 Having spent more than 50 years around the game of soccer — a time that included a short spell as head coach of the Revolution — Thomas Rongen has no doubt in his mind what his "most joyous moment" in the sport has been.
It wasn't winning Major League Soccer Coach of the Year in the league's inaugural season in 1996, nor was it winning MLS Cup with D.C. United in 1999. It wasn't even getting to play alongside a fellow Dutch hero of his, Johan Cruyff, during his time with the Los Angeles Aztecs in 1979.
Rongen, who spoke to Boston.com in a recent interview, had an emphatic and topical response.
"It really was that month in American Samoa, which to me, from a personal standpoint and a professional standpoint, was probably the most rewarding thing ever."
Rongen's brief but memorable time in American Samoa came in 2011, when he was put in charge of its men's national soccer team. As a nation that infamously suffered the most lopsided loss in international soccer history (falling 31-0 to Australia in 2001), it was a difficult job.
Yet Rongen was able to eventually coax better performances from the team, culminating with the nation's second ever win. The story became the subject of a British documentary in 2014 as well as a recently released film directed by Taika Waititi called "Next Goal Wins."
The film, which opened on Nov. 16, follows Oscar-nominated actor Michael Fassbender starring in the role of Rongen.
"It's so surreal," Rongen, now 67, says of the attention the story has gotten.
He summarized the whirlwind feeling of his journey.
"If you go back to 2010 when I got a call from the president of the United States Soccer Federation, when I was a coach of the [U.S.] under-20 team, and he knew I had some time," Rongen remembered. "He goes, 'We try to help our territories and American Samoa is one of them that really, desperately needs technical help.' I find out they're the worst team in the world and haven't won in 20 years.
"We win, it turns into a documentary, and here we are," Rongen joked, "Michael Fassbender is playing Thomas Rongen in a Taika Waititi movie. It's pretty much like, how's your day going?"
Having now seen the film multiple times, Rongen pointed out that Waititi took a few liberties with the script that differed from the real life version.
"That caught me by surprise," Rongen admitted. But after watching a second time, he began to understand the logic behind it. One major change was that Waititi made Rongen's character (via Fassbender) more of a contentious figure for the first part of the film.
"So from a pretty nice guy from the Netherlands that's open to every culture, Michael Fassbender actually plays the opposite," Rongen said. "Waititi said, 'In every story, I need a villain.'"
Still, Rongen concluded that Waititi's methodology remained true to the heart of the story.
"It's still a great underdog story," he explained. "It's still a wonderful human interest story. It's still so well done with Taika's brand of humor."
One subplot of the movie is the story of Jaiyah Saelua, a faʻafafine (which in Polynesian culture is a reference to a third gender). Saelua, a 6-foot-2 center back, became the first trans woman to play in a FIFA World Cup qualifier.
But while the film portrays an initially rocky relationship between the coach and the players (including Saelua), Rongen noted that his actual experience included an important difference.
"I'd asked several people after I'd seen all the passports of the players, 'Are they calling her Johnny?' And actually, one of the players, the captain said to me, 'Coach, if you can call her Jaya, that would be unbelievable.'"
Previously, all coaches who came to American Samoa from other places around the world had refused to call Saelua by her name. Rongen took pride in distancing himself from his predecessors.
"I said, 'Jaya, your Jaya,' which also meant that the remainder of the team embraced the transgender community."
It was part of a larger effort to help build commonality and a restored team spirt. The culmination of his efforts came to fruition later in 2011 in the World Cup qualifier against Tonga (covered in the movie).
Rongen, who now works several soccer-related roles in Florida (including as a television commentator for CBS Sports and beIN Sports), has enjoyed a long and fascinating career in the game aside from his notable time in American Samoa.
In 1997, following a successful season leading the Tampa Bay Mutiny to the best record in the first season of MLS, Rongen was brought in to coach the Revolution.
"He hired me at his place," Rongen recalled of meeting Revolution owner Robert Kraft. "He came in and said, 'It's a pleasure to meet you, I'm Robert Kraft. You know I'm Jewish?' I said, 'Yes, Mr. Kraft.' He said, 'I also know that you are Dutch. The Dutch were very good to the Jews in the Second World War. I don't know anything about soccer, but I've heard you're a pretty decent coach and I'm going to hire you.'
"So that was my interview process," Rongen joked. His time with the team was up and down, with a playoff appearance in 1997 at the end of his first season, but a string of losses in his second year (eventually leading to his resignation).
Still, Rongen enjoyed New England, especially his run-ins with "that hard-headed coach" of the Patriots (who he eventually remembered was Bill Parcells).
"The first two days I'm walking through the offices that are all intertwined with the Patriots' [offices], and I open the door and it's Bill Parcells, who I didn't know at that time," Rongen said. "I saw this big person giving an interview. So he makes eye contact with me, so I go, 'Should I go interact?' I went in, and he comes up to me after the interview and with a little bit of a level of aggression, like, 'Who are you?' I go, 'I'm the new soccer coach.'
"'Oh, I used to go to the New York Cosmos, you know,'" Parcells told Rongen, recalling the famous NASL team. "He goes, 'Do you want to come to practice? Robert Kraft is not even allowed to come to the training sessions.'"
It was representative of Rongen's experience over the years, traveling the world as first a player and later a coach. His optimistic approach to the game, he explained, has led to some incredible moments.
Rongen, reflecting on his life in the game, credited his Dutch roots, comparing it to his experience with American Samoa.
"We are a very small country," Rongen said of the Netherlands. "So in order for us to do anything for that matter, and in this case maybe competing on a soccer side, we have to be progressive.
"We are below sea level," Rongen pointed out of his native country. "So it means that for our survival, we have to be innovative. A small country that thinks big, a country that loves to travel, a country that embraces cultures, because we're a pretty liberal bunch of hippies most of the time. So yeah, the journey's been absolutely spectacular."
Get the latest Boston sports news
Receive updates on your favorite Boston teams, straight from our newsroom to your inbox.