New York Yankees
Derek Lowe revels in postseason return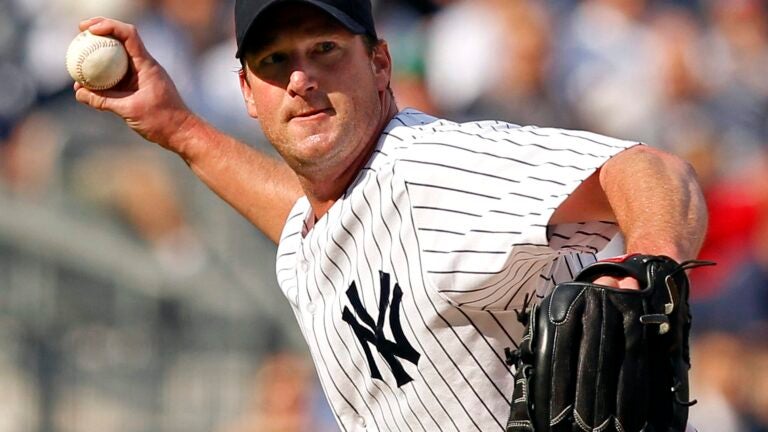 NEW YORK — Derek Lowe won the deciding game of three postseason series for the Red Sox in 2004, an accomplishment he will never forget.
But earning a place on the postseason roster of the Yankees this season is something he also treasures.
"This has been totally unexpected,'' Lowe said. "That's what makes it so much fun.''
Now 38, Lowe was at a career crossroads in August when the Indians designated him for assignment and released him eight days later. He was 8-10 with a 5.52 earned run average in 21 starts for Cleveland and appeared finished.
The Yankees, desperate for pitching at the time, signed Lowe Aug. 13 with no promises beyond giving him a chance to pitch out of the bullpen.
Two months later, Lowe was in the clubhouse at Yankee Stadium celebrating the team's 3-1 victory against the Orioles in Game 5 of the Division Series on Friday night.
Lowe appeared in one game, retiring the only batter he faced in Game 4. But he remains on the roster for the ALCS against the Tigers.
Lowe was no lock for a roster spot. But he had a 3.04 ERA in 17 relief appearances for the Yankees and struck out 14 over 23⅔innings. That was enough to merit a place in the bullpen.
"Nothing was guaranteed,'' Lowe said. "I had to show them I could help the team. I really appreciate the opportunity. It's great to get a chance to be in the postseason again.''
This is Lowe's eighth postseason appearance in 16 seasons. He went four times with the Red Sox and twice with the Dodgers before going with the Braves in 2010. In a clubhouse full of accomplished veterans, Lowe fits in well.
"It's funny to be playing for the Yankees after playing against them so long,'' he said. "But it's a great team to be a part of. It's an enjoyable experience in every way.''
Lowe is a Michigan native, and playing the Tigers in the ALCS only adds to the thrill.
"Going home will be special,'' he said. "It's a ticket nightmare but really fun.''
Lowe is 175-157 in his career with 86 saves. He has held every role a pitcher can have, a résumé that could serve him well in free agency this winter.
"I still love to pitch,'' he said. "Here I am.''
.   .   .
The Tigers had to stay in Detroit on Friday night until the Orioles-Yankees game was decided. They arrived at their Manhattan hotel just before 1 a.m. on Saturday. With no days off between the series, it's a busy schedule.
Detroit manager Jim Leyland doesn't want to hear it.
"I don't worry about the small stuff. That's small stuff to me,'' he said. "At this time of the year if you are playing and you are complaining, there is something wrong with you. We are still playing and we are in the final four.''
.   .   .
Hiroki Kuroda will start on three days' rest for the Yankees on Sunday. With the condensed schedule, he was the best option for manager Joe Girardi.
"I am not crazy about it, but there is not really a lot I can do about it, so we have to live with it,'' Girardi said. "The extra wild card was added, and this is a function of that because the TV schedule was set.''
Kuroda allowed two earned runs over 8⅓ innings against the Orioles in Game 3 and threw 105 pitches. The 37-year-old was 16-11, 3.32 during the season and faced the Tigers twice, allowing five earned runs over 13⅓ innings.
"This is probably the shortest rest that I have ever had in my baseball career, but at this point of the season we can't really be talking about anything but to win,'' Kuroda said via an interpreter. "So I'm just going to prepare myself to win this game, like I always have been, throughout the season.''
The Tigers will start Anibal Sanchez. He faced the Yankees Aug. 13 and allowed seven runs in three innings.
.   .   .
Alex Rodriguez was back in the Yankees' lineup for Game 1, batting sixth . . . The Yankees scored 16 runs and hit .211 in the Division Series. "The big thing is learning how to relax,'' Girardi said. "I think the other thing that people don't talk a whole lot about is usually the teams that get to the playoffs have the best pitching. So runs are going to be at a premium. It is cooler, the ball is probably not going to travel like it does in the summer, there's a lot of factors that go into, I think, less runs being scored. With days off, bullpens are fresher and you can use your top-notch guys a lot more, and you push them more. I think that's why you see less runs.'' . . . The Yankees dropped infielder Eduardo Nunez off the roster and added righthanded reliever Cody Eppley . . . The Tigers beat the Yankees in Division Series in 2006 (3-1) and '11 (3-2).