Patriots
5 things to know about Ryan Izzo, the Patriots' newest tight end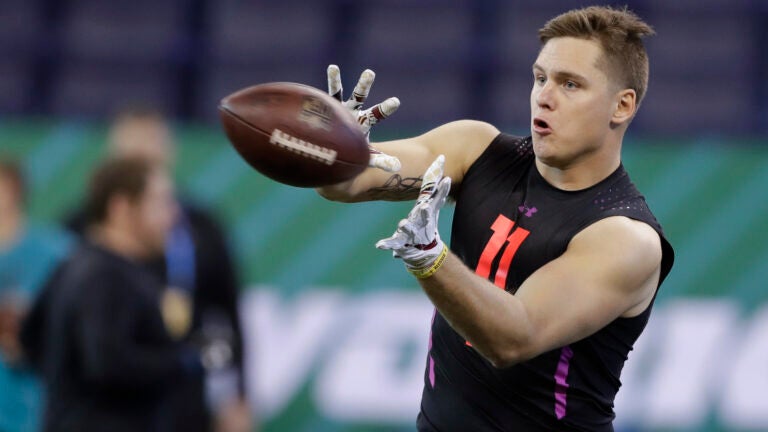 Ryan Izzo has experience joining a team with a star already in place atop the positional depth chart. When he matriculated at Florida State, Izzo slipped under the wing of Nick O'Leary, the greatest tight end in school history and current Buffalo Bill. Izzo learned enough from O'Leary to join him in the AFC East.
New England selected the 6-foot-5, 256-pound tight end in the seventh round, No. 250 overall. He'll compete with Dwayne Allen, Troy Niklas, Jacob Hollister, and Will Tye for the right to back up the greatest tight end in Patriots history, Rob Gronkowski.
When Izzo was asked after the draft whether he felt excited to learn from No. 87, he responded, "Of course. It's somebody that you watch on TV and you try to model your game after every day with everything you do. I'm really excited for the opportunity."
Here's what you need to know about the Patriots' new tight end:
He loves to block.
In addition to his 54 receptions for 761 yards and six touchdowns in Tallahassee, Izzo set the edge for three 1,000-yard rushers in Dalvin Cook (2015 and 2016) and Cam Akers. The New Jersey native thoroughly enjoys putting his hand in the dirt and blocking.
"I think there isn't a lot of tight ends in our age now that are able to block and enjoy blocking, as I do, and have the success that I do, and also be able to get out and make plays when they have opportunities in the pass game," Izzo said, per the New Jersey Herald. "Also, my toughness. Me not missing any games my entire college career and starting three years in a row, I think is really something."
One AFC Director of Scouting agreed that blocking is a strength in Izzo's game.
"He brings it as a blocker," the executive told NFL.com. "So many of these guys are really soft now and you have to cut through the clutter just to find out if they are tough enough since they aren't really asked to block that much anymore. Izzo is a real blocker."
He was preparing to go undrafted when the call came.
Izzo met with the Patriots for a formal interview at the NFL Combine, and sat down with Nick Caley when the tight ends coach visited Florida State. But the call on Saturday with Bill Belichick on the other line still came as a surprise. There were just seven picks remaining in the draft when his phone rang.
"I was actually talking to my agent maybe two or three minutes before that," Izzo said. "I was actually in the room with my family discussing options for me if I didn't get drafted and then I got the call so I was really happy about it."
He had a run-in with the law involving 'Turntle' the turtle.
The headline is not ideal: "Aguayo, Izzo not charged with killing of fraternity's turtle."
In December 2016, Seminoles kicker Ricky Aguayo was involved in a fight outside the Pi Kappa Phi fraternity house. Aguayo told police that he was walking past the house when people on the porch began "giving him a hard time about missed field goals" during the team's 31-13 win over Florida. He was involved in a fight and called his teammate, Izzo, but by the time the then 20-year-old arrived the fight was over.
Two months later, in February of 2017, Aguayo and Izzo were suspects in a burglary next door to the house where Aguayo was punched in the face. The pair were accused of smashing a coffee table and ripping a pet turtle in half. The players were seen at 2 a.m. holding the turtle, which appeared dead with its shell ripped from its body.
The owner of the turtle did not want to press charges and the state attorney declined to pursue the case because no one saw who killed "Turntle."
His family is a "strong unit in everything."
Both of Izzo's brothers, Evan and Ethan, played for the same Pope John football team he made his name on. According to his mother Lorri, they're "both hoping to follow in their brother's footsteps in their own capabilities."
"Ryan says the strength of our family, what we've had to endure and what we've been through, gives him more drive," Lorri said. "Ryan is all about family. He's always family first. We're a very strong unit in everything, and I think that's a drive for him."
Lorri's sister Lisa, Ryan's godmother, died of breast cancer in 2015. In her honor, he wears a pink bracelet on his wrist that his mother says has turned white because he's never taken it off.
He extended his close-knit family to the football team at Florida State.
Couldn't of asked for a better leader to follow after for the past 2 years. Good luck big bro @IzzoRyan

— Pop (@NaseirUpshur) January 3, 2018
@IzzoRyan Gained a brother this past year, you taught me so much. Love you bro always, go get that bag.?Time to pass the torch, we gon hold it down from here believe that. pic.twitter.com/7xeCKBNHXJ

— Tre' Mckitty (@T_mckitty) January 3, 2018
His numbers might have been hampered by the quarterbacks throwing to him.
Izzo appeared to be set for a breakout year in 2017, his second with Deondre Francois, but the Seminoles' passing game never reached its expected heights after Francois suffered a season-ending injury in the season opener. The injury forced true freshman James Blackman to take over under center as the Florida State stumbled to a 7-6 record.
In 2016, Izzo lined up beside another freshman, Francois, and the year before that the Seminoles split time between Everett Golson and Sean Maguire.