NFL Draft
Live updates: Patriots reportedly have called Falcons, Lions, Panthers about trades
Sports Illustrated's Albert Breer says Patriots should now have "a feel for the cost" of trading up in the draft for a quarterback.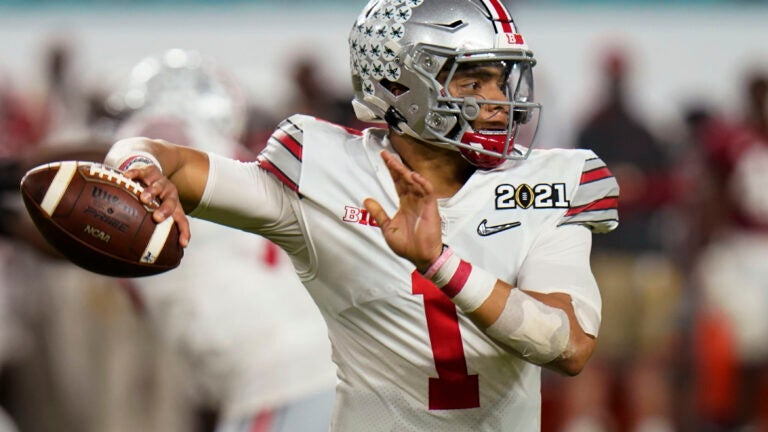 The wait is finally over: the 2021 NFL Draft begins tonight.
Will the Patriots bring Jimmy Garoppolo home? Will they make a splash and move up from No. 15 overall for a quarterback of the future? Or will they draft a player no one expects?
Here's the latest pre-draft Patriots news.
Thursday
Report: Patriots have called "almost every other team in front of them" about trading up (3:21 p.m.)
The Patriots have just about wrapped up their homework on what it would take to trade up for a quarterback this evening, according to Sports Illustrated NFL writer Albert Breer.
Breer reports New England has preliminarily discussed trade terms with the Falcons (No. 4 pick), Lions (No. 7), Panthers (No. 8) and "almost every other team in front of them" except for the division rival Jets and Dolphins.
But the Patriots also seem intent on preserving some mystery by sending out mixed messages about their plans.
"One GM in the top 10 told me his sense was that New England might be looking more seriously at a move up outside the top 10, rather than into it," Breer wrote. "Another exec said that the feeling he got was New England was trying to play its interest cool for now."
If nothing else, he says, the Patriots at least have "a feel for the cost" of trading with each team.
Breer mentioned the Eagles, Raiders, and Vikings could also have interest in a quarterback if one slipped out of the top 10.
Giardi: Cornerback Jaycee Horn would be "hell of a pick" if Patriots can't land QB (2:27 p.m.)
While all eyes remain on how the Patriots could look to solve their quarterback conundrum in the draft, NFL Network's Mike Giardi says not to overlook the possibility New England addresses the other side of the ball.
Specifically, the NFL insider suggests the Patriots could have their eye on strengthening their cornerback room with an eye toward the future.
"Stephon Gilmore is in the last year of his deal…he is not playing for $7 million," Giardi said on NFL Network's draft-day special. "Something has to be done there, whether it's sweetening his deal or trading him.
"J.C. Jackson just signed his second-round tender; he's going to make $3.1 million. Might he be trade bait for someone looking for an established veteran cornerback…so I look at cornerback as a position where I say, if they don't go for a quarterback and one of those guys falls in that range, it would make a lot of sense for the New England Patriots."
If not QB, then where for the #Patriots? My report. pic.twitter.com/Tyn6nBOZ8P

— Michael Giardi (@MikeGiardi) April 29, 2021
Giardi specifically highlighted South Carolina corner Jaycee Horn — who played at Gilmore's alma mater — as possibly the Patriots' best non-quarterback option. He notes, however, that Horn could be taken in the top 10 and would need to fall slightly for New England to take him.
"He's a bump-and-run corner, physical guy, and he would be someone who would make a lot of sense in this system the way they like to play defense," he said. "If Jaycee Horn was there, that'd be a hell of a pick."
He added that the Patriots would reportedly have "no qualms" about starting the season with Cam Newton and Jarrett Stidham as his top two quarterbacks — something that might need to be seen before it's believed.
Lombardi: Patriots won't trade up for Justin Fields (1:08 p.m.)
Count former Patriots assistant Michael Lombardi among those who don't see New England making a splashing move with Justin Fields in mind.
In a conversation with NFL.com's Lance Zierlein, Lombardi touched on Zierlein's suggestion that a significant gulf exists between what NFL teams and the "Twitter universe" think of Fields before giving his reasons for not seeing Fields as a fit for New England.
The main reason: he's not enough like Tom Brady.
"I don't think New England's trading up to get Justin Fields," said Lombardi, who now writes for The Athletic. "I don't see that. If you watch his throwing motion and you watch Tom Brady throw, they're two different throwing motions. I don't think they're ever merging together."
"I think there is one elite quarterback and there are other guys who have a chance to be good quarterbacks."@LanceZierlein joined @mlombardiNFL and @lasvegasgolfer to give his thoughts on the #NFLDraft2021 and Justin Fields.#LombardiLine pic.twitter.com/ufzaOYXul0

— VSiN (@VSiNLive) April 28, 2021
Zierlein agreed, saying Fields might not even be the target if the Patriots did happen to trade up in the draft.
"I think Trey Lance might be a guy that they like a little more, and of course Mac Jones could be in play if he were to slide," the NFL draft expert said.
Report: "Nothing cooking yet" between Garoppolo and Patriots ahead of draft (9:40 a.m.)
Several media insiders covering the Patriots are pumping the brakes on a possible Jimmy Garoppolo trade back to the New England Patriots with the draft looming tonight.
Tom Curran of NBC Sports said a source informed him a contract conversation between Garoppolo and the Patriots "is not happening," refuting a tweet from NESN's Dale Arnold Wednesday night (see below) saying the two sides were working on a new contract that could signal a trade.
It's worth noting Curran's source also said a trade could still happen "at some point." But a combination of factors, including the 49ers' expected value for Garoppolo and the need for the quarterback to restructure his contract and waive his no-trade clause, could be sticking points in a deal.
Nothing happening between the Patriots and Jimmy Garoppolo at this time, according to two sources.

— Jeff Howe (@jeffphowe) April 29, 2021
The Athletic's Jeff Howe and NFL Network's Tom Pelissero also said no trade is imminent, while national insider Adam Schefter said the chances of a trade are currently "remote."
But all agree multiple teams, including the Patriots, will continue probing the 30-year-old quarterback's availability throughout the day today.
Wednesday
Report: Patriots working on a deal with Jimmy Garoppolo that could precede a trade (7:30 p.m.)
What I've been told, by a reliable source —- @Patriots are working on a new contract for Jimmy G that could lead to a deal with @49ers. Same source who correctly told me Tom Brady had signed with @Buccaneers. Doesn't mean it will get done, but they're working on it.

— Dale Arnold (@DaleEArnold) April 28, 2021
After all the chatter about Justin Fields (see below), NESN's Dale Arnold reported late Wednesday evening that the Patriots are "working on a new contract" for Jimmy Garoppolo that would open up a potential trade with the 49ers for the 29-year-old quarterback. Arnold added that his source correctly tipped him off about Tom Brady landing with the Buccaneers.
It could be worth noting that Peter King's latest Football Morning in America column included a note that he won't be surprised if Garoppolo is more available than previously expected — perhaps for a second-round pick instead of a first. King specifically mentioned the Patriots.
Report: Patriots targeting Justin Fields, reached out to Falcons about No. 4 pick (11:13 a.m.)
The Athletic's Jeff Howe name-dropped another team the Patriots have spoken to, as well as the quarterback the team appears to be targeting.
"Word is they think highly of Ohio State's Justin Fields – highly enough that they've even spoken with the Atlanta Falcons about the fourth pick," wrote Howe Wednesday morning.
Fields, once a consensus top-three quarterback prospect, could now be primed for a draft-day slide if the San Francisco 49ers take Alabama's Mac Jones third overall. The Falcons, meanwhile, have openly expressed willingness to trade out of the No. 4 pick, though they could also stand pat to select a quarterback or a pass-catcher like Kyle Pitts or Ja'Marr Chase.
Moving up to fourth overall would ensure the Patriots had a chance to take whichever remaining quarterback — whether Fields or otherwise — was left after the 49ers pick, with Trevor Lawrence and Zach Wilson figuring to go in the first two picks.
But the cost of such a move could be heavy, explained Howe.
"It's unclear what the Patriots would have to give up for the fourth pick, but some combination of Nos. 15 and 46 and 2022 first- and second-rounders should be in play," he said. For perspective, the 49ers had to pay a first- and third-round pick in 2022 and a first-round pick in 2023 in order to move from No. 12 to No. 3 this year.
It's also worth noting the Detroit Lions reportedly also spoke with Atlanta about trading up — possibly for Chase — but found the asking price "too high."
Furthermore, Howe suggests New England could deal cornerback J.C. Jackson — who just signed a second-round tender with the team — in lieu of giving up a second-round pick outright. On the other hand, All-Pro cornerback Stephon Gilmore might be tougher sell for the cash-strapped Falcons, who would have to take on Gilmore's $7.9 million cap hit in a trade.
Report: Patriots meet with Stanford QB Davis Mills before draft (9:38 a.m.)
Even as the Patriots reportedly zero in on Justin Fields and seek a path to trade up for him, New England is looking into its backup plans in case they can't secure a top quarterback.
NFL Network insider Tom Pelissero says New England recently had a long Zoom pre-draft meeting with Stanford quarterback Davis Mills.
Mills – once the top college quarterback recruit in the country – is expected to be a Day 2 or early Day 3 pick, though he's also gotten some late-first-round buzz.
Three quarterbacks likely will get drafted in Rounds 2 and 3, and a handful of teams have done extra legwork on them — a list that includes the #Bears, #Vikings, #Saints and #Bucs. @gmfb @nflnetwork pic.twitter.com/CcPhUOVI1U

— Tom Pelissero (@TomPelissero) April 28, 2021
The 6-foot-4, 212-pound Stanford passer is seen as an intriguing prospect with good size, arm strength and upside, but was limited to just 14 college games due to injury. His inexperience at times showed up on tape, leading to many ill-advised throws, but he also proved he can be accurate, completing 66 percent of his passes last season.
"He is one of the best middle-of-the-field passers in the draft," said The Athletic's Dane Brugler of Mills in his 2021 draft guide, "but needs time to grow and eliminate the 'what are you doing?' plays from his tape."
Should the Patriots fail to acquire the likes of Fields, Mac Jones or Trey Lance, Mills might be one of the later quarterbacks New England looks to, along with Texas A&M's Kellen Mond and Florida's Kyle Trask.
Tuesday
Report: Patriots discussed groundwork of trading up to No. 8 with Panthers (2:57 p.m.)
Where there's smoke, there's apparently fire.
NFL Network's Tom Pelissero and ESPN's Dianna Russini reported earlier this week the Patriots have spoken with teams owning top-10 draft picks about trading up with an eye on a quarterback.
Now, Sports Illustrated NFL writer Albert Breer has revealed the identity of one of those squads: the Carolina Panthers, who hold the No. 8 overall pick.
In a Tuesday mock draft, Breer cited the Panthers as a possible trade partner amid rumors the Patriots have "sniffed around" a move into the top 10, with Ohio State quarterback Justin Fields the presumed target.
"I can say that if Fields is sitting there at No. 8, there are strong ties between New England and Carolina, and some groundwork has been done on what a deal might look like," he wrote.
Though Breer does not mention what the trade might cost New England, other experts have speculated Bill Belichick should be prepared to part with multiple picks, including a 2022 first-rounder, to trade up.
Breer, however, did not predict a trade-up or a quarterback selection for the Patriots himself, instead mocking Penn State linebacker Micah Parsons to New England at No. 15 overall.
Report: "Strong expectation" 49ers try to trade Jimmy Garoppolo (1:06 p.m.)
Three days before the 49ers likely take a quarterback third overall in the 2021 NFL Draft, head coach Kyle Shanahan gave quarterback Jimmy Garoppolo's chances of staying on San Francisco's roster a less-than-ringing endorsement.
Now, CBS Sports insider Jason La Canfora reports the 49ers might actively look to trade the 30-year-old signal-caller before or during the NFL Draft.
Very strong expectation among other GM's and throughout the industry that the 49ers will make major effort to move Jimmy Garoppolo before or during the draft. Timing isn't great with 5 QBs about to go in 1st round, but Jimmy G's future there now seen as bleak

— Jason La Canfora (@JasonLaCanfora) April 27, 2021
The Patriots, of course, have actively pursued a Garoppolo trade this offseason, though San Francisco's initial lack of willingness to deal him made experts believe a trade might not happen until 2022. Since then, however, the 49ers have made it abundantly clear they intend to draft Garoppolo's replacement with pick No. 3 in the draft.
If that happens, Bill Belichick might stand his best chance of reacquiring the 2014 second-round pick that was once seen as the heir to Tom Brady.
Patriots reportedly dangling Stephon Gilmore (10:26 a.m.)
Multiple sources have reported the Patriots have made calls to top-10 teams about trading up in the draft, ostensibly for a quarterback like Justin Fields or Trey Lance. Doing so could require multiple picks, with some mock drafts suggesting a 2022 first-rounder might be necessary to convince a team like the Lions to move.
ESPN's Dianna Russini added a new wrinkle to the conversation on Tuesday's "Get Up" with Mike Greenberg, involving New England's best defensive player.
"Something to keep in mind — and it's a small little storyline to keep an eye on — Stephon Gilmore is in the final year of his five-year contract with the New England Patriots. He's making about $7 million this season," she said. "The New England Patriots could perhaps deal Stephon Gilmore on draft night as part of a package to move up if they are in the business of getting a quarterback."
The All-Pro cornerback has been the subject of trade rumors for months heading into the draft, with his contract expiring at the end of the year with no extension seemingly in sight. But his recovery from a quad injury may have dampened his trade market in the weeks heading into the draft.
https://twitter.com/GetUpESPN/status/1387050485761200132