NFL
Meet Tom Brady's impressive legal team
If only his offensive line were this good.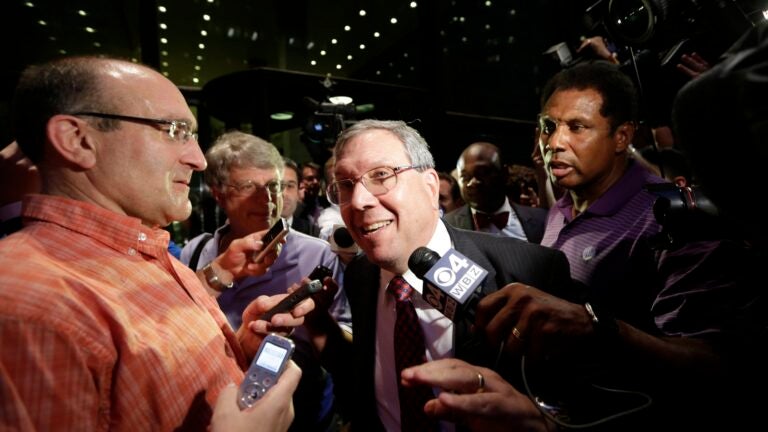 As Tom Brady is once again embroiled in a legal battle with the NFL over Deflategate, it's worth noting that his legal team is a deep bench of capable attorneys. Despite fighting an uphill battle to get a rehearing for the currently-suspended Patriots quarterback, Brady's array of lawyers possess the experience and capability to achieve an unlikely result.
If Brady's rehearing petition hinged on the quality of his lawyers' resumes alone, the day would end in victory.
Jeffrey Kessler: The Winston & Strawn attorney who originally achieved a win for Brady in 2015, Kessler is no less formidable in the eyes of the NFL than he was a year ago. His successful case against the league's "Plan B" system in 1992 helped to facilitate the creation of free agency. He was prominently involved in ending the 2011 NFL lockout. And he's even represented  Bill Belichick. In other sports cases, Kessler famously got Latrell Sprewell's contract restored in 1998 after it was initially voided when Sprewell choked his coach, P.J. Carlesimo.
Theodore Olson: From Gibson, Dunn and Crutcher, Olson was U.S. Solicitor General from 2001-2004. He argued Bush v. Gore in front of the Supreme Court on behalf of eventual President George W. Bush. He's also served as private counsel to Presidents Ronald Reagan and George H.W. Bush (in addition to serving in each president's Justice Department). Olson has a history with high profile cases, such as Citizens United v. Federal Election Commission and Hollingsworth v. Perry (in which he teamed up with his Bush v. Gore opposing attorney, David Boies, to win a case that upheld the overturning of California's Proposition 8 which banned same-sex marriage).
Thomas H Dupree Jr.: A former Deputy Assistant Attorney General from 2007-2009, Dupree (who is also at Gibson, Dunn and Crutcher) has extensive experience arguing appeals in the exact manner that Brady is currently immersed in. He's argued before all 13 circuits, as well as the Supreme Court. Like Olson, Dupree was involved in Bush v. Gore. Dupree has also represented Facebook and Mark Zuckerberg.
Andrew Tulumello: Co-chair of the Sports Law Practice Group at Gibson, Dunn and Crutcher, Tulumello is a former Senior Fellow at Harvard Law School. His earlier background included a role in helping to investigate and indictment of Bosnian Serb war criminal Ratko Mladic while serving in the Office of the Prosecutor for the International Criminal Tribunal for the former Yugoslavia.
David Greenspan: Like Kessler, Greenspan is of Winston & Strawn. He's been described as a "rising star" and also was a member of the Sports Business Daily's "Forty Under 40." Greenspan is currently involved in Jenkins v. NCAA, an ongoing case regarding compensation for college athletes. Among his other NFL cases, Greenspan helped to successfully get Ray Rice's indefinite suspension overturned, and also represents Adrian Peterson's ongoing challenge of his own NFL discipline. Possibly his most notable accomplishment was in helping New Orleans Saints players clear their names in the bounty scandal.
Steffen Johnson: Another from the Winston & Strawn contingent, Johnson has appeared numerous times before the Supreme Court, and has  argued many complex appeals cases. Of Brady's legal team, Johnson has the least experience in major sports law cases, though he is adept in winning major cases. In Hillman v. Maretta, he achieved a unanimous Supreme Court victory in a cases that involved an $824 billion insurance program.
A history of great quarterbacks in the NFL Draft
[bdc-gallery id="745881″]