NFL
4 fantasy football draft strategies to consider for an edge
Wait on running backs?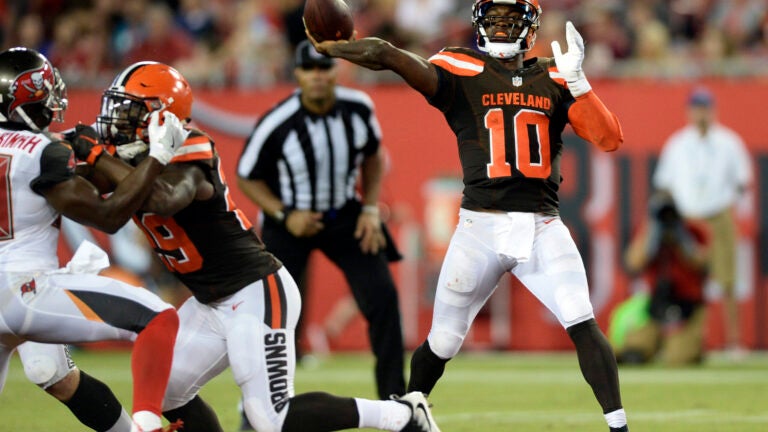 Fantasy football draft strategy has evolved considerably the past 10 years, from the days of picking running backs early, saving kickers for last and avoiding sitting near opponents who look at your cheat sheets. The reason is simple: The game has grown rapidly, with now 56 million people in North America playing fantasy sports, according to the Fantasy Sports Trade Association.
That means the need for an edge has grown considerably, while the game's progression makes those advantages much tougher to find.
Here are some strategic considerations for 2016:
___
ZERO RUNNING BACK THEORY
The "Zero-RB" theory was popularized by high-stakes fantasy player Chris Vaccaro several years ago, vaulting the New York bar owner to a $150,000 title and the National Fantasy Football Championship (NFFC) Hall of Fame. The concept runs contrary to years of fantasy strategy: hold off on taking your first running back until the fourth or fifth round.
The logic? Running backs get injured, underperform, and are mired in timeshares, so you minimize risk by not taking them early. And now that the NFL is a pass-heavy league, most of fantasy points are collected through the air via star wide receivers.
The main downside now, however, is the prevalence of people following the strategy, which means a rabid rush for the top wide receivers, leaving valuable running backs for the taking later than they should be available.
___
WAITING ON QUARTERBACK
The key here is waiting for the right quarterback. Last year, an astute drafter might have recognized that Blake Bortles could run for at least 30 yards per game, was throwing to two top-flight wide receivers and had a skilled offensive line coach (Doug Marrone) on a team that had added one of football's best tight ends.
Bortles went undrafted in most leagues and finished among the top five or six quarterbacks, depending on scoring systems.
Kirk Cousins, Ryan Fitzpatrick, Derek Carr, and Tyrod Taylor all performed well enough to convince a drafter to wait on quarterback and chase wide receivers and running backs in the first 10 rounds instead.
This season, Robert Griffin III looks like an excellent late quarterback option. He can run, has two wide receivers who can put up 100-yard games, his tight end is solid and he has a running back in Chris Thompson who was targeted 48 times last year despite relatively sparse playing time.
Jameis Winston and Marcus Mariota are two other young quarterbacks in maturing offenses who can be taken late but started in Week 1.
___
SKIPPING KICKERS
This is the modern version of "know your rules." If your league's setup doesn't force you to draft a kicker, then don't. At all.
Instead, draft a high-upside skill position player and wait until the eve of kickoff to drop someone for a kicker off the waiver wire. It buys you a little speculation on, say, a running back locked in a position battle who may have won the job between the draft and Sept. 8, the first game of the season.
___
PAY ATTENTION TO OFFENSIVE COACHES
Denver Broncos tight end Virgil Green doesn't have much in his past that would suggest he's due for a breakout season. Over five seasons, Green has just 44 targets, 35 receptions, 379 yards, and two touchdowns.
But Denver's quarterbacks coach is Greg Knapp. And while his name isn't a household one for fantasy players, you've seen his work as either a quarterbacks coach or offensive coordinator:
— Julius Thomas, 2014: 12 touchdowns
— Julius Thomas, 2013: 90 targets, 12 touchdowns
— Brandon Myers, 2012: 105 targets, 79 receptions, 806 yards, four touchdowns (led the Raiders in receiving yards)
— Owen Daniels, 2011: 85 targets, 677 yards, three touchdowns (led the Texans in receiving yards)
— John Carlson, 2009: 83 targets, seven touchdowns (led the Seahawks in receiving touchdowns)
Zach Miller, Alge Crumpler, and a host of others had career years when Knapp just happened to be an offensive coach.
That's no guarantee Virgil Green will break out this season, but knowing the tendencies of an underappreciated (in fantasy) offensive coach can at least help push an owner into some logical late-round speculative picks that could owe more to research than luck.
___
This column was provided to The Associated Press by the Fantasy Sports Network, http://FNTSY.com .