NFL
Rex Ryan turns focus on Bills' next opponent: Patriots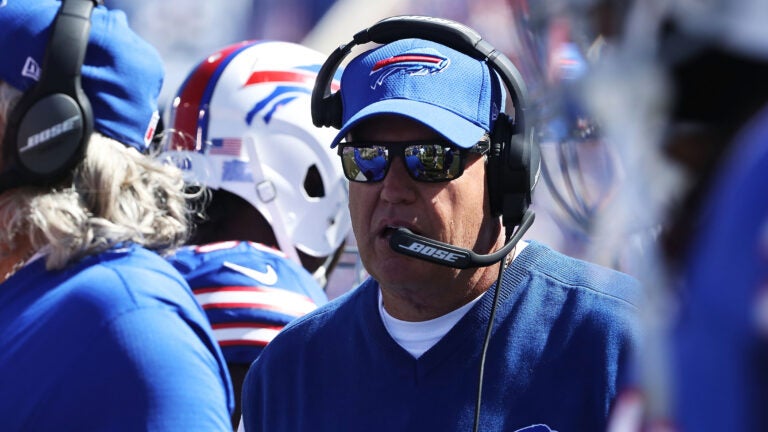 ORCHARD PARK, N.Y. (AP) — The dust had barely settled on the Bills' first win of the season, when coach Rex Ryan turned his attention to Buffalo's next opponent.
Where Ryan's concerned, it's never too early to begin needling coach Bill Belichick and the New England Patriots.
Explaining how difficult it is to defend against a running quarterback such as Buffalo's Tyrod Taylor, Ryan referenced the Patriots injury- and suspension-depleted position.
''I can sit and say I don't care who plays quarterback because I know Brady ain't,'' Ryan said, referring to Tom Brady who will serve the fourth and final game of his ''Deflategate'' suspension when Buffalo travels to New England next weekend.
''Steve Grogan can play quarterback. If Belichick's playing quarterback, we're coming after him, I promise you that.''
Game on.
Ryan had reason to feel a little better about himself and the Bills (1-2) following a 33-18 win over the Arizona Cardinals on Sunday.
The offense finally showed signs of its once-dominant running attack a week after Ryan fired coordinator Greg Roman and replaced him with Anthony Lynn. LeSean McCoy scored twice and Buffalo had 208 yards rushing — 57 more than the team combined for in its first two games.
And Ryan's defense played like the bully he once envisioned.
The Bills had five sacks, intercepted Carson Palmer four times, and safety Aaron Williams scored on a 53-yard fumble return off a botched snap on a field-goal attempt.
The Cardinals (1-2) produced a dud a week after a 40-7 win over Tampa Bay.
Arizona combined for 2 yards of offense and no first downs on its first five possessions. And Palmer closed the game by throwing interceptions on each of his final four drives.
The Cardinals return home for an NFC West showdown against the Los Angeles Rams (2-1), who have won two straight following a 37-32 win over Tampa Bay.
Arians snaps
Of all the things that went wrong, Cardinals coach Bruce Arians focused his frustration on long-snapper Kameron Canaday's second bad snap in three weeks. Trailing 23-7 in the third quarter, Arizona kicker Chandler Catanzaro lined up to attempt a 32-yard field goal. Canaday's snap sailed high and through the hands of holder Drew Butler. Williams recovered it and returned it for a touchdown.
Two weeks earlier, Canaday's bad snap resulted in Catanzaro missing a 47-yard attempt wide left in the final minute of a 23-21 season-opening loss to New England.
''Grow the hell up,'' Arians said, when asked how he tends to address Canaday's problems. ''It has nothing to do with anything but what's between his ears.''
Taylor time
Lynn's most notable tweak of the Bills offense involved taking the reins off Taylor's running ability. After being limited to just 36 yards rushing in his first two games, Taylor had 76 yards — 3 short of the single-game franchise record for quarterbacks he set last season.
Taylor's 49-yard run was the longest by a quarterback in team history and he also scored on a 20-yard run.
''One of the best things he can do is he can run the ball,'' McCoy said. ''Why wouldn't you not have him using his legs?''
Good question.
Gilmore bounces back
After being part of a defensive secondary that was burned for 374 yards passing in a 37-31 loss to the New York Jets, cornerback Stephon Gilmore bounced back. He had two of Buffalo's four interceptions and played a key role in limiting Cardinals receiver Larry Fitzgerald to seven catches for 60 yards.
Corey Graham had a sack and interception. Corey White had an interception starting in place of Ronald Darby (hamstring).
In the cards
Arizona running back David Johnson had 83 yards rushing and scored on 4- and 22-yard runs. Catanzaro hit a 60-yard field goal , the longest at what's now called New Era Field.
Injuries
Ryan had no update on the status of receiver Sammy Watkins, who did not play after a teammate stepped on his surgically repaired left foot during a walk-through this week. Starting left tackle Cordy Glenn missed his second straight game after aggravating an injury to his left ankle.
Cardinals punter Drew Butler sustained what Arians called a severe sprain to his left ankle. Catanzaro filled in. He had a 47-yard punt out of his end zone, and then shanked a 19-yarder on his second attempt.
___
AP NFL websites: http://pro32.ap.org and http://twitter.com/AP_NFL