NFL
Eli Manning defuses Giants receivers' celebratory trip to Miami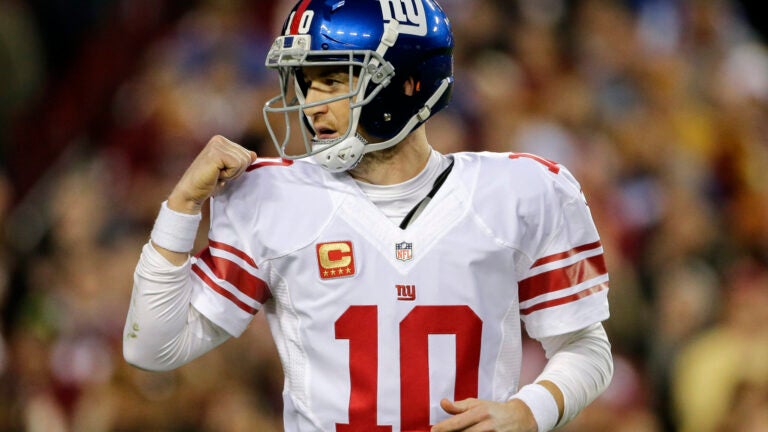 EAST RUTHERFORD, N.J. (AP) — Touchdown passes, late winning drives and 400-yard passing games aren't always what make a quarterback a leader in the NFL.
It's the ability to take what might be a troublesome situation and calmly make it go away.
New York Giants quarterback Eli Manning did that on Tuesday on his 36th birthday, and he didn't have to even take a snap.
The two-time Super Bowl MVP got behind a microphone and defused a story that some tried to blow out of proportion because receivers Odell Beckham Jr., Victor Cruz and rookie Sterling Shepard took a trip to Miami after Sunday's 19-10 win over Washington to celebrate.
It was the players' day off and they boarded a yacht owned by singer Trey Songz and met with Justin Bieber. Pictures of Beckham and Shepard with their shirts off were circulated on the internet.
So OBJ, Sterling Shepard, Victor Cruz, and Roger Lewis flew to Miami last night, went clubbing, and are on a boat. Living life. #Giants pic.twitter.com/SE6QqfuYfT

— Justin Witmondt (@JustinWitmondt) January 2, 2017
Of course, some critics offered suggested what the players did was wrong because the Giants (11-5) are traveling to Green Bay this weekend to play the Packers on Sunday in the NFC wild-card game. It's New York's first postseason game since the 2011 season.
Manning didn't have to wait long to be asked about the trip. He started his response with his usual matter-of-fact answer.
"I think as a team we kind of always pride ourselves on being well prepared, so when I saw some of the pictures I was a little disappointed, just because obviously they didn't pack accordingly," Manning deadpanned. "They didn't have any shirts, obviously, all long pants, no shorts, no flip flops or anything. So I am just disappointed on their packing and not being prepared for that situation."
It got people to laugh, and that was perfect.
Manning was a little more serious when asked if he was disappointed in the players from a football perspective.
"I don't really get into what guys do on their off days," he said. "It is their off day and they can do what they want and it is about coming here today, being prepared and really getting ready for tomorrow's practice and being able to go out there and perform at a high level."
Beckham told ESPN that the receivers made the trip "to get our minds right."
Manning, on the other hand, followed his normal routine on his day off. He showed up at Giants headquarters, watched some videotape, talked to the coaches about the Packers and went over some schemes.
"But that is kind of what a quarterback has to do," he said. " If guys want to get away for a day, I think they were a little low on their Vitamin D and went to get some sunshine to get the Vitamin D up, to make sure that they are staying healthy for the cold weather in Green Bay."
Manning cracked a few jokes about the receivers in the practice huddle on Tuesday, which he thought were funny.
"They thought they weren't as good," Manning said. "It is all good. Those guys come out to practice and are prepared for everything that we do, so nothing has changed."
Manning said getting to the playoffs this year after missing the last four made him realize how tough it is to get to the postseason.
"You want to take advantage of every opportunity that you get to make them because you don't know if, when you'll get another chance," the No. 1 pick in the 2004 draft said. "I guess early on in your career you think you kind of know that, but until you get into your later years and you just don't know if you will get that opportunity again, so you want to give it your all, give it your best like you always do. But just understand that it is special to get here, and you want to try and make a run when you can."
Guard Justin Pugh said Manning has a dry sense of humor he has come to appreciate.
"He said something in the huddle today about his birthday: 'Oh, yeah, we'll all go do something for my birthday tonight, joking around,'" Pugh recalled. "That's just Eli. He has that good sense of humor, which is nice. It apparently relieves tensions in situations."
It worked Tuesday even when someone quipped that there was a photo-shopped picture of a shirtless Manning on the boat with his receivers.
"I was telling people that I was the one who took the photo," Manning said, "because they wouldn't let me in it without my shirt off."
___
For more NFL coverage: http://www.pro32.ap.org and —http://www.twitter.com/AP_NFL