NFL
7 NFL offseason stories to watch: Vegas, baby! Who'll go No. 1 in the draft?
Vegas, baby! Who'll go No. 1 in the draft?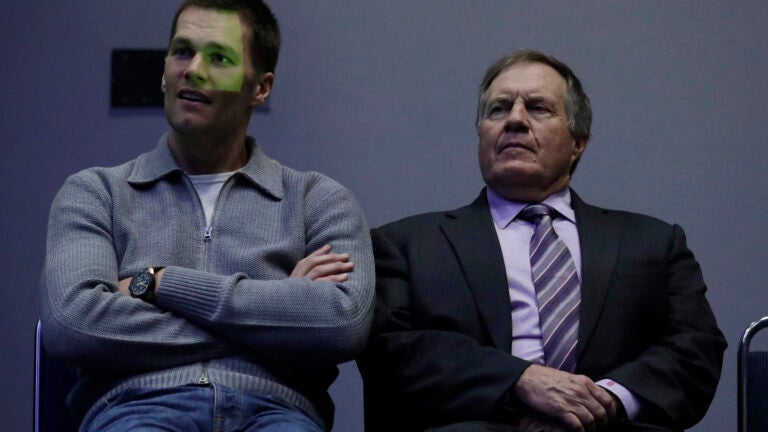 Tom Brady took the high road while appearing with NFL Commissioner Roger Goodell and collecting the silver hardware for his record fourth Super Bowl MVP award. New England Patriots coach Bill Belichick bemoaned needing to play catch-up when it comes to preparing for next season.
Yes, the Patriots rule their sport once again, thanks to the greatest comeback in Super Bowl history, and in what Goodell called "maybe one of the greatest games of all time." Now it's time to look forward.
"As great as today feels, and as great as today is," Belichick said Monday morning at a news conference with Brady and Goodell, less than 12 hours after New England erased a 25-point deficit and stunned the Atlanta Falcons 34-28 in the first Super Bowl to go to overtime, "in all honesty, we're five weeks behind in the 2017 season to most teams in the league."
Harrumph.
Truth is, there was nothing all that awkward about Monday. Brady passed up an opportunity to take a face-to-face dig at Goodell, who suspended the QB for this season's first four games, and instead said, "It's an honor to be here and have the commissioner present us with this trophy."
So maybe now we finally can put to rest the scandal that came to be known as "Deflategate," and start to focus on the story lines to watch during the offseason:
VEGAS, BABY!
Will the NFL actually wind up with a team in Sin City? Raiders owner Mark Davis wants to move from Oakland to Las Vegas, but a key financial backer recently said he was pulling out of a stadium deal, and Goodell said last week "there's a great deal more work to be done." The league is scheduled to vote on the possible move at its meetings March 26-29.
TAG, YOU'RE IT
Teams have a March 1 deadline — three weeks from Wednesday — to assign franchise or transition tags, and one name that will be part of the speculation until then is Redskins quarterback Kirk Cousins. Coming off a pair of statistically impressive seasons, and a nearly $20 million salary under the franchise tag in 2016, Cousins could end up with another tag at about $24 million, a long-term deal or a chance to hit the market when free agency begins March 9.
WHO GOES WHERE?
Other players who might head to new teams: Minnesota RB Adrian Peterson, Kansas City S Eric Berry, Arizona DE Calais Campbell, New England TE Martellus Bennett and LB Dont'a Hightower, and Cousins' top two WRs with Washington, DeSean Jackson and Pierre Garcon.
WHEREFORE ART THOU ROMO?
Now that NFL Offensive Rookie of the Year Dak Prescott is entrenched as the starting quarterback for the Dallas Cowboys, it will be fascinating to see what happens with his predecessor, Tony Romo. He's been too successful (if injury-prone) to be satisfied with being a backup, so which team will scoop him up in a trade? Cleveland? Chicago? Denver? San Francisco? Someone else?
MOCK ON
Plenty of time to work on those mocks between now and April 27, when the draft starts in Philadelphia. After QBs went 1-2 last year, the consensus seems to be that no one coming out of college at that position merits that high of a selection this team. That doesn't mean, of course, that QB-needy teams such as the Browns (at No. 1), 49ers (No. 2) or Bears (No. 3) won't go that route. Among the top prospects: Texas A&M DE Myles Garrett, Alabama DL Jonathan Allen, LSU RB Leonard Fournette, Ohio State S Malik Hooker, Clemson WR Mike Williams.
GAME-CHANGERS
In response to TV ratings' drop of about 8 percent, the league will consider ways to make games shorter. Examples: a running clock between an extra point and ensuing kickoff; fewer commercial breaks; faster replay reviews.
CONCUSSIONS
Might the NFL try to find other ways to fix its concussion and QB health problems? There are still gaps in the concussion protocol — Miami's Matt Moore in the playoffs, for example — and it's never good when teams (Dolphins, Raiders) start backup quarterbacks in the postseason because of injuries to others.
OTHER TOPICS
— Will Brady, already 39, keep playing at an elite level?
— Will the Falcons take a step back, the way so many Super Bowl teams do (other than, of course, the Patriots)?
— Will two-time Super Bowl champion Ben Roethlisberger, who turns 35 next month, be back as Pittsburgh's QB after hinting he would be evaluate his status?
— What will be the outcome of the NFL investigation into Cowboys RB Ezekiel Elliott's alleged domestic violence case? Goodell said there's no timetable.
___
For more NFL coverage: http://www.pro32.ap.org and http://www.twitter.com/AP_NFL
___
Follow Howard Fendrich on Twitter at http://twitter.com/HowardFendrich