NFL
Jamaal Charles signs 1-year deal with Broncos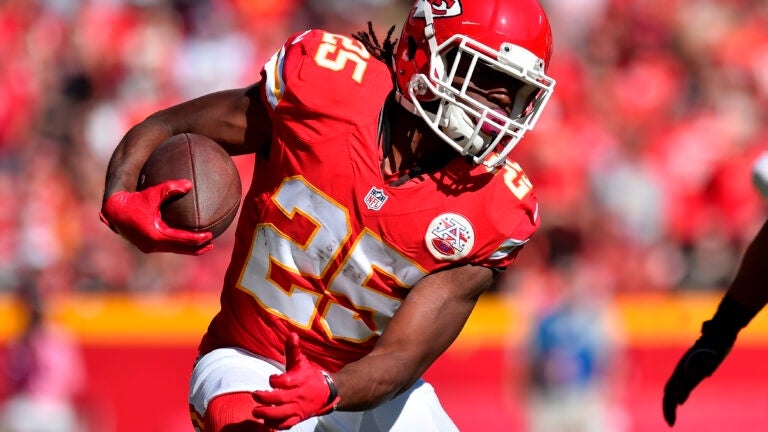 ENGLEWOOD, Colo. (AP) — Declaring "I still have more in my tank," Jamaal Charles, the Kansas City Chiefs' all-time rushing leader, signed with the AFC West rival Denver Broncos on Tuesday for a chance to prove it.
"Excited to have Jamaal Charles join the Broncos," general manager John Elway tweeted Tuesday afternoon upon signing Charles to a one-year, incentive-laden deal. "A great addition to our backfield, and we're thrilled we won't have to play against him!"
Excited to have Jamaal Charles join the Broncos. A great addition to our backfield, and we're thrilled we won't have to play against him!

— John Elway (@johnelway) May 2, 2017
While it may be strange seeing him in navy and gold, Charles said he already feels right at home.
"I always wanted to play with Denver," Charles said. "Growing up, John Elway was my favorite player."
Charles played in just eight games over the past two seasons after tearing his right ACL in October 2015, leading the Chiefs to cut him this winter.
Charles posted videos on Twitter of his workouts to show how primed he is for a comeback at age 30.
"I still can play ball," Charles said. "I still can keep up with the young people. So, I feel I still have more in my tank."
Charles ran for 7,260 yards and 43 touchdowns in nine seasons with the Chiefs. He added 2,457 yards receiving and 20 TD catches. But a career that looked as if it would land Charles in the Hall of Fame was derailed the past few years by injuries that cut short several seasons in his prime.
He tore his left ACL while taking an awkward step out of bounds in Detroit in 2011. He tore his right ACL against Chicago four years later.
After missing the start of last season, Charles returned to play in only three games, carrying 12 times for 40 yards, before requiring more operations on his knees.
The Chiefs cut the four-time Pro bowl running back to clear more than $6 million in salary cap space so they could focus on solidifying their O-line and keep the heart and soul of their defense — All-Pro safety Eric Berry.
At the NFL combine in March, Chiefs GM John Dorsey and coach Andy Reid reminisced about Charles, saying they believe he'll be enshrined in Canton one day.
"Jamaal Charles, to me, is one of the finest football players to ever play in the National Football League," Dorsey said. "These are hard decisions to make when you have a player of that magnitude and that caliber."
"One of my favorite guys I've had a chance to coach," Reid said at the combine. "You know, he's not a very big guy but he's fearless, he ran inside, had the speed outside, world-class speed to turn the corner. Had great hands and on top of that he's a great kid and just dirty tough. … But we all do get older and that's the way the National Football League is."
When he cut him, Dorsey wished "Jamaal and his family the best of luck in their next step."
That's in Denver, where Charles, whose 5.5-yard career rushing average is the best in NFL history, will get two cracks at his former team: the Broncos visit the Chiefs on Oct. 30 and host them Dec. 31.
"I'm just happy I get to play them twice a year," Charles said, chuckling. "I'll just leave it like that. I'll let those two games speak for themselves. At the end of the day, I love my (former) teammates. I wish them the best. I know they wish me the best, too. At the end of the day, it's about how we can feed our families. I'm here with the Broncos."
Charles joins a backfield that was bruised and battered last season and was unable to keep pressure off the Broncos' young quarterbacks and wide receivers.
C.J. Anderson missed the second half of the season with a torn meniscus and he was joined on IR by Kapri Bibbs (hamstring) and fullback Andy Janovich (ankle). Rookie Devontae Booker, who was coming off two knee surgeries, led the team with 612 yards rushing and four TDs.
As a group, the Broncos averaged 92.8 rushing yards, ranking 27th in the NFL, a big reason they failed to make the playoffs a year after winning the Super Bowl.
The Broncos also drafted De'Angelo Henderson of Coastal Carolina in the sixth round last weekend.
"I just love C.J. Anderson's game," Charles said. "He's powerful and he's fast. He is physical and he breaks tackles. Just playing with a guy like that, I just want to come in here and help the team with my explosiveness. I want to come up and play for each other and push each other to get better. That's the goal at the end of the day.
"Now we're on the same team," added Charles, who will join his new teammates Monday, "so we're going to try and push each other to get to the one goal, and that's another Super Bowl."
___
For more NFL coverage: http://www.pro32.ap.org and http://www.twitter.com/AP_NFL
___
Follow Arnie Melendrez Stapleton on Twitter: http://twitter.com/arniestapleton