NFL
Here's how the NFL responded to President Trump's comments Sunday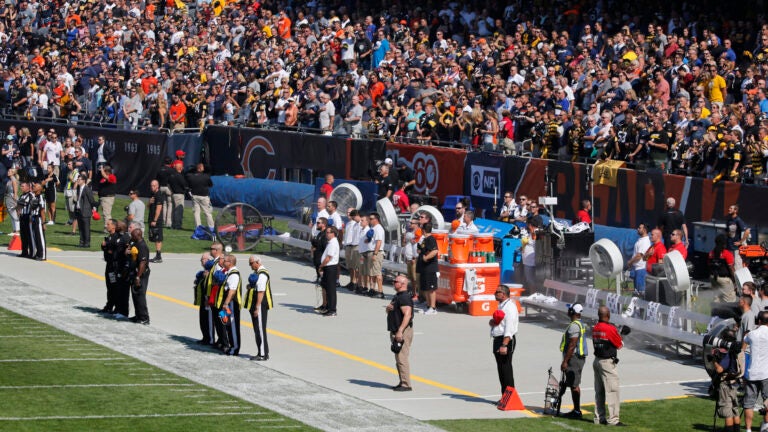 Here is the latest on the sports world reacting to President Donald Trump's comments about the NFL:
NFL players used the national anthem to show their defiance to the president's criticism, with at least 100 players kneeling or sitting in protest and one team staying in the locker room.
Most teams in the early afternoon games locked arms in solidarity. At least three team owners joined their players.
More than 100 players sat or knelt, the form of protest started last season by former San Francisco 49ers quarterback Colin Kaepernick. Kaepernick is now a free agent, and supporters believe teams have avoided signing him because of his protest.
Minnesota Vikings put forth their own show of unity
The Vikings stood along their sideline with arms locked together during the ''Star Spangled Banner'' on Sunday before their game against Tampa Bay. Vikings owners Zygi and Mark Wilf and general manager Rick Spielman joined players in locking arms on the field.
No Minnesota players were spotted taking a knee, as Buccaneers wide receivers Mike Evans and DeSean Jackson did in front of the visiting bench and several others have done around the league since Colin Kaepernick started the trend last season.
The Wilfs released a statement in which they said they support the right of Vikings players, coaches and staff to ''respectfully and peacefully express their beliefs.''
''As owners, it is our job to foster an environment that recognizes and appreciates diversity of thought and encourages using this platform in a constructive manner. Rather than make divisive statements, we believe in promoting thoughtful, inspiring conversation that unifies our communities. We are proud of our players, coaches and staff for the important role they play in our community, and we fully support their constitutional right to respectfully and peacefully express their beliefs.''
Dolphins wear T-shirts supporting Kaepernick
A handful of Miami Dolphins players wore black T-shirts supporting Kaepernick during pregame warmups before their game against the Jets on Sunday.
The shirts have ''#IMWITHKAP'' written in bold white lettering on the front.
Kaepernick was the first athlete to refuse to stand during the national anthem as a protest. This season, no team has signed him, and some supporters believe NFL owners are avoiding him because of the controversy.
Among the players sporting the shirts before their game against the New York Jets are wide receiver Kenny Stills, running back Jay Ajayi and offensive linemen Laremy Tunsil and Ja'Wuan James. Stills, also a team captain, posted a photo on Twitter of himself wearing the shirt, along with the post: ''In case you didn't know!''
Steelers decide to stay in the locker room
The Pittsburgh Steelers decided to stay in their locker room for the national anthem before their game against the Chicago Bears, coach Mike Tomlin told CBS.
After several players from the Jaguars and Ravens decided to kneel in the first NFL game of the day in London, Tomlin said his players would not be on the sideline at Soldier Field in Chicago for the anthem.
Former NFL Commissioner Paul Tagilabue on Sunday called President Donald Trump's comments on NFL players ''insulting and disgraceful.''
Tagliabue, who was in Charlotte, N.C., as a guest of Panthers owner Jerry Richardson, spoke to the media before Carolina's game against the New Orleans Saints.
''For me to single out any particular group of players and call them SOB's, to me, that is insulting and disgraceful,'' Tagliabue said. ''So I think the players deserve credit for what they do. And when it comes to speech they are entitled to speak. And we are entitled to listen. We are entitled to agree or disagree. But we're not entitled to shut anybody's speech down. Sometimes you don't like what you hear and that is true in life in lots of contexts, but you can't shut people down and be disgraceful when you are doing it.''
Richardson is not making a statement on the Trump's remarks, per team spokesman Steven Drummond.
Earlier Sunday in London, about two dozen players, including Baltimore Ravens linebacker Terrell Suggs and Jacksonville Jaguars running back Leonard Fournette, took a knee during the playing of the national anthem before the start of the teams' game at Wembley Stadium on Sunday.
Members of the Jaguars, Ravens take a knee in London
The game between the Jaguars and the Ravens was the first NFL contest since President Trump in a speech on Friday said that NFL owners should fire players who disrespect the American flag.
Other players on one knee during the performance included Ravens linebacker C.J. Mosley, wide receiver Mike Wallace, and safety Lardarius Webb as well as Jaguars linebacker Dante Fowler, defensive tackle Calais Campbell, defensive end Yannick Ngakoue, and cornerback Jalen Ramsey.
Players on both teams and Jaguars owner Shad Khan, who were not kneeling, remained locked arm-in-arm throughout the playing of the national anthem and ''God Save The Queen,'' the national anthem of Britain. Khan stood between tight end Marcedes Lewis and linebacker Telvin Smith at Wembley Stadium and then released a statement to express his support for players.
''It was a privilege to stand on the sidelines with the Jacksonville Jaguars today for the playing of the US national anthem at Wembley Stadium,'' Khan said. ''I met with our team captains prior to the game to express my support for them, all NFL players and the league following the divisive and contentious remarks made by President Trump, and was honored to be arm in arm with them, their teammates and our coaches during our anthem.''
No players were kneeling during the playing of the British national anthem.
Ravens owner Steve Bisciotti says he ''100 percent'' supports his players' decision to kneel during the national anthem.
The Ravens issued a statement from Bisciotti minutes after kickoff, saying: ''We recognize our players' influence. We respect their demonstration and support them 100 percent. All voices need to be heard. That's democracy in its highest form.''
NFL commissioner Roger Goodell said in a tweet that the league will re-air a unity television advertisement Sunday night that it first ran during February's Super Bowl.
The one-minute spot called ''Inside These Lines,'' will be shown during the Sunday night game between the Oakland Raiders and Washington Redskins.
Over images and video of NFL players embracing one another on the field, the narrator says ''Inside these lines, we don't have to come from the same place to help each other reach the same destination.''
Goodell said that President's Trump's remarks about the NFL demonstrated ''an unfortunate lack of respect for the NFL.''
Material from the Associated Press was used in this report.