NFL
Bills coach 'at a loss' to explain overturned touchdown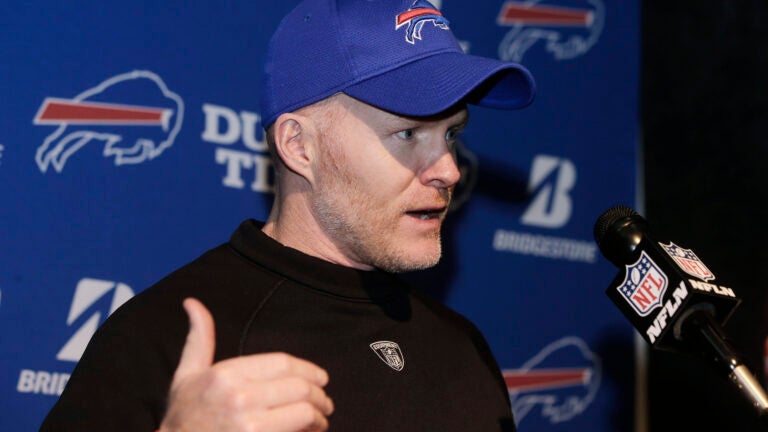 FOXBOROUGH, Mass. (AP) — The Buffalo Bills have endured their share of near misses against the New England Patriots.
With Buffalo's hopes of ending a 17-year playoff drought pinned to what happened in its final two games, the Bills played the Patriots close in the first half of Sunday's 37-16 loss .
But one play was still stinging as they trudged off the field, as their hopes of making the postseason became an even wilder jumble of scenarios than when the day began.
Trailing 13-10 in the closing seconds of the second quarter, Buffalo (8-7) was in position to take the lead, but an apparent 4-yard touchdown pass from Tyrod Taylor to Kelvin Benjamin in the corner of the end zone was overturned after an official review.
The play shocked Benjamin, who thought he'd given his team a big momentum boost heading into halftime.
"I mean definitely, but ref made the call and you've got to live with that," Benjamin said. "We just wanted to move on, try to come back out (in the second half) and put some more points on the board."
The Bills were forced to settle for a 23-yard field goal as the half expired. They only managed three points in the second half.
Initially Benjamin was ruled to have gotten both feet down while in possession of the ball. After looking at replays, officials ruled that he was juggling the ball when his first foot hit the turf.
"It was clear and obvious that he did not have control of the ball until he brought it all the way down into his chest," referee Craig Wrolstad said in a pool report after the game.
"The (officials) always seem to get it right for the Patriots, but that's not why we lost," said running back LeSean McCoy, who finished with 71 yards on 17 carries. "It sure would have helped out in the game. We battled hard. We have to do a better job finishing. … It's just crazy because we put so much into it, to get robbed like that. Come on, that was a touchdown."
Coach Sean McDermott was perplexed.
"Yeah, I'm at a loss," he said. "A loss as to, I saw it as a touchdown. And other than that, all I can say right now is I am at a loss for how a play like that can get overturned."
The play was met with almost immediate criticism across social media.
The list included former NFL officiating VP Mike Pereira.
regarding the Buffalo no touchdown, nothing more irritating to an official than to make a great call and then someone in a suit in an office in New York incorrectly reverses it. It is more and more obvious that there isn't a standard for staying with the call on the field.

— Mike Pereira (@MikePereira) December 24, 2017
Bills team owner Terrence Pegula's daughter, Jessie Pegula, also chimed in.
Does anyone even know what a catch is anymore? I definitely don't after watching that.

— Jessie Pegula (@JLPegula) December 24, 2017
But nothing about that play had anything to do with Buffalo's shortcomings in the second half.
It managed just 133 yards of offense in the final two quarters, while going 1 for 6 on third down and 0 for 4 in the red zone.
The Bills have not scored an offensive touchdown in their last two games against New England. Buffalo managed just a field goal in its 23-3 loss at home on Dec. 3.
"I guess they had good schemes, you know what I'm saying?" Benjamin said. "We've definitely got to do better when we get down in the red zone, punching it in. It's just something we've got to work on moving forward as a team."
Cornerback Tre'Davious White said the Bills are ready for next week's finale at Miami, and they still have several scenarios to make the playoffs.
"We know we've got to have, you know, some things have to happen (to make the playoffs)," White said. "But if we can go out there and control what we can control and go out there and beat Miami, you know we'll just see where the chips fall."