NFL
10 factual answers from the Jaguars fan behind 'Blake Bortles Facts'
"You don't go undefeated in 194 countries and on 5 continents and end up in the AFC Championship Game by accident."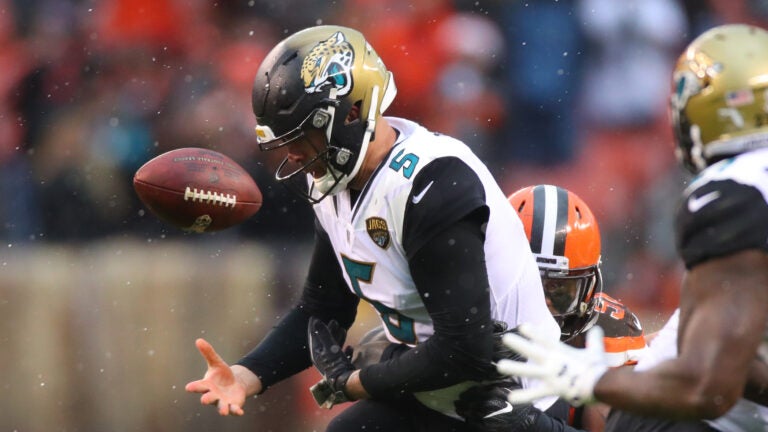 Making the case for Blake Bortles against Tom Brady seems impossible on the surface. In reality, it can actually just lead to hilarious tweets.
That's a fact that one Twitter user has been proving all week in the lead-up to Sunday's AFC Championship, in which Brady's Patriots face Bortles's Jaguars. Known among Jacksonville fans for years, the Twitter account Blake Bortles Facts has gone national in the midst of the Jaguars' first winning season in a decade.
The account is known for its distinct style of (factual) humor:
Playoff Wins in 2018

Blake Bortles: 2
Tom Brady: 1@Patriots pic.twitter.com/hACjTo8BNV

— Blake Bortles Facts (@BortlesFacts) January 15, 2018
Mike Tiscione, a social media manager living in New York, is the Jaguars fan behind the account. He recently answered a few questions about Blake Bortles Facts and the wild ride of the 2017 Jaguars season so far.
Might be some @BoldCityBrigade love on there too. ? pic.twitter.com/UNzNInWfHD

— Mike Tiscione (@mjtiscione) January 17, 2018
Blake Bortles recently acknowledged Blake Bortles Facts in an interview. What's your reaction to his reaction?
Blake Bortles Facts: This was by far the best thing that's come out of this over the last month, and that includes the article in the Wall Street Journal. Blake Bortles is our Quarterback, and while he has a lot of haters, here we sit on Championship weekend, one win away from the first Super Bowl in franchise history.
How long have you been a Jaguars fan?
BBF: I've always lived in Upstate New York (just outside of Albany), but I've been a fan of the Jaguars since they hit the field in 1995. While not the most interesting thing, probably, I became a fan of the Jaguars because they began play when I was eight years old, and it was right when I was getting into football. I had no affiliation to any team via family to the Jets, Giants, or Bills, and being in this area, we're four hours away from Buffalo, and three from the Meadowlands. There wasn't really ever that true connection to a 'local' franchise… I was just getting in to football, the Jaguars were new, and those helmets were sweet.
Blake Bortles has a better winning percentage in the Playoffs (100%) than Tom Brady (73.5%). @Patriots pic.twitter.com/bmKTzKEEt2

— Blake Bortles Facts (@BortlesFacts) January 14, 2018
When did you first hear the name Blake Bortles? And do you remember your original thoughts after the Jaguars drafted him?
BBF: Funny enough, I was actually in New York at the draft, the night the Jaguars selected Blake Bortles third overall. I was there were a few hundred other Jaguars fans from all over the country, and I would say 'shock' was the biggest takeaway. The Jaguars had been rumored to take a quarterback, because Blaine Gabbert is the worst quarterback I've ever seen in my life, but the names you kept hearing were guys like Teddy Bridgewater and Johnny Manziel. So, while maybe a quarterback being the selection wasn't a major shocker, the fact that it was Blake Bortles was. As far as the 2014 QB Class goes, Blake Bortles has two playoff wins: Derek Carr, Teddy Bridgewater, and Johnny Manziel have combined for zero.
— Blake Bortles Facts (@BortlesFacts) November 20, 2017
What was the original impetus for starting Blake Bortles Facts, and how quickly did you find the distinct voice that certainly comes across in the tweets?
BBF: The account started in 2015 after Blake's rookie season. It started as jokes that myself and a fellow Jaguars fan would say during the games when the Jaguars were getting blown out each week, I suppose to give us something to laugh and smile about. After a while, I just decided to put it on Twitter. I've worked in social media marketing specifically for the past seven years, and learned a long time ago that when there's a different, unique take on something, it's worth trying out in the social space.
Has your opinion on Blake Bortles changed over time, especially as you've received more attention because of Blake Bortles Facts?
BBF: I wouldn't say that it's necessarily changed. When he and the team struggled mightily in the first few seasons, the roster wasn't what it is now when he came in, and Blake had the worst head coach in NFL history for his first three seasons. However, over time, the account has evolved to somewhat of a parody account to now something that defends our AFC South Champion Quarterback that has us one game away from the Super Bowl. Blake Bortles has 1 more AFC Championship Game appearance than Jameis Winston, Deshaun Watson, and Marcus Mariota combined.
When did you first realize that you might be on to something with Blake Bortles Facts (in terms of getting noticed)?
BBF: This past September. The account had hovered around 3,000 followers for the first two years or so, and was just something fun for me and some Jaguars fans on Twitter. This past September, the account got mentioned on the Bill Simmons Podcast, and went from 3,000 to about 30,000 in the span of a week. For the next few months, it creeped up to 40,000 followers, and then the Wall Street Journal reached out to me and published an article on it last month. It's completely spiraled out of control since that was published.
Is there a particular Twitter interaction (whether from a celebrity/athlete or otherwise) from your time running Blake Bortles Facts that stands out in your memory?
BBF: I've been blown away by some of the notifications of who follows it or has retweeted some of the fans, and I've been most surprised at seeing people interact with the account that aren't even in the sports world. Far and away, however, the best one was Blake Bortles being asked about it at the press conference this week. The team is about to play in their most important game in the past two decades against the greatest team in the NFL over the past several years, and they're asking him about @BortlesFacts. What?
"I haven't seen it. But I appreciate it."@Jaguars QB @BBortles5 feels the support from @BortlesFacts ?

?: #ChampionshipWednesday pic.twitter.com/xPjIjxER1f

— NFL Network (@nflnetwork) January 17, 2018
Did you actually think that Blake Bortles would ever reach the AFC Championship, especially via a win over the Steelers in Pittsburgh?
BBF: I'll admit that I had a very tough time buying into the Jaguars this season, and it took me forever to do so. I'll blame that on being so disappointed so many times over the last 10 years, because the team has been downright brutal to watch at times. Each week they won this year, I would think "don't get excited, because you know the wheels are going to fall off." As each win happened, I started buying in a little bit more, but it wasn't until the win over Seattle in Week 14 that I really bought in. I knew they would make the Playoffs, but the AFC Championship was never even really a thought. When the team got into the Playoffs, I knew they would beat Buffalo, because the Bills never deserved to be there. With Pittsburgh, I was skeptical because while the Jaguars beat the Steelers in Pittsburgh in convincing fashion in Week 5, that's a tough team to beat twice, and Ben Roethlisberger isn't going to throw five picks twice. The Jaguars got the job done though, and now it's time to shock the world and beat the Patriots.
What will you do if Blake Bortles ever wins a Super Bowl?
BBF: If Blake Bortles wins a Super Bowl, I'll be sure to remind everyone, again, that these tweets have always been "facts," not "jokes." You don't go undefeated in 194 countries and on 5 continents and end up in the AFC Championship Game by accident.
Blake Bortles has now defeated the @buffalobills on two continents. pic.twitter.com/mHkmaz5Xio

— Blake Bortles Facts (@BortlesFacts) January 7, 2018
To that end, how do you see the AFC Championship game going on Sunday?
BBF: If history tells us anything, the Jaguars are going to shock the world and win this game. Remember, Tom Brady has lost nine playoff games over his career, while Blake Bortles hasn't lost any. Jaguars 21, Patriots 20.