NFL
New Titans head coach Mike Vrabel says he's been through 'doctorate degree' in coaching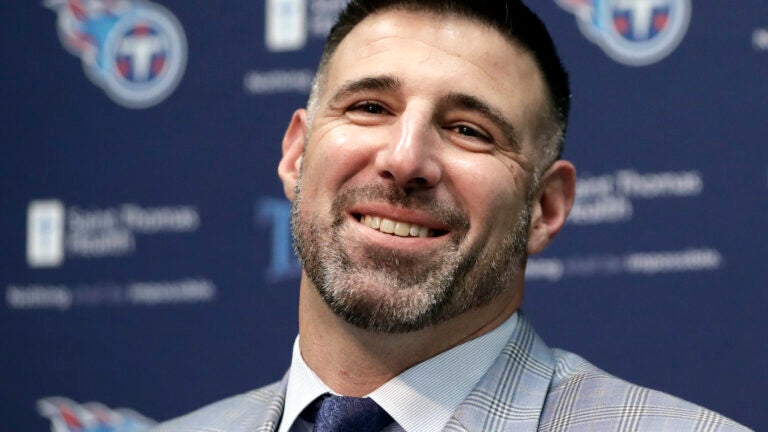 NASHVILLE, Tenn. (AP) — Mike Vrabel says nobody's ever really ready to be a head coach for the first time in the NFL. The Tennessee Titans' newest coach feels like he is as ready as possible thanks to the men he's worked with in the league.
"I'm lucky basically to go through basically a doctorate degree of coaching with the people that I've been around," Vrabel said.
The Titans introduced Vrabel as their new coach Monday. They agreed to terms with Vrabel on Saturday , just five days after firing Mike Mularkey coming off the franchise's first playoff win in 14 years.
"There will be things that I take from New England, from Pittsburgh, from Ohio State, from Houston," Vrabel said. "I mean there will be things that I take from everywhere. You draw on these experiences just like everybody else would in life … The nice thing is now there's things that I didn't like that Billy did, I get to change them. So there's things I like that he did, I get to use them."
This is the first head coaching job for Vrabel, 42, who won three Super Bowl rings with New England during his 14-year NFL career as a linebacker.
Vrabel is coming off his first season as defensive coordinator for the Texans. Vrabel's 14-year career as a player included stints with Pittsburgh under coach Bill Cowher and New England under coach Bill Belichick, along with Kansas City. In 2011, he joined the staff at his alma mater, Ohio State, coaching linebackers and defensive linemen.
"I'm not going to make the same mistake twice," Vrabel said.
Vrabel went to Houston in 2014 and coached linebackers with the Texans for three seasons before becoming coordinator. The Texans won the AFC South in 2015 and 2016 thanks in part to strong defenses. The unit slipped this season amid injuries to players including J.J. Watt and Whitney Mercilus.
This was the first head coaching search since Robinson was hired in January 2016, two days before the Titans took the interim tag off Mularkey. He went 21-22 in taking a team that had the NFL's worst record at 5-27 combined over 2014 and 2015 to a team that lost in the AFC divisional round to New England. Mularkey was fired less than 48 hours after that loss.
The Titans interviewed only three people with Vrabel first to meet with them Thursday. The Titans also interviewed Carolina defensive coordinator Steve Wilks and Los Angeles Rams offensive coordinator Matt LaFleur .
"He had a great presence about him," Robinson said. "In the interview, his football intelligence showed quickly. And at the end of the day, we felt like this is the next head coach of the Tennessee Titans."