NFL
A look at Julio Jones' bizarre offseason
Jones has gone silent. In doing so, speculation has run rampant.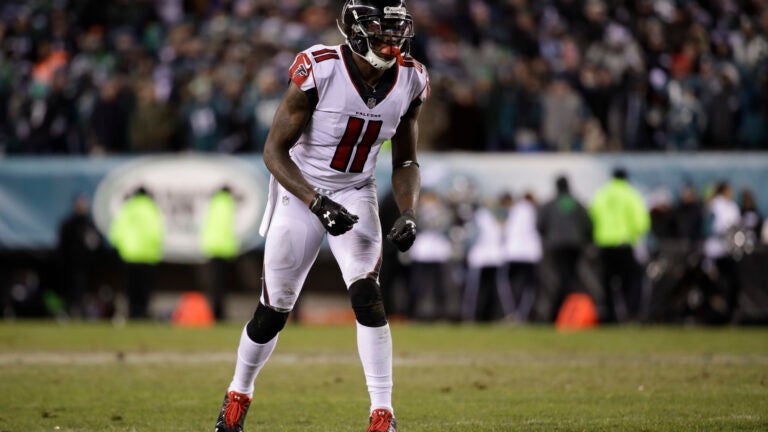 FLOWERY BRANCH, Ga. — So, what's up with Julio Jones?
There could be answers to the myriad of question surrounding the bizarre offseason of Quintorris Lopez "Julio" Jones. The Falcons All-Pro wide receiver is expected for the team's mandatory three-day mini-camp, which starts Tuesday.
Jones has not commented about his social media scrubbing of the team's logo, about working out with Hall of Fame conscientious objector Terrell Owens and why he ditched the "Brotherhood" during the voluntary offseason program.
Jones did a short interview with TMZ in Hollywood. He had a bodyguard tell a reporter he wasn't talking at a charity event at a metro Atlanta high school. He politely did not discuss his situation with a reporter from the Charlotte Observer at Cam Newton's charity kickball tournament.
Jones, who's been accommodating with the media over his career, has gone silent. In doing so, speculation has run rampant.
Is he mad at the Falcons? Does he want a new contract? Does he want to be traded? Is he jealous of Matt Ryan's $150 million contract?
The concerns have reached the higher levels of the organization with owner Arthur Blank and general manager Thomas Dimitroff getting involved.
Falcons coach Dan Quinn expected to have Jones participate in all of the offseason programs when he spoke to the media at the owner's meeting in April in Orlando.
Something happened. Jones did not attend the team's recently completed Organized Team Activities. In May, Quinn said the Falcons were not expecting Jones until the mini-camp and noted that he'd been in touch with Jones. Quinn did not offer a definitive answer on whether Jones will attend.
That time for answers is now. Maybe.
The Falcons clearly were looking forward to having Jones during the offseason.
The team is working on new wrinkles to the offense, which backslid from first to 15th in the NFL in scoring last season. Jones, who didn't work at all over the 2017 offseason after foot surgery, was spectacular at times as he amassed 1,444 yards.
But Jones has things to work on, too.
He only caught two touchdowns passes from Ryan as their deep passing seemed off. He led the team with seven dropped passes, including a potential game-changing touchdown at Carolina. He was also not effective in the red zone.
Jones caught only 6 of 22 passes (27 percent) thrown to him inside the 20-yard line for one touchdown. By comparison, Pittsburgh's Antonio Brown caught 13 of 23 (56.5 percent) of his passes in the red zone for six touchdowns.
Jones had a 59.5 percent catch ratio (148 targets, 88 catches), which was his second-lowest since his rookie season, when he had a 56.8 percent catch ratio.
Offensive coordinator Steve Sarkisian will welcome Jones' return.
"There are a lot of layers to that," Sarkisian said.
After discussing other elements of the offseason, he got back to Jones.
"There is opportunity, there are guys who get more reps obviously with Julio not here right now," Sarkisian said. "But at the end of the day, can't wait for him to be back. Would love to have him and when he does (return) I know that he'll be ready to go."
The value of OTAs have been argued. But coaches, who have reduced coaching time under the lNFL's 2011 collective bargaining agreement, value time with players.
"He's a dynamic player," Sarkisian said. "Julio is a tremendous player. He's a great leader. He provides a uniqueness to us offensively because of the threat that he is on every single play and that makes it difficult on defenses. That opens up a lot of opportunities for a lot of other players."
Sarkisian also noted that the Falcons didn't have Jones last season.
"This time last year he was in a boot," Sarkisian said. "He didn't really get going until halfway through training camp last year."
Falcons assistant head coach/wide receivers Raheem Morris walked a fine line when discussing Jones' absence.
"You never want to put dates on when people are coming back, especially when you talking about a particular person that is going to come back," Morris said. "We have people that handle those things obviously. Coach (Dan) Quinn has addressed all of the stuff about Julio being here or not here. Obviously, he's talking with Thomas (Dimitroff)."
Instead of bemoaning Jones' absence, Morris focused on the players on hand.
"You don't want to look or feel any type of way," Morris said. "You want to coach guys that are here at the voluntary camp as best that you can. Everything that we do at this moment is voluntary.
"When the guys come in and give you all of them, I want to give them all of me. I don't want to sit around and worry about what is not happening. I'm just going to motivate and get people ready to play as best that they can at all times."
Blank and Jones said that he plans to be a Falcons "for life."
One plausible reason for Jones' absence is that he's not happy with his contract as the market shifted over the offseason with deals signed by Tampa Bay's Mike Evans, Cleveland's Jarvis Landry and Kansas City's Sammy Watkins.
Jones signed a five-year, $71.2 million contract extension Aug. 31, 2015. The deal included $47 million in guaranteed money, with base salaries of $10.5 million (2018), $12.5 million (2019) and $11.4 million (2020). He's set to be the seventh-highest-paid wide receiver in the league, but has three years remaining on the deal.
The Falcons have not made it a practice of tearing up contracts with three years left. They re-configured Roddy White's contract in 2009 with one year left after a brief holdout.
Landry landed a five-year, $75-million deal with Cleveland, Evans signed a five-year, $82.5 million deal with Tampa Bay and Watkins signed a three-year, $48 million deal with Kansas City.
Also, the wide receiver market figures to continue to surge, with deals for New York Giants' Odell Beckham Jr., Houston's DeAndre Hopkins and Cincinnati's A.J. Green on the horizon.
Quinn said he has been in contact with Jones.
"He's in great shape," Quinn said. "He's spending some time this offseason working on some of the things that he's not even been able to over the last offseasons because of some injuries. But, I'll keep the conversations that he and I had private."
Finally, we may get some answers.