NFL
Josh Gordon will miss the start of Browns training camp to focus on his recovery
Gordon says his absence is "part of my overall health and treatment plan."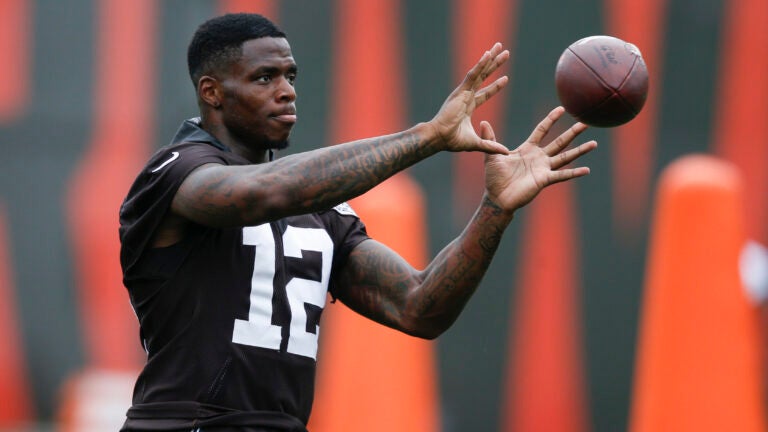 CLEVELAND (AP) — Days before opening training camp, the Cleveland Browns learned Josh Gordon will be missing again.
For how long remains unclear.
The troubled wide receiver, who has been suspended numerous times over the past six years by the NFL for drug violations, said on Twitter that he won't be with the team for the start of camp as he continues to recover from addictions that have derailed his once-promising career.
Gordon has missed two full years after being indefinitely suspended by Commissioner Roger Goodell and hasn't played a complete season since 2013, when he led the league in yards receiving and scored nine touchdowns.
While Gordon's social media post was vague, NFL spokesman Brian McCarthy said the 27-year-old has not been suspended.
"We will address the matter at the appropriate time," McCarthy said in an email to The Associated Press, adding "there's no timetable" on Gordon's return.
Gordon's disclosure came as the Browns are preparing to begin camp under coach Hue Jackson following a 0-16 season.
The team overhauled its roster during the offseason, adding former Buffalo quarterback Tyrod Taylor, Pro Bowl receiver Jarvis Landry and a few other potential starters in trades before drafting Heisman Trophy-winning QB Baker Mayfield with the first overall pick.
Gordon had been a major part of Cleveland's plans for 2018, but those could now be on hold.
In recent weeks, rumors that Gordon failed a drug test circulated on social media. But it wasn't until he posted his message Monday that it became known he could be sidelined again.
"I am reaching out to you all personally and letting you know that I am not only doing great physically but mentally as well," Gordon wrote in a statement directed to "my Cleveland Browns and NFL Family."
"You will notice that I will not be in Cleveland for the start of training camp. Rest assured, this, too, is a part of my overall health and treatment plan. I appreciate the awesome support I have received from teammates, friends, fans, and the Browns organization. Just like you, I am excited to start the season and I have every intention of being ready and available to join my teammates soon to help bring winning football to our fans."
Gordon later followed up with a tweet that said, "Thanks again.. See ya soon."
Because he is in Stage 3 of the NFL's substance-abuse program, Gordon is subject to random drug testing. He faces another indefinite suspension for any violation.
Gordon has missed 43 of Cleveland's past 48 games because of suspensions. Last year, he was reinstated by Goodell following a three-month stay in a rehab facility. He returned for the Browns' final five games and caught 18 passes for 335 yards and a touchdown.
Before he returned, Gordon revealed the depths of his substance abuse, saying he had never played in an NFL game sober.
Gordon participated in Cleveland's offseason programs, and the team has been encouraged by his commitment to staying clean and active.
Browns general manager John Dorsey said the team has Gordon's back.
"We will continue to support Josh as he receives the care needed to maintain his progress," Dorsey said. "We are going to respect his privacy while he is away from the team. Josh will be placed on the non-football illness reserve list until he is ready to return."
Cleveland will have its first practice Thursday. Gordon's announcement is another blow to an organization trying to rebuild following numerous losing seasons. The Browns haven't been to the playoffs since 2002 and have lost at least 10 games in 15 seasons since 1999.
During minicamp last month, Gordon claimed to be in the best shape of his life and boasted that with he and Landry, the Browns had the league's best receiving corps.
Gordon also said he felt fortunate to be getting another chance.
"Right now for me it's a bunch of the small victories day to day, just being able to come to work," he said on June 12. "Like the little, little things. Having some structure in my life."
Gordon has played in just 40 career games since the Browns selected him in the 2012 supplemental draft.
https://twitter.com/JOSH_GORDONXII/status/1021398682619572225