NFL
Is yoga more beneficial than stretching for NFL players?
"It definitely felt weirder than regular stretching."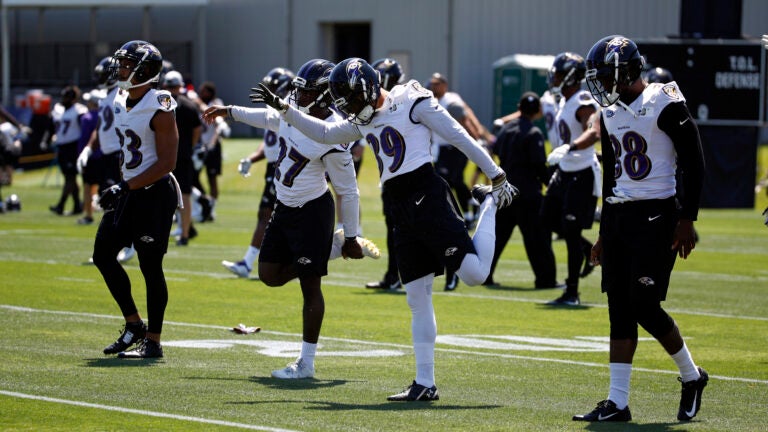 NEW YORK (AP) — During the mandatory rookie camp back in June, the New York Giants required players to take a yoga class. Running back Robert Martin walked in, looked around at his new teammates and thought, man, this is crazy.
"We usually don't do yoga," he said. "We stretch, but we don't do yoga."
Even as a first-timer, though, Martin immediately knew how the two were different .
"It definitely felt weirder than regular stretching," he said. "It was a lot harder because you have to sit in certain positions we've never been in before."
Players like New York Jets defensive lineman Leonard Williams and Giants quarterback Davis Webb prefer yoga because it requires a set amount of time dedicated to the practice. That is the activity . They can focus on their body without worries of what's next and feel an immediate difference afterward.
The poses in yoga are more beneficial than typical stretching because they incorporate all parts of the body into the movements, Los Angeles Chargers Director of Football/Medical Services James Collins said. Stretching is linear. Yoga is non-linear, helping multidirectional joints such as the elbow, wrist, ankle, hip and shoulder.
All of the major joints are encased in a capsule and contain fluid to help prevent friction between bones. Yoga helps maintain the capsules.
"I describe it to (a player) as really thick saran wrap that covers his joint so that the fluid stays in there," said Collins, also the Professional Football Athletic Trainers' Society president. "But at the same time, that saran wrap needs to have its flexibility — keep it stretched out — so the join can function properly."
Joint integrity comes down to maintaining mobility, he said. Because yoga is a multidirectional exercise, it allows the joint to move in every direction it can.
Take the hip. Downward dog, pigeon pose or runner's lunge are just some of the yoga poses that benefit the hip. Downward dog alone has multiple variations to stretch the hip in different directions.
"But if we lay down on the floor at home and just pull our leg straight up over our head, that's linear," Collin said. "So that joint is only getting work in that direction."
The knee is not multidirectional, he said, which is why it's so vulnerable to getting hurt. It's not made to go certain ways.
National Athletic Trainers' Association president Tory Lindley, who's Director of Athletic Training Services at Northwestern University, believes yoga creates a more conducive environment for muscle lengthening. It doesn't just jump right into poses. It's a progression, working through the whole body rather than just parts.
Static stretching doesn't allow that.
"We've gone away from pre-practice stretching," Lindley said. "There's much better benefits from a pre-practice dynamic workout, which is what the vast majority of teams regardless of sport will do. And then post-practice, when flexibility training is beneficial, in most cases that environment is much more about let's get off the field as quickly as we can versus let's take time to dedicate to the stretching or flexibility piece."
The debate isn't if yoga should be done before or after practice, it's when is there time to aside for yoga and yoga alone.
Gwen Lawrence, the founder of Power Yoga for Sport who worked with Giants for 18 seasons, said NFL players should do yoga twice a week with sessions lasting an hour. That's best case scenario and more realistic for the offseason. Right now, Kaleen Lugo gets 45 minutes once or twice a week with the Chargers, depending on their preseason schedule. During the regular season, players should at least do it on their recovery day, whether the team offers it or they do it independently.
It should become a routine so players can develop and advance their personal practice.
"Just a straight sun salutation," Giants linebacker Jordan Williams said of doing progression of yoga moves. "When you start getting that flow through — warrior, warrior lunge, runner's lunge and then bring that through with downward dog and upward dog — I love that."