NFL
'They can do whatever they want': 6 things we learned about Tom Brady and the Patriots from Mark Leibovich's new NFL book
"It wouldn't kill Brady if the Patriots were to release him into free agency."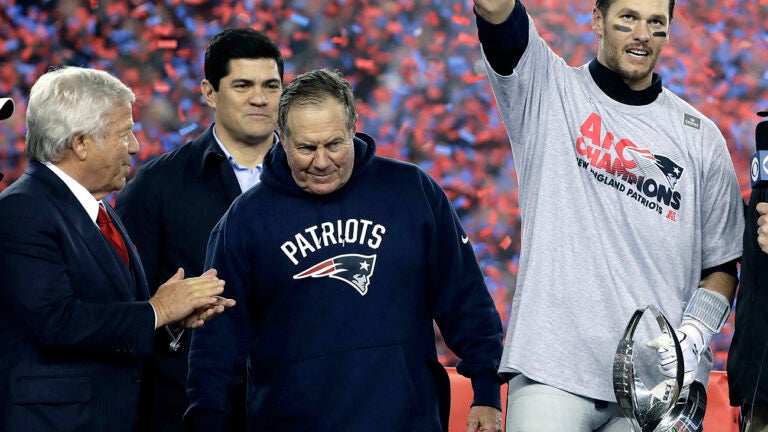 Mark Leibovich may be the only person to conduct interviews inside both the White House and Tom Brady's top-floor Manhattan apartment.
The New York Times Magazine correspondent won acclaim for his unsparing portrait of Washington, D.C.'s political culture in his 2013 book, This Town. Five years later, his newest book, set to be released Sept. 4, takes on the NFL, with a heavy focus on the New England Patriots.
Big Game: The NFL in Dangerous Times chronicles the last four years of "peak football" in an amusing narrative that weaves from not one but two of Tom Brady's homes to NFL owners meetings to a scotch-filled visit to the infamous bus of Dallas Cowboys owner Jerry Jones — not to mention encounters with President Donald Trump.
As both a Massachusetts native whose football-rooting loyalties remain with the Patriots and a reporter specializing in politics, Leibovich spent much of the past few years reporting on Brady, on Trump, and on the "uncomfortable" intersection of the president and the Patriots. As a result, some newsworthy details in the book have already been made public — Brady's dad predicting his son's career will "end badly" with the Patriots, Trump asking a Times photographer who's "got a better body, me or Tom Brady?" —  or at least rumored, such as the reason the Patriots quarterback skipped the team's 2015 White House visit.
That said, there's hardly a shortage of new, colorful "nuggets," to put it in NFL media terms, in Big Game. And that's especially true when it comes to Leibovich's beloved hometown team.
The discontent of Brady and Gronk
The so-called Patriot Way appears to be wearing on Brady and tight end Rob Gronkowski.
The apparent friction between the Patriots and their two stars hasn't been much of a secret this offseason, but Leibovich further corroborates the reporting that both Brady and Gronkowski are getting tired of playing in what has been called a joyless work environment under coach Bill Belichick.
According to Leibovich, Gronkowski has told numerous people that he's sick of going to work in such a "dreary monolith" (the author's words, not Gronk's). But more explosive is the suggestion that Brady wouldn't have minded being released by the Patriots after nearly two decades with the team.
"They can do whatever they want," Brady told Leibovich this past April.
Leibovich — who says that he stayed in close touch with people in the quarterback's circle while writing the book, not in the least Tom Brady Sr., who is quoted often — writes that it was "pretty clear that things were not great between 'they' and Brady right then." In the book, he writes that Brady has become "fed up himself with the Belichick culture" and has told friends, teammates, and relatives that he has earned more deference and gratitude than what he gets from the Patriots coach. An additional source of friction is the arrangement between the team and Brady's personal body coach Alex Guerrero, which remains unresolved.
"My sense is — informed by talking to some people close to him — that it wouldn't kill Brady if the Patriots were to release him into free agency, allowing him to control his next move," Leibovich wrote.
Of course, that hasn't happened yet, and the Patriots recently restructured Brady's contract to include more incentive bonuses over the next two years.
Robert Kraft was confronted by Arthur Blank over his relationship with Trump
Even though Robert Kraft has been critical of the president, the Patriots owner has maintained that he would rather have Trump's ear and try to be a positive influence, according to Leibovich. A longtime friend and donor to Trump, Kraft apparently tried to argue that perspective to Atlanta Falcons owner Arthur Blank. According to Leibovich, Blank was not buying it.
"I said, 'You f***er, you've given him a lot of money,'" Blank told Kraft. "You have influence and spend time with him,'" Blank persisted. "'Robert, there are things he's saying and doing that are not great for this country. And the smartest people in the world today, you know they're viewing him as a four-year mistake.'"
'Did he really compare me to Romney?'
Despite their long, friendly relationship, Kraft and Trump have had a few rough patches. Leibovich notes that, like the president, the Patriots owner is easily offended.
In February 2017, Leibovich published quotes from an old interview with Trump, in which the president said Kraft "choked, just like [former Massachusetts Gov. Mitt] Romney choked [during the 2012 election]" in the Patriots' appeal of Brady's four-game Deflategate suspension. (Earlier in the book, Leibovich says Brady felt "crestfallen" and "betrayed" by Kraft, according to a source who was with the quarterback on the day of the decision.)
Kraft apparently read the interview and approached Leibovich at a pre-Super Bowl LI league party.
"Did Trump really say I choked?" Kraft asked.
Leibovich said yes, but noted that it was in an interview 18 months ago, but the billionaire owner was apparently still in disbelief.
"Did he really compare me to Romney?" Kraft asked, shaking his head. "It was a shock to read that."
It was hardly the first time Kraft and Trump have been at odds. Earlier in the book, Leibovich reports that the two had something of yearlong falling out, after Trump became upset with the Patriots owner for not doing more, from Trump's point of view, to support his failed attempt to buy the Buffalo Bills in 2014.
The rift reportedly persisted until the summer of 2016 (coincidentally soon after Trump won the Republican presidential nomination) when Kraft approached Ivanka Trump in Aspen, Colorado, and told her that he missed his old friend.
Going back even further, Trump was among several people who actually attempted to buy the Patriots back in 1994, along with current Los Angeles Rams owner Stan Kroenke. That was until they learned that Kraft had already previously bought the team's old Schaefer Stadium, as well as the land around it.
"We went in there and we saw Robert had the lease under the stadium," Kroenke told Leibovich. "We figured this out in three days, and we were gone."
Kraft reportedly told Kroenke that it took 11 days for Trump to figure that out.
The Kraft quote the Patriots don't want you to see
Kraft may be a Brookline native, but he loves New York.
In addition to the Kraft family's historically contentious relationship with Boston's political establishment, the 77-year-old billionaire went to college and keeps an apartment and office in New York. He has also reportedly become a regular on the party circuit in Manhattan and the Hamptons.
"Boston is a village compared to New York," he told Leibovich.
Fearing that those words might not go over well given the Boston-New York rivalry, Kraft's remark prompted an immediate response from Stacey James, the Patriots spokesman.
"Can we take that off the record?" James asked.
Leibovich agreed — for the magazine piece he was writing at the time about Brady.
"I didn't say I wouldn't put it in a book someday," he wrote.
'There's a stigma in our society around counseling'
It's been well reported how close Brady is with his dad. Brady Sr. even went to counseling for two months when his son went to college at the University of Michigan, thousands of miles away from their California home. He wasn't the only one.
Both of the Toms talked to Leibovich about the benefits that the then-college quarterback got from seeking help from Michigan counselor Greg Harden, at this father's advice.
"There's a stigma in our society around counseling," Brady Sr. said. "I wanted to make sure Tommy wasn't held back by that when he needed it."
Brady says he was sought out by Harden.
"I looked like this vulnerable guy that maybe he thought he could have an influence on," Brady said.
Brady enjoyed Trump's gaffe in Maryland
As chronicled throughout the book, Brady is a responsive and enthusiastic emailer (i.e. lots of exclamation points, like his Instagram account). Though he visited Brady at both his Manhattan apartment and Brookline home, as well as the Patriots locker room, Leibovich writes that it was their most consistent mode of communication and that the quarterback usually responded within a day.
One particularly enjoyable correspondence came in April 2016, as Trump was campaigning for president. As he often did on the campaign trail, the then-Republican candidate name-dropped the Patriots quarterback at a rally… in Maryland.
The crowd, presumably fans of the rival Baltimore Ravens, booed in response. Leibovich emailed the link to Brady.
"Funny," Brady replied. "That made my day!"
Other odds and ends
Again, Big Game is dense with previously unreported nuggets and amusing anecdotes, conveyed in Leibovich's sardonic, deadpan style. It would be difficult to include them all, but here's a sampling of some other significant and not-so-significant Patriots-related details.
Gisele Bundchen apparently is (or was) a believer in the blue solar water fad. During a 2014 interview at their apartment, Leibovich noticed the blue glass water bottles. "Yeah, she puts the bottles of water in the sun and it energizes or charges them or something," Brady explained. Weird that didn't make it into the TB12 Method book.
He's not just a body coach; Guerrero is also the godfather of Brady's youngest son, Ben.
Tom Brady Sr. is no fan of the TB12 diet: "Not only can I not eat that stuff, I can't even look at it." Later in the book, the younger Brady tells Leibovich that his dad says he "would rather die than not eat ice cream." Apparently, avocado ice cream isn't cutting it.
Recalling his son's lack of playing time at Michigan, Brady Sr. says he still has a nagging desire to "punch Lloyd Carr in the nose."
On the back shelf in Kraft's Gillette Stadium office, Leibovich spotted Gisele's photo book, "the one that costs $700 and includes early nudes."
Brady's parents stopped attending away games over the intense Deflategate backlash from opposing fans.
Guerrero says it took much of the 2015 offseason for Brady to get "back to center" during the Deflategate proceedings, and even thought about retiring, though it's unclear how seriously he actually considered it.
Leibovich says he personally heard two other NFL owners imitate Kraft's "slow, Boston-accented" speech delivery and that NFL Commissioner Roger Goodell has apparently taken on Kraft's cadence when quoting the Patriots owner.
Apparently, it was the Patriots owner/Trump buddy who put that Make America Great Again hat in Brady's locker.
Kraft eats organic eggs from chickens raised by the caretaker of his Brookline mansion. "I eat these eggs every day," he told Leibovich. "That's the reason I still have hair." Leibovich confirms that the eggs were very good.