NFL
'We're going to hate this book': Mark Leibovich still loves the Patriots, even if the feeling isn't mutual
The Boston-born author says he came away "largely unimpressed" with the people who run the NFL: "They're kind of used to a certain level of deference that I frankly have no desire to give them."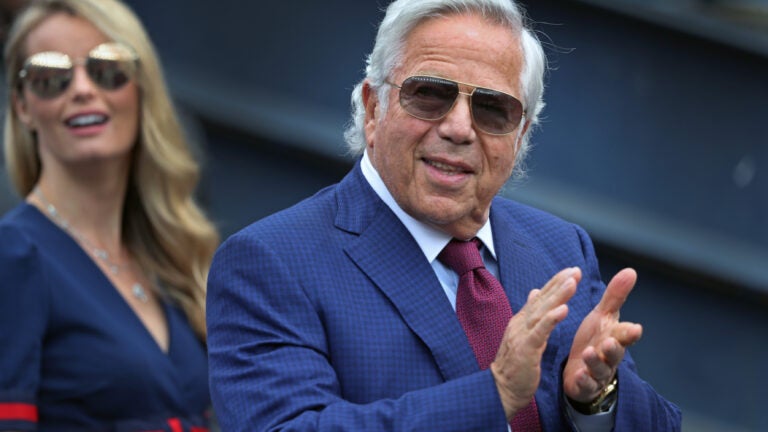 Mark Leibovich has no plans to stop watching the NFL or his favorite team, the New England Patriots. But the last few years reporting behind the scenes has left him "largely unimpressed" with the people who run the league — not just Roger Goodell, but the 32 NFL owners pulling the strings.
"I don't think these guys are by-and-large great for the game, or for America, but we're kind of stuck with them," Leibovich recently told Boston.com.
The New York Times Magazine chief national correspondent and lifelong Patriots fan spent four years chasing and interviewing some of the highest-profile names in football for his newly released book, "Big Game: The NFL in Dangerous Times." As he explored the league's inner-workings, what started off as a book about Tom Brady and the Patriots grew into a book about the league as a whole. He even got President Donald Trump to talk about the NFL (and their shared love of Brady).
Coming from the self-obsessed, ego-driven world of politics, Leibovich said reporting on the league and its owners felt "kind of like a very familiar sitcom."
"They all think that they're so incredibly charming, and a lot of them just genuinely think that they are the greatest industrialists of our time," he said in an interview this week ahead of his book signing next Thursday at the Harvard Book Store in Cambridge.
"They need a lot of attention, a lot of credit — more so than I think owners in other sports," Leibovich said. "They're kind of used to a certain level of deference that I frankly have no desire to give them."
The NFL has reportedly tried to downplay the book as containing no "bombshells" or major problems for the league, besides its thorough chronicling of the league's myriad of scandals, from concussions to Trump to Deflategate (which, like a good Patriots fan, Leibovich maintains was an unfair attack on his team). Leibovich says its fine if the league doesn't "want to give the book any oxygen."
"If there's a bombshell, you're going to hear about it and then you won't read the book anyway," he said. "My feeling is it's a book. There should be something on every page that, if not a bombshell, should at least open your eyes and make you smarter or laugh or something."
There's a lot in the book for fans of all 32 NFL teams, but especially when it comes to Leibovich's beloved Patriots. The Boston-born Newton native says his "eyes are wide open about [the team] and why people hate us."
"I try to have as good a sense of humor as you can and certainly wouldn't trade places with fans of any other franchise right now," he said.
The book is filled throughout with colorful anecdotes and quotes from inside the Patriots circle, some of which they may want back, such as owner Robert Kraft fretting about Trump. Despite (or perhaps because of) his time reporting on politics, Leibovich got a surprising amount of access to league owners and officials — very surprisingly for anyone familiar with his treatment of the transactional, insider-y culture of Washington, D.C., in his 2013 book "This Town." It seems likely the Patriots are already regretting the decision.
"I'm guessing that Robert didn't like the book," Leibovich said.
"I haven't heard anything from the Patriots except for like a preemptive, 'We're going to hate this book,' from [Patriots spokesman] Stacey James when he kind of heard a few things," he said. "I assume they did hate it, and that's fine. I still root for the team though."
Leibovich writes in the book that Robert Kraft "can be a whiny star-f***** and sniveling in victory." But he also found the Patriots owner, who he interviewed multiple times, to be "very accessible."
"Just accessible in that he's a very human guy," Leibovich said. "He might think he is like God's gift to all of us, but you hang around him a little bit and he's just sort of a smaller-than-life figure, which I kind of like. I don't know if he's fully aware of how arrogant he can come off. He rubs a lot of people around the league the wrong way. And, yes, part of it is jealousy and envy, as he is quick to ascribe, but I don't think that's the whole picture."
Leibovich says Kraft is concerned that he doesn't get "equal billing as Brady and Belichick on like the holy trilogy of the dynasty."
"He doesn't have the easiest job," he said. "The public faces of the team — I mean, Belichick is not a great public face of anything and Brady is pretty private and very controlling of his brand. So a lot of that falls on Robert and I don't think he's very well suited to it."
"Big Game" corroborates the reports of discord between Brady, Belichick, and Kraft dating back to last year and that Brady's relationship with the team was strained. In a recent epilogue of his Facebook mini-series "Tom vs. Time," the Patriots quarterback acknowledged that "a lot of parts about football weren't enjoyable" in recent years, but said he felt a lot of the drama inside the team had been blown up by the media.
"I think it's both," Leibovich said. "I mean, I think it is real. I think they're all sick of each other, but I don't think any of them want to lose football games. I mean none of them have anywhere to go. Tom might have somewhere to go if his contract ever runs out and then he'll have a decision to make."
Leibovich kept in touch with Brady intermittently since he first interviewed the quarterback in 2014 and marvels at the 41-year-old's mastery of the game.
"He is just an absolute genius when it comes to being an NFL quarterback," Leibovich said. "That is one of the beauties of football. You can operate on such a deep and fascinating strategic level. I could compare it maybe to computer programming. There are a lot of layers. There's a completely alien set of words and languages."
As much as "Big Game" torches some of the NFL's leaders and top figures, Leibovich, who has compared football to "crack," admits that he remains hooked, with the Patriots' continued success feeding that addiction.
"Look I was pretty unimpressed with a lot of people who own and run this league," he said. "There's no question about that. But I still have a total love for the game and I think it's just a phenomenal story like every week. That's pretty magical."