NFL
What NFL pundits and personnel are saying about Matt Patricia and the Detroit Lions
The Lions, 0-2, are preparing to host the Patriots in Week 3.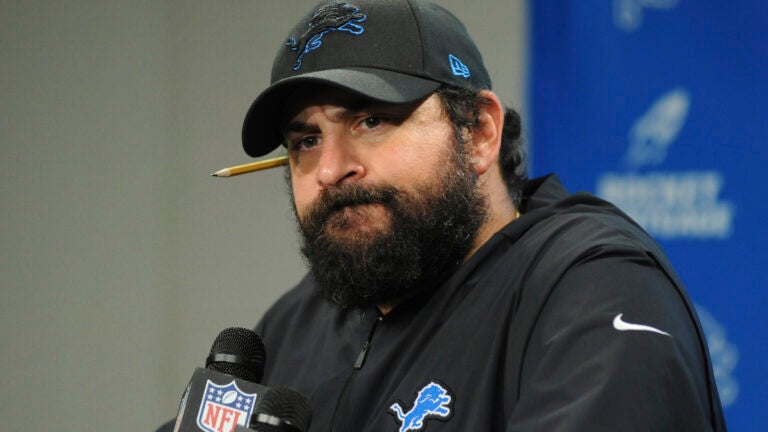 Matt Patricia's NFL head coaching debut in Week 1 can be summed up in one word: abysmal.
The Detroit Lions' 48-17 loss to the New York Jets doubled as the worst loss of Week 1 across the league and the worst home season opener in franchise history– even worse than any loss during the season they lost every single game.
In Week 2, the Lions put forth an admirable effort, but still fell to the San Francisco 49ers, 30-27.
Patricia, the former defensive coordinator for the Patriots, was hired by the Lions to replace former head coach Jim Caldwell and to revive the exhausted franchise, which has not seen a postseason win since 1991. The Lions must've thought that, as one of Bill Belichick's right hand men, Patricia would be able to sprinkle a little of that New England success on their city. That hasn't happened in the first two weeks.
The Lions will host Patricia's former team, the New England Patriots, this Sunday in Detroit. Patricia spoke to New England media this week about what it would be like to face his former team.
In the wake of headlines such as "Detroit Lions coach Matt Patricia is in over his head," and "Detroit Lions' Matt Patricia gets lesson in just how tough of a job he has," Patricia and his team have been the talk of the NFL this month for a few reasons, so let's break it down:
Mike Garafolo, NFL Network:  "I am still not going to jump to a conclusion and say 'This is going to be an utter disaster,' and 'Josh McDaniels part two,' and 'another branch on the Belichick tree that's going to wither and die.' I'm not going there, but what I'm saying is when you don't have the results, and when they're as bad as they were [Week 1], you leave yourself very little leeway as a head coach. Your guys are going to say, 'Wait a minute, we're being run harder than other teams; we've got more rules than other teams, and we aren't getting the results?'"
We talked the other day on @gmfb Weekend about the #Lions' veterans being unhappy with how hard Matt Patricia has worked them and all the rules in place there. Results like last night's blowout loss to the #Jets could bring things to a head … both ways. pic.twitter.com/wCImJnLFlg

— Mike Garafolo (@MikeGarafolo) September 11, 2018
Stephen A. Smith, ESPN: "I'm going to blame Matt Patricia. It's the same old, same old: a Belichick disciple goes someplace else, trying to be Belichick. And it never works… You steal successful habits, I totally get that. But Belichick is a different beast, man."
Shawn Windsor, Detroit Free Press:  "When Patricia was hired last winter, it was easy to gloss over the listing Belichick coaching tree. Patricia was seen as a savant, a player's coach, the burly, charismatic type with a talent for math and improv. He seemed different. And, once he was hired, he deserved the chance to disassociate himself from the failures of the Belichick coaching tree. Then [Week 1] happened. And the implosion against the Jets turned out to be a continuation of everything that went wrong in the preseason. Where each week we saw more evidence that Patricia wasn't connecting with the team. It wasn't just that Patricia pushed his players — he isn't the only coach who stops practice and makes his team run sprints. Nor was it just the complicated defensive schemes he was — and is — trying to teach. It's the way he teaches. The way he communicates… This was, after all, a nine-win team he inherited. A team Bob Quinn said underachieved. The Lions' general manager set that standard when he fired Jim Caldwell. A standard Patricia must now meet."
Tedy Bruschi, ESPN Analyst: "Well right now, based on last week, I'll say this: I think Matt Patricia may have a little bit of an advantage. I'll say that because [of] what Jacksonville had success against: the Patriots defense — short, easy crossers. Nice safe passes to the running backs were very successful. Actually, they were free runners on crossers, this is fundamental stuff. So, how do they fix those problems, and what are those adjustments? I think Matt Patricia knows those adjustments and how to continue to attack those, so that can be said on both sides, yes, I know this. But seeing the problems and trying to attack them again, I think Matt Patricia could have an advantage."
Bill Belichick, New England Patriots head coach: "As far as Detroit goes, there are a lot of unknowns there. Offensively, this is a very explosive group. The kicking game is very explosive and defensively, what they've shown, they've shown, but we know there's a lot more behind the curtain than that. Nobody knows us better than Matt [Patricia] does. He's worked against our offense every day for a long time. I'm sure that he'll address it in ways that'll be challenging for us. We'll have to make some in-game adjustments and perform at a high level. Today will be a good day for us to move forward on that, work on some situational things and then be ready to go Sunday night."
Glover Quin, Detroit Lions safety: "Players that were here previously, I'm pretty sure a lot of them are like, 'This is tougher, this is different.' But that's always expected when you have a new coach. It's just the way it is… It's just a part of it. It happens to every team, and you just deal with it. Your job is to go out there and play football, and be a good football player… There's a lot of guys in the locker room. No way that everybody is going to be completely happy. That's never been the case… Ask NFL Network who they're talking to. Like I say, there's always going to be differences and people are always going to have things to say. Our job is to focus on football and trying to win games. Everything is better when you're winning. If you're winning, you know, it's hard to complain. You're winning, so whatever you're doing must be working."
Matthew Stafford, Detroit Lions quarterback: "[Matt Patricia] is just a fiery, competitive, aggressive guy that is going to do everything he can to help us try and be successful. And that's a great thing to have. For me, I appreciate it. I understand that we're doing everything we can to try and win. And you can't let any kind of message get lost in the delivery of anything. And that was the same way with previous coaches that I've had. One side or the other, so it's not something I'm too concerned with to tell you the truth. Just trying to go out there and play better."