NFL
49ers fear Jimmy Garoppolo tore his ACL
Garoppolo exited the field with a knee injury in the fourth quarter Sunday.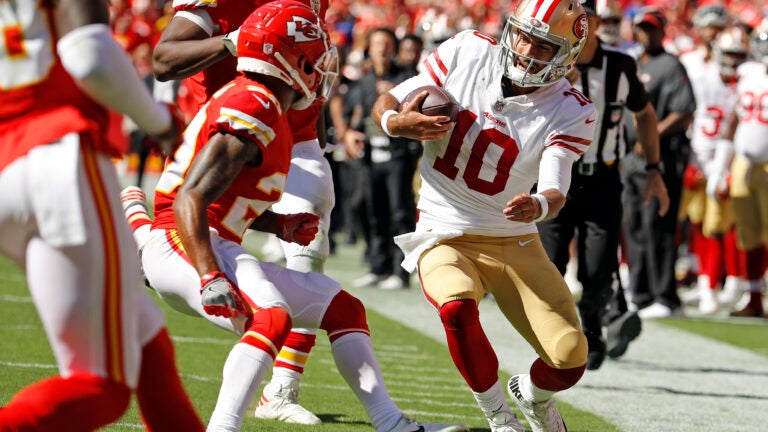 49ers quarterback Jimmy Garoppolo exited Sunday's game against the Kansas City Chiefs with a non-contact knee injury late in the fourth quarter.
ESPN's Adam Schefter reported Garoppolo will undergo an MRI on Monday. Coach Kyle Shanahan said the team is fearing an ACL tear.
"We'll find out tomorrow," Shanahan told reporters after San Francisco's 38-27 loss. "I feel for him, personally. I know how disappointed he is. I haven't had a chance to see him yet, but I feel for him."
On 3rd-and-goal at Kansas City's 30-yard line, Garoppolo scrambled for 13 yards before stepping awkwardly — his knee appeared to buckle — and absorbing a hit from Chiefs cornerback Steven Nelson. Garoppolo went down holding his left knee and remained on the field for about a minute before being helped to the sideline. He was then carted to the locker room.
Backup quarterback C.J. Beathard, who finished out the game for the 49ers, said he talked to Garoppolo in the training room after the game.
"Hopefully, he can recover and heal as quickly as possible," Beathard said. "I told him that I'd be praying for him and that I love him."
Garoppolo started the 49ers' first three games, throwing for 718 yards and five touchdowns this season. The 26-year-old led the team to a 2-1 record.