NFL
Dion Lewis explained his 'personal' comments about the Patriots
"I'm a feisty guy, everybody knows that."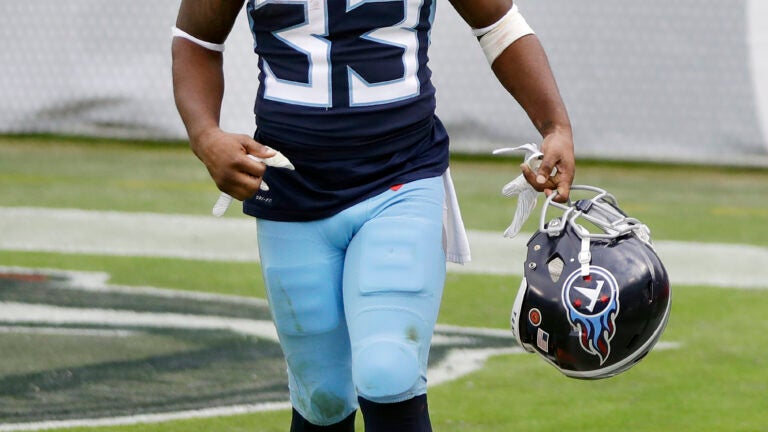 Tennessee Titans running back Dion Lewis explained comments he made about the Patriots following their 34-10 loss to the Titans on Sunday.
"I'm a feisty guy, everybody knows that," Lewis said on Wednesday. "I have to be the way; I'm 5′ 7″. I have to carry an edge, that's just how I am."
.@Titans RB @DionLewisRB was asked today about calling out the @Patriots after Sunday's game. He had a good answer … pic.twitter.com/0RscBGYlRT

— Jim Wyatt (@jwyattsports) November 14, 2018
Lewis spoke to NFL Network's Mike Giardi after Sunday's game and was not shy about his feelings for his former team.
"Hell yeah it's personal," Lewis told Giardi about his feelings for the Patriots. "That's what happens when you go cheap. You get your ass kicked."
Lewis won a Super Bowl with the Patriots less than two years ago, but his comments toward his former team on Sunday were less than amicable.
Lewis also tweeted twice after Sunday's game— one tweet was simply three laughing emojis and another was a GIF, which some fans took as a scoff directed at New England.
Lewis re-addressed these comments on Wednesday.
"It's nothing personal," Lewis said. "That's just the type of person I am, the player I am."
Lewis's postgame comments to Giardi did not sit well with the Twitter world, but quarterback Tom Brady simply brushed it off as winner's rights.
"I give them credit," Brady said. "They beat us, and when you win,  you get to say a lot of things. That's the reality of winning."