NFL
Kenyan Drake is trying to get the 'Miami Miracle' ball back from Dolphins fans
And he's willing to negotiate.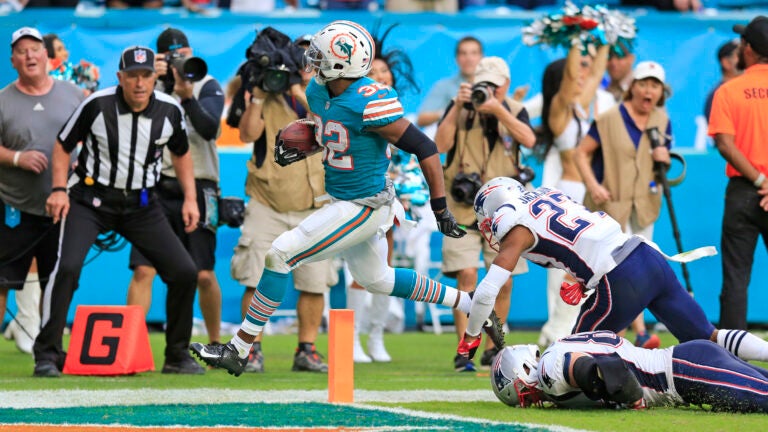 Everything went right for the Miami Dolphins on their game-winning, walk-off lateral play Sunday against the New England Patriots. However, running back Kenyan Drake, who completed the miraculous 69-yard touchdown, says he did make one mistake.
The celebration.
"Yesterday was one of the most amazing moments of my life, and I was glad to share it with all you guys — Miami fans, NFL fans," Drake said in a video posted Monday afternoon on Twitter. "But I have a PSA: I threw the ball in the stands, and I would love to have it back."
The 24-year-old says he is even willing to trade.
PSA‼️ Love to have the ball back that i threw in the stands after the touchdown yesterday. For the lucky fan in possession we can make a deal that'll be worth your while?? pic.twitter.com/PMyvw3927t

— Kenyan Drake™ (@KDx32) December 10, 2018
"I got cleats. I got gloves. I got a jersey. And I even got tickets," he said in the video.
As of Monday evening, it was still unclear what exactly happened to the ball.
IT'S A MIAMI MIRACLE! ??? #FinsUp#NEvsMIA pic.twitter.com/qvzsiI9a5g

— NFL (@NFL) December 9, 2018
Caught up in the moment after beating Patriots tight end Rob Gronkowski — who for some reason was in for defense on the play — into the end zone, Drake flung it out of view of the TV cameras high into the Hard Rock Stadium stands in celebration. Afterward, the third-year running back told Sports Illustrated that he didn't regret throwing the ball, but said that now that he is "level-headed" and thinking it over, having the ball back would "mean a lot" to him and the team.
The 7-6 Dolphins do have one final home game in two weeks on Dec. 23 against the Jacksonville Jaguars.
"We've got one last home game," Drake told SI. "If they don't have tickets already, I'll give them tickets to the game, whatever they need."