NFL
A Rams Super Bowl win could help put Los Angeles back on the football map
"I do think that this city has had such a history of great sports success."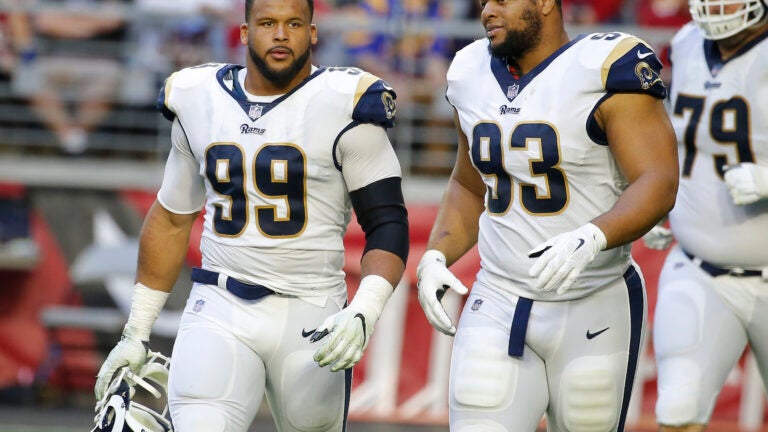 LOS ANGELES — The Los Angeles Rams' bandwagon might be gaining momentum headed toward Super Bowl LIII.
With the Rams' 26-23 win over the Saints on Sunday, the folks are hopping on for the franchise's fourth trip to the Super Bowl and first since 2002 and more important, its first since returning to the City of Angels three short seasons ago.
"I do think that this city has had such a history of great sports success," Rams coach Sean McVay said. "We've talked about trying to be able to play in a way that makes this city proud. I think this city has definitely made us feel embraced."
The Rams picked up and moved to St. Louis over two decades ago, leaving a big NFL hole in the nation's second-largest city.
The Rams' return was initially a flop, but started to pick up some momentum when McVay was hired as the youngest coach in the league, at 30, on Jan. 12, 2017.
McVay quickly guided the Rams to the playoffs, where they lost to the Falcons in after the 2017 season.
The Rams won the NFC West this season and returned to the playoffs. They defeated Dallas in the divisional round before posting a thrilling come-from-behind victory over the Saints in a game that was marred by a non-call on a rather obvious pass-interference call.
"I've certainly felt embraced since we've gotten here as a coaching staff over the last two years," said McVay, the Marist School grad who led his school to a state title back in 2003. "What a great opportunity it's going to be to play for a world championship."
A trip to The Grove, the upscale mall in the central part of the city near CBS studios, revealed a part of the Rams' problem. In a city of transplants with a crowded sports landscape, the Rams had to rebuild a fan base.
During a walk-around survey, two Dodgers hats, a Cowboys jersey, a South Carolina Gamecocks jersey, a LSU hat, a Pirates' hat and a Lakers' cap were seen.
The high-fashion crowd must save their Rams gear for the weekends.
Jared Goff jerseys were moving at $100 a clip at the Nike Store in The Grove.
On the Uber ride from the Westfield Mall in Culver City, the driver, Alex, a transplant from Columbus, Ohio, professed his newfound love for the Rams while "Gives You Hell" by the All-American Rejects played softly in the background.
"Once you move out here, it's pretty much impossible to go back to Ohio," Alex said.
He plans to cheer for the Rams against the Patriots.
"There are a lot of exciting people to root for individually," Alex said, when asked who was his favorite player. "I guess (Brandin) Cooks. He's got some hands. I was pretty shaky on Goff at first, but he's developed really fast."
Before the Rams returned, he rooted for the Dolphins because of Dan Marino and the Chargers because of LaDainian Tomlinson.
At Westlake Mall, sisters Isabella and Gabriella Smith were dressed in their Rams gear and shopping with their mom, Rina, in Target.
"We have season tickets to the Rams and now we are going to the game," said Isabella Smith, 14, who had on a Todd Gurley jersey. "We're leaving on Saturday."
The Smith girls weren't born when the Rams left L.A. for St. Louis in 1994.
"My dad (is why we are Rams fans)," Isabella Smith said, "When he was 10 years old and lived in England, his dad brought him a sweater. So, from then on, he's been obsessed with the Rams. He's crazy, crazy.
"When the Rams came back to L.A., we got season tickets right away, and we've got season tickets for the new stadium as well. So, our family is obsessed with the Rams."
Gabriella Smith will celebrate her 13th birthday at the Super Bowl on Feb. 3. She's a big Gurley fan, too.
"We just really like him and what he does for the Rams," the younger Smith sister said. "We both have jerseys for him."
Bryan Davis, 33, of Los Angeles, is old enough to remember the old Rams.
"I was born into this," said Davis, who was sporting a Rams hat and a Lakers jacket. "I was born on a Monday night of a Rams football game. It's been L.A. ever since. Obviously, when they moved to St. Louis I was bitter. When they won that Super Bowl for St. Louis I was even more bitter."
With the Rams back and winning, Davis is on back on board.
"I'm just excited to have football back," Davis said. "It's been a long time. Too long."
Davis was elated with the victory over the Saints.
"I think it was amazing," Davis said. "The refs were letting them play a little more than normal. I feel like they called a consistent game, but not calling premature pass interference plays.
"Although at the end of the game, that was pass interference, but the game was being officiated the whole way you can't change it at the end. That was actually good officiating I think. Keeping it consistent for both sides."
Davis may have to pay a co-worker to take his shift so that he can watch the game.
The Rams are building up momentum as they are set to move into Los Angeles Stadium at Hollywood Park in Inglewood, which is under construction.
"When the Rams came back, they stumbled out of the gate," said Sam Farmer, the long-time NFL writer for the Los Angeles Times. "They were 4-12. They were really having a hard time moving the needle in a city that was already attached to Dodgers, the Lakers, USC football as well as UCLA football and basketball. It's just a very crowded landscape."
The Rams weren't very marketable at first.
"But when Sean McVay came on, that sort of changed everything," Farmer said. "He was a young, dynamic and charismatic coach. The way he was able to turn around Jared Goff, who started off 0-7 and turn him into a Pro Bowl quarterback so quickly, and sort of take advantage of how good Todd Gurley is and Aaron Donald is, they really started to get traction."
After getting escorted out of the playoffs by the Falcons at home, Rams general manager Les Snead made a dazzling array of offseason moves to improve and retool the defense and he added the speedy Cooks with a five-year, $81 million deal.
The run to the Super Bowl has caught the city's attention.
"You are really starting to see that this city is energized and galvanized," Farmer said. "It's almost written in a Hollywood script that they would be playing a team from New England, essentially Boston. To use that L.A. and Boston rivalry as an after-burner that's like jet fuel."
Lakers vs. Celtics was an NBA playoff tradition. They just had the Dodgers and Red Sox in the World Series in 2018. Now, Rams vs. Patriots.
"The Celtics-Lakers is where the whole 'Beat L.A.' chat started," Farmer said. "Even though people in L.A. act kind of laid back, Boston makes their blood boil. It is really going to help. … It just pours lighter fluid on the whole thing."