NFL
10 questions with Los Angeles-based NFL writer Ryan Kartje
He expects it to be a close one.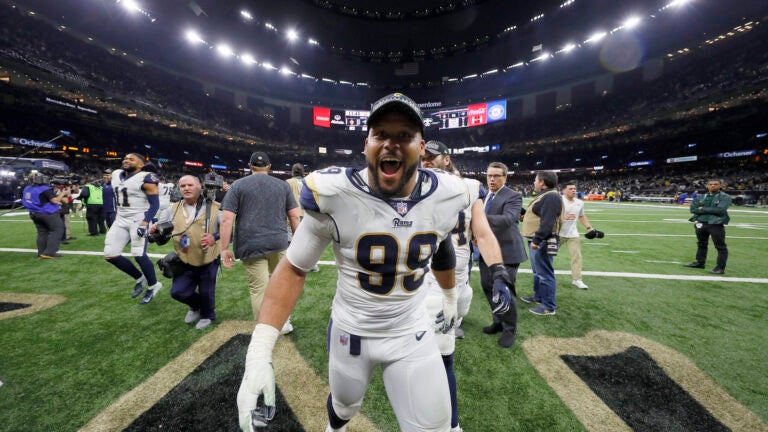 With Super Bowl LIII on the horizon, Boston.com asked Southern California News Group NFL writer Ryan Kartje for insight about the Los Angeles Rams. Here, Kartje addresses what makes head coach Sean McVay special, why the Rams deserve to be in the 2019 Super Bowl, and who he thinks is going to win the big game.
Boston.com: I asked Los Angeles Chargers beat writer Sam Fortier this question a few weeks back, and he dismissed the idea that the Boston-Los Angeles football rivalry has any merit. Now, a few weeks later, the same scenario has presented itself. Does this game count as part of the Boston-L.A. rivalry that fans desperately want it to be, or is it simply a game between a team that happens to be from Los Angeles and a team from Foxborough?
Ryan Kartje: I think I'd have to agree with our friend Sam. There's not much of a rivalry to be found here. The only real history between the Rams and Patriots is the 2002 Super Bowl, and while that was a pivot point in the path of both franchises, I don't get the feeling that either side is making much of that. Sure, there might be a few former Rams who come out of the woodwork this week to wonder aloud whether the Patriots cheated in the 2002 game — I'm looking at you, Eric Dickerson. But those are just sour grapes from a Super Bowl loss. This isn't Celtics-Lakers or even Dodgers-Red Sox.
BDC: The national consensus seems to be that Sean McVay is a brilliant football mind. At 33, he's the youngest coach to ever lead a team to the Super Bowl, so he must be doing something right. Bill Belichick, meanwhile, is 66, and he's been here a lot. In your eyes, what do you think makes McVay stand out, and how do you see the battle of wits with Belichick unfolding? What makes a guy who needs a personal "get-back coach" so special?
RK: By far the most intriguing part of this game for me is the coaching chess match between Belichick and McVay. While Belichick is a master of game-planning and in-game adjustments, McVay's system is built in such a way to make those things difficult. His system is actually a simple one, in some ways. The Rams use 11 personnel (3 WRs, 1 RB, 1 TE) 95 percent of the time, in an effort to make every play look the same. Then, layers of deception are added onto that simple look to confuse the defense. It's a difficult offense to prepare for, and after watching McVay outsmart coach after coach this season, it's hard to disagree about the "brilliant football mind" moniker. But this Super Bowl will be the most difficult test of his coaching life, by far.
BDC: In an offensive-minded league, with fantasy football dominating in more circles than not, we tend to think of offensive players before defensive ones. With the Rams, of course, Todd Gurley, Brandin Cooks, and Jared Goff — even Greg Zuerlein — are serious weapons, but this defense might have even more big names than the offense. What makes Aaron Donald, Ndamukong Suh, and the rest of the defense so dangerous?
RK: I have never watched another defensive lineman like Aaron Donald, so that's a good place to start. His ability to break through double teams makes him basically impossible to stop, and against a quarterback like Tom Brady that's looking to step up in the pocket, instead of scramble outside of it, that constant interior pressure can make a huge difference. He basically forces you to commit an extra guy — or even two — to him on every down. Suh, meanwhile, has come on recently to look like the $14-million player the Rams signed him to be. His strength is unparalleled as a bull rusher; combined with Donald, they can completely take away the between-the-tackles run game.
There are no real weaknesses along the Rams' defensive line, especially since their trade for edge rusher Dante Fowler. And since Aqib Talib returned and Wade Phillips adjusted his scheme to better fit Marcus Peters, the Rams have been much better on the back end, too. If the Rams are getting pressure and locking down in the secondary, then they have the talent to be one of the NFL's best defenses. It just doesn't always turn out that way.
BDC: With that defense the way it is, how do you envision them trying to stop Tom Brady and Company? What should their game plan be, and how do you see that part of the game developing?
RK: Getting pressure up front would be a good place to start, but the Patriots' surging offensive line is sure to make that difficult. Without knowing the Patriots' offensive game plan, it's hard to anticipate what Wade Phillips might try. But taking away the Patriots' pass-catching running backs would be a good place to start, in my estimation. Cory Littleton, the Rams inside linebacker, was worked badly on one drive against Alvin Kamara in the NFC title game, and I'm sure Josh McDaniels will be studying that drive closely. I imagine James White could be a focal point, but how they try to stop him is lost on me. The Rams have struggled to stop similar running backs all season.
BDC: I think everyone was surprised to see Todd Gurley sidelined — including Todd Gurley — and C.J. Anderson out there as the feature back in the NFC Championship game. Why do you think that happened, and do you think Gurley will get the bulk of the carries in the Super Bowl?
RK: McVay continues to contend Gurley's lacking workload last week was due to the flow of the game, but it remains a bit of a mystery. I do believe they trust C.J. Anderson, and in a big spot, McVay was hesitant to go away from the running back he could trust most right at that moment. Anderson has been about as consistent as any running back in the NFL over the past month. That said, I still believe Gurley will get the lion's share of carries during the Super Bowl. He's too valuable of a weapon as a big-play threat on the ground and in the short passing game to stray away from him again. McVay himself said this past week that he needs to get Gurley more involved. I believe he meant that. But McVay does have a short history of abandoning the run when things get hectic.
"We talkin' about practice? – @alleniverson" – @TG3II pic.twitter.com/8C9CIOCgZS

— Los Angeles Rams (@RamsNFL) January 26, 2019
BDC: With such a potent run game, it's no secret that play action is a staple for the Rams. What kind of edge does L.A.'s balanced attack provide, and how has Goff developed himself while learning to thrive in such a multi-dimensional offense?
RK: You could argue that no other team uses play action more effectively than the Rams. At the heart of McVay's offense is what he often refers to as "the illusion of complexity," and play action is the easiest way to pull that off. Part of the value of having a tremendous runner like Gurley is you can never discount that he'll run the ball. When teams have defaulted to defending the pass in play-action situations, Gurley has ripped off numerous big gains against light defensive fronts. That's not the sort of mistake Belichick is going to make in the Super Bowl, though. So how McVay uses play action in this game will be something to watch.
RK: As for Goff, I'll admit I was a doubter of his potential up until this season, but he's shown tremendous improvement during his second year in McVay's offense. For one, his anticipation within the passing offense, which is crucial in McVay's system, is leaps and bounds better. Go back and watch the touchdown pass he threw to Cooper Kupp against the Vikings this season. He's had quite a few breathtaking passes like that throughout this year.
BDC: We all know the Rams "aren't supposed to be here." But in a way, they are. They were still one of the best teams in football all year, and they certainly have a top-five roster when it comes to talent. Obviously, the pass interference call changed the entire complexion of the season, but can you share some insight on why this team, with its entire body of work, deserves to play in this game? Are Patriots fans underestimating this team?
RK: I know the nation — and New Orleans, especially — has honed in on that pass interference call as the reason why the Rams don't deserve a berth in the Super Bowl, but personally, I find that notion ridiculous. The call was botched; there's no doubt about that. But we haven't heard much anger directed at Drew Brees for throwing an interception in overtime. Or at the terrible pass play called on first down in the fourth quarter, which would've run out most of the clock. The Rams have proven all season that they're one of the NFL's best teams. They were the last remaining undefeated team. Their offense has spent most of the season atop the NFC. In terms of all-around talent, the Rams are the better team here.
BDC: What's one storyline or matchup people might not have their eye on that could ultimately decide the end result?
RK: I'm curious to see how Wade Phillips decides to defend Gronk. Almost as much as I'm curious if this will be Gronk's last game as a Patriot. I expect the Rams will try to use Lamarcus Joyner or John Johnson on Gronk specifically. Joyner has been somewhat inconsistent, so maybe he's targeted more often, while Johnson looks like an ascending young star at strong safety. Honestly, it's hard to pick which matchup is most interesting because there are so many good ones.
BDC: There are people who consider this a potential "passing of the torch" game, and some of those same people believe it could mark the end of Brady's career. Brady himself has given no such indication, but do you see this game as a turning of the page in the NFL? Do you think a Rams win could establish them as a dominant force for years to come, or is there too much parity in the NFL these days to label them as the prohibitive favorites going forward if they win this one?
RK: I'm hesitant to ever make any sweeping "This Is The NFL Now" statements after one postseason. I don't think this is the end of Brady's career, by any stretch. In the same way, I don't think there's any torch-passing happening here, regardless of who wins. Sure, maybe a Rams win would mean McVay is respected as one of the best coaches in the NFL, maybe even one of the faces of the NFL. But that doesn't mean Belichick is all of a sudden washed up and surpassed by McVay. Same holds true for Goff and Brady. Regardless of whether the Rams win, I believe they've already announced themselves as a force in the league for years to come.
BDC: What's your prediction, and why do you believe the game will unfold this way?
RK: I've been back and forth on this, but I keep coming back to the strength of the Rams' offensive line as the deciding factor in this game. If the Patriots can't pressure Jared Goff, the Rams should be able to move the ball. If the defense can force a turnover or two, I think that'll be enough. That said, I'm not very confident in this pick. Tom Brady has made me regret picking against him several times before. But I'll say Rams 34, Patriots 31.