NFL
The Jets unveiled new uniforms to the expected internet roasting
New York tweaked its logo and unveiled 'stealth black' alternates, among other changes.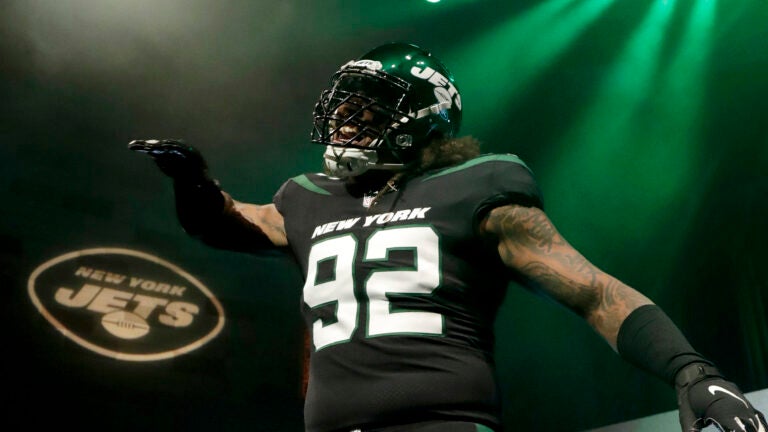 You can be forgiven for missing last summer's announcement that the New York Jets, in conjunction with their 60th season, would roll out new uniforms for the 2019 campaign. The AFC East punching bags, 14-34 in the past three seasons and a full 50 years removed from their lone Super Bowl title, haven't changed much since going to a primarily green ensemble in 1963. The last big move was more than two decades ago, when Bill Parcells darkened the shade and turned the logo throwback.
"It was time for a new uniform. It was time for a new Jets," team CEO Christopher Johnson told a team reporter in the run-up to Thursday's green-drink soaked unveiling in Manhattan. "We are now as a team on the cusp of what I think is a new era. And it's most appropriate that we're going to start that era with a new uniform, a new look. I'm really excited about it."
The internet was as well.
New York Jets Uniforms Reveal https://t.co/GYHvCDemV0

— Darren Rovell (@darrenrovell) April 4, 2019
"From the beginning, we wanted these new uniforms to have more of a New York grit to them," Johnson said. "I'll know that we've succeeded when I see a kid wearing one of our jerseys on the subway with his buddies or her buddies. That's the New York grittiness that I love. It was that resiliency of New York, the toughness of New York that really inspired me. That's what I'm hoping that we have in these new uniforms."
"The uniforms are sick," quarterback Sam Darnold said. "I'm really excited about it. The uniforms are awesome, super clean, super fresh."
Asked his favorite part of the new color palette — Gotham Green, Spotlight White or Stealth Black — was his favorite, Pro Bowl cornerback and Pat Patriot enthusiast Jamal Adams couldn't decide.
"I like it all, but I like how it's not doing too much, it's just right and it just fits good," he said. "It feels good. You can just tell it's going to get people's eyes quick."
It certainly did, as Twitter had its usual field day.
Congratulations, you've selected "Generic Uniform #2." Press X to begin your Madden Create-A-Franchise pic.twitter.com/2QpweoPhQg

— Pete Blackburn (@PeteBlackburn) April 4, 2019
If only the #jets didn't hav to play any games Bc they always win the offseason lol

— Shy sullivan (@Mikesul33830663) April 4, 2019
But they spelled "New Jersey" wrong ?

— Constantine James (@consjames) April 5, 2019
The only thing worse than bad uniforms is bad teams wearing bad uniforms. https://t.co/RRarc2wzuE

— Joe Giza (@JoeGiza) April 5, 2019
Can't wait for the Jets to open Hockomock League play against North Attleboro with these unis https://t.co/iyTDvNxUSK

— Brendan C. Hall (@BHallHudl) April 5, 2019
"On the biggest stage." ? https://t.co/14LTcOg43d

— WEEI (@WEEI) April 5, 2019
A poll run by Twitterati kingpin Darren Rovell had 66 percent of more than 17,000 respondents declaring the new uniforms average or worse. New York Post/WFAN Jets beat guy Brian Costello found a happier audience, with nearly 60 percent either loving or liking the new look, while Jets fan site Gang Green seems to be leaning "meh." Among the early consensus decisions is that they look a little too much like the Saskatchewan Roughriders of the CFL.
SportsLogos.net has more photos.