NFL
How did a Moneyball analytics geek turn the Cleveland Browns into a contender?
Paul DePodesta is way ahead of the schedule imagined by Theo Epstein.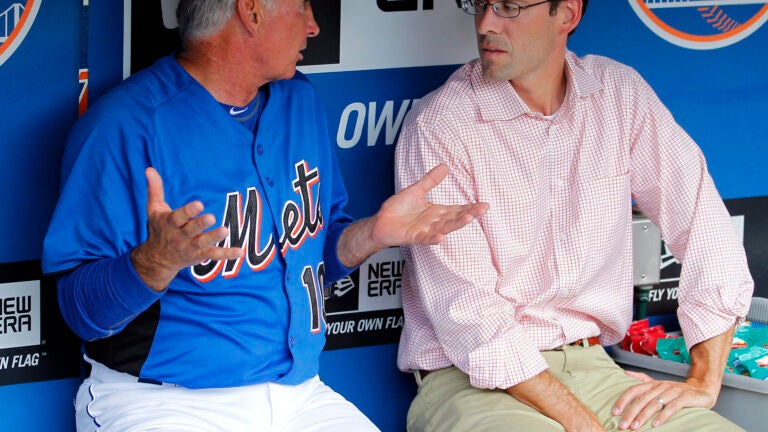 In 2017, a reporter asked Theo Epstein about potentially transitioning from being a baseball president to an NFL general manager. The question was prompted by an MLB front-office executive, Paul DePodesta, who switched sports to take over as chief strategy officer for the Cleveland Browns.
Epstein demurred.
"I know how long you have to be around the game of baseball before you can develop the right kind of instincts and intuition," the former Red Sox GM and current Chicago Cubs president replied. "I wouldn't presume to be able to do that in another sport. I think that would take 10 years to get up to speed."
It seems DePodesta is ahead of schedule. Since his hiring in January of 2016, the Browns have seen a dive to rock-bottom — a 1-31 record over the 2016 and 2017 seasons — followed by a resurgence led by rookie quarterback Baker Mayfield.
Mayfield set the first-year mark for touchdown passes (27) in the Browns best season since 2007. Seven coaches have come and gone since former Patriots defensive coordinator Romeo Crennel led Cleveland to a winning record that year. This offseason, the Browns added serious firepower to both offense and defense for Mayfield's sophomore campaign.
Cleveland acquired star wide receiver Odell Beckham Jr. and defensive end Olivier Vernon in trades with the New York Giants. The franchise also signed defensive tackle Sheldon Richardson and running back Kareem Hunt in free agency. Hunt, who was released by the Kansas City Chiefs after video surfaced of him kicking a woman in a Cleveland hotel, is suspended for the first eight games of the season.
The foundation for the Browns' turnaround was laid in the draft — and the atrocious seasons that gave them back-to-back top picks. Cleveland selected Myles Garrett, a Pro Bowler last season, first overall in 2017, then hit again with Mayfield.
At the NFL Combine before last year's draft, Mayfield sounded plenty confident about the Browns' future if they chose him.
"I think if anybody's going to turn that franchise around it would be me," Mayfield said. "They're close. They're very close. They have the right pieces. I think they just need one guy, a quarterback to make that difference."
Mayfield certainly deserves the bulk of the credit for Cleveland's turnaround, but DePodesta was involved in assembling a roster that needed only that one last puzzle piece.
In Moneyball, a 2011 film based on Michael Lewis's book about Billy Beane and the analytics revolution, Jonah Hill portrays DePodesta as a number-crunching assistant GM who helps shape the Oakland A's into a contender. Two years after Hollywood's portrayal of that fateful season, Epstein would use a similar model in Boston to lift the Red Sox to a World Series title.
DePodesta became the GM of the Los Angeles Dodgers at age 31, then served as an executive for the San Diego Padres and New York Mets before the Browns lured him to football. It would be a mistake to view his philosophy as based solely in statistics.
When he was hired by Cleveland alongside Sashi Brown, a cap-space-guru-turned-GM, DePodesta said that he views analytics as a way to use information to inform decisions and seek an advantage.
"Analytics is not about sitting behind a computer and pushing enter and having it produce an answer," he said, per ESPN. "This game is not a simulation. It's played by real people and because of that, there's just a tremendous amount of uncertainty that surrounds it. For us, it's about how we use information, how we use data to really get our arms around that uncertainty."
The uncertainty — and an 0-12 record — were too much for Cleveland in 2017. The team fired Brown, a Boston native who had stockpiled draft picks, but retained DePodesta. The franchise had already found success in the draft, and new GM John Dorsey picked up where Brown left off in his use of draft capital and trade assets.
Even though the decision to take Mayfield was more about ignoring conventional wisdom than swapping players or picks, the past two drafts reveal Cleveland's success in wheeling-and-dealing.
In 2017, the Browns traded a fourth-round pick for Houston Texans quarterback Brock Osweiler, a 2018 second-round pick, and a 2017 sixth-round pick. That same year, Cleveland traded down in the draft. The Texans gave up two first-round picks to move up 13 slots and select quarterback DeShaun Watson.
The second-round pick from the former trade became productive running back Nick Chubb. The first-round picks from the latter turned into safety Jabrill Peppers and cornerback Denzel Ward. Ward earned a Pro Bowl nod as a rookie last season, while Peppers was part of the package that brought Odell Beckham Jr. to Cleveland.
Now, the Browns appear on the cusp of their first playoff appearance since 2002 — if not championship contention. Cleveland has the sixth-best Super Bowl odds, according to Bovada. So, how much credit does DePodesta deserve for this remarkable turnaround?
Well, Yahoo's Charles Robinson reported in December that the chief strategy officer "has been more influential than anyone outside of the organization understands."
Robinson believes that DePodesta has more power than most people realize, and was able to overrule the general manager in selecting Gregg Williams as interim manager last season. Of course, the fact that the report relied on conjecture emphasized how much DePodesta has been able to keep out of the spotlight, much like he did while helping build a playoff team on the diamond in Oakland.
If Mayfield — the final piece in Cleveland's puzzle — leads the Browns to the promised land this season, DePodesta will have a hard time keeping the bright lights away.