NFL
'An absolute disgrace': New York media is already calling for the Jets to fire Adam Gase
"Calling this team a dumpster fire is an affront to dumpster fires everywhere."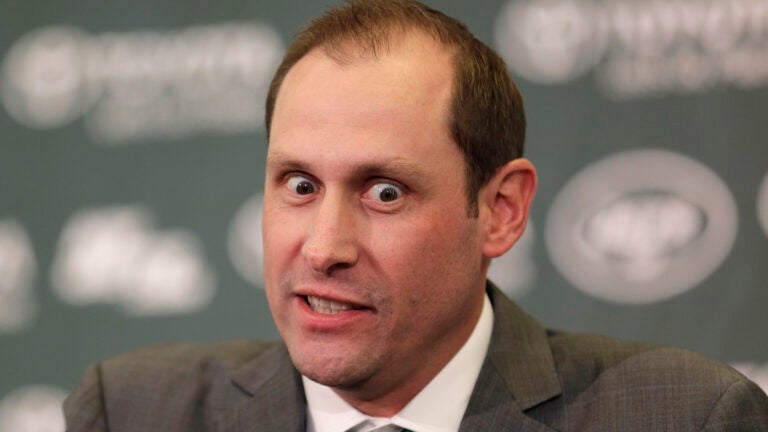 While the Patriots' season is no longer perfect following a Week 9 loss to the Ravens, it's still a far cry from the current crisis of a divisional rival.
The Jets are 1-7, and thanks to a 26-18 loss to the hitherto winless Dolphins, are now last in the AFC East. The immediate reaction to the loss was noticeable, even though the game was played in Miami.
Jets fans chanted for head coach Adam Gase — hired in January — to be fired.
A solemn Adam Gase enters the locker room. Fans chanting, "Fire Gase!" And this is a road game. #Jets pic.twitter.com/HZGRUfkBv5

— Rich Cimini (@RichCimini) November 3, 2019
The chorus of anti-Gase sentiment only grew louder after the game. Several prominent members of both New York and national media spoke their minds regarding the first-year coach (who was fired by the Dolphins after last season).
"It was one of the most embarrassing losses in franchise history," wrote ESPN Jets writer Rich Cimini (who took the above video). Cimini added that the Jets are a "dumpster fire, headed toward a one-, two- or three-win season."
Manish Mehta of the New York Daily News had his own version.
"The Jets have been an unmitigated disaster under Gase's watch, a collection of lost souls led by a blind man in the forest," Mehta wrote. "Calling this team a dumpster fire is an affront to dumpster fires everywhere."
FINAL:
Dolphins 26
Jets 18

Adam Gase is a flat-out embarrassment.

His team is a complete and utter disaster… No sign of juice. No sign of anything.

A DEAD TEAM.

— Manish Mehta (@MMehtaNYDN) November 3, 2019
Arguably the strongest reaction from a New York media member was sports talk radio host Joe Benigno of WFAN. Benigno signed on to his show on Monday morning with an epic rant.
"I don't know what to say today," Benigno began. "I'm just, I'm played out as a Jet fan. It is an absolute disgrace what we watched yesterday. Adam Gase should be fired, should've been fired on the field after this game because not only did they lose in just brutal fashion to a team that's trying to lose every game they play, but he quit on his team yesterday too."
Benigno took issue with Jets CEO Christopher Johnson, who he called "the real culprit" in the Jets' woes for his decision to hire Gase.
Fellow WFAN radio host Mike Francesa also made his thoughts clear on Gase:
I would fire Gase now.!!!!

— Mike Francesa (@MikeFrancesa) November 3, 2019
A common point of specific criticism of Gase in Sunday's game was on clock management during the fourth quarter. With the Jets losing by multiple scores, Gase kept all three of the team's timeouts even as the Dolphins moved the ball on a clock-killing drive.
Only when Miami was kneeling the ball at the end of the game (with the Jets' chance of victory gone) did Gase use a timeout. The mistake drew the ire of ESPN host and Jets fan Mike Greenberg, who derided Gase as having "less idea how to coach football than anyone I have ever seen in this job."
Not that it makes any difference but Adam Gase didn't use any of his timeouts when he had the ball but does now when the game is over. He has less idea how to coach football than anyone I have ever seen in this job. #Jets

— Mike Greenberg (@Espngreeny) November 3, 2019
Gase admitted his mistake on Monday, explaining that "it's one, unfortunately, I'm going to have to learn from."
Former Jets (and Patriots) offensive lineman Damien Woody, now an ESPN commentator, went off on a postgame rant about the state of the team with Gase at the center of it:
#NYJvsMIA https://t.co/f2iDawqLbD

— Damien Woody (@damienwoody) November 3, 2019
Predictably, both the New York Post and Daily News skewered the Jets with back page headlines:
The back page: Jets, meet rock bottom https://t.co/ynOfLSfiUa pic.twitter.com/BbjSm0q7Nz

— New York Post Sports (@nypostsports) November 4, 2019
Here's our @nydnsports back page. @nyjets @MiamiDolphins #adamgase @nfl @nflnetwork @APSE_sportmedia @MiamiHerald https://t.co/V5phnhF18l pic.twitter.com/GUg9wCOtBv

— Back Page Guy NYDN (@BackPageGuyNYDN) November 4, 2019
The Jets' Week 10 opponent is another struggling New York team, the 2-7 Giants.
Gase, whose Dolphins beat the Patriots in 2018 on the last play of the game in the "Miami miracle," hasn't been so fortunate in 2019. The Jets lost both divisional games against the Patriots earlier in the season by a combined score of 63-14 (including a 33-0 shutout on Oct. 21).