NFL
How NFL players and pundits reacted to the Myles Garrett-Mason Rudolph incident
Twitter was ablaze with hot takes following one of the uglier on-field moments in NFL history.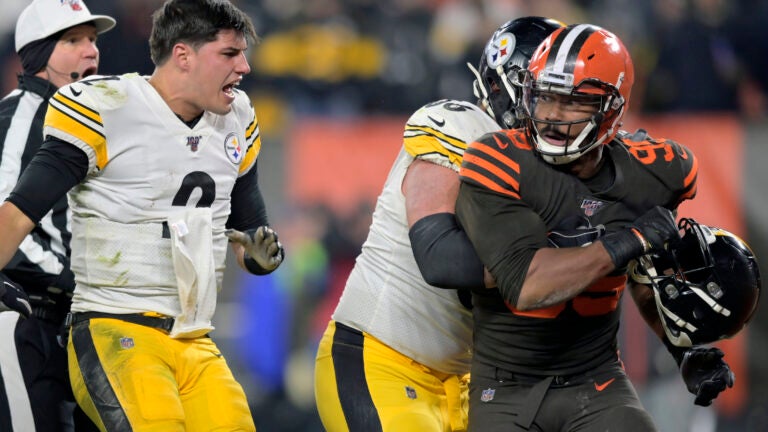 Myles Garrett was suspended indefinitely by the NFL on Friday for his actions in the Thursday night game against the Pittsburgh Steelers. The incident occurred in the final seconds of the game, when Garrett struck Steelers quarterback Mason Rudolph on the head with his own helmet 
Some of the NFL's biggest names expressed their shock at the situation on Twitter after the incident, expressing how crazy they thought the altercation was. 
Bro i can't even believe that just happen.

— Patrick Mahomes II (@PatrickMahomes) November 15, 2019
That. Is. Insanity. Wow.

— JJ Watt (@JJWatt) November 15, 2019
Myles Garrett should not be allowed to play another snap this season

— Kyle Juszczyk (@JuiceCheck44) November 15, 2019
Former Patriots receiver Antonio Brown even got a joke in.
This for you Mason !!!!! pic.twitter.com/J8N3TLOWHp

— AB (@AB84) November 15, 2019
Some members of the media were almost immediately discussing how violent an attack it was and were calling for the long-term suspension of Garrett. 
"You snatch a guy's helmet off, take the helmet and hit the guy in the head. At the bare minimum, Myles Garrett's gone for the rest of the year. Now if it was me doling out the discipline, I'm going to bleed it into next year. I'm giving him a total of 10." — @ShannonSharpe pic.twitter.com/ZuQo8ebFB4

— UNDISPUTED (@undisputed) November 15, 2019
The number of people defending Myles Garrett is insane. Many of you lack functional brains. Self defense has to be proportional. He was under zero threat, objectively, from Mason Rudolph. Stop being dumb.

— Clay Travis (@ClayTravis) November 15, 2019
"Think about how egregious the action has to be where everyone in one of the most violent sports on the planet looks at it and goes, we know that's the line we don't cross."

–@MGolicJR57 on Myles Garrett ripping off Mason Rudolph's helmet and using it to hit him in the head. pic.twitter.com/hA3K2VSLd5

— Golic and Wingo (@GolicAndWingo) November 15, 2019
Myles Garrett should not play football for the rest of this season, and probably longer. An act not seen in decades requires discipline not seen in decades, particularly in these times, when the NFL is trying to clean up the game.

— Peter King (@peter_king) November 15, 2019
Other prominent NFL figures thought that Mason Rudolph was ultimately responsible as they believe he initiated the fight.    
Mason Rudolph should be significantly fined as well for trying to rip @MylesLGarrett helmet off his head which ignited the retaliation. He's not without fault in the unfortunate matter. This is a physical,emotional game played by men. Let's not forget that. @nflnetwork #Truth

— Deion Sanders (@DeionSanders) November 15, 2019
Myles Garrett- Can't swing his helmet, ever, that's the obvious.

Mason, don't try to rip a grown mans helmet off then charge him helmetless, this ain't no frat party… you think Myles Garrett just wanted to talk?

*This is not a defense, this is stating the obvious!

— Emmanuel Acho (@thEMANacho) November 15, 2019
"[Mason Rudolph was the one who started the fight."@maxkellerman thinks the reaction to Myles Garrett has been "hysterical." pic.twitter.com/dx5u0rQJ20

— First Take (@FirstTake) November 15, 2019
One prominent name that agreed with these points is the infamous O.J Simpson
What started it?
#CLEvsPIT @MylesLGarrett @Rudolph2Mason pic.twitter.com/fmMB0kZbec

— O.J. Simpson (@TheRealOJ32) November 15, 2019
The incident was seen as so gruesome and violent by some that they were calling for legal action to be taken against Garrett. 
Any violent conduct that occurs between football players after a play is clearly over is no different than violent conduct that occurs on the street. Myles Garrett should be prosecuted.

— ProFootballTalk (@ProFootballTalk) November 15, 2019
Assault.

— Adam Schefter (@AdamSchefter) November 15, 2019
Rudolph himself has not ruled out taking a legal course of action over the fight. 
https://twitter.com/RapSheet/status/1195343932055597057