NFL
Live blog: Chiefs outlast 49ers, 31-20, to win Super Bowl LIV
Follow along here as the San Francisco 49ers and Kansas City Chiefs battle in Miami.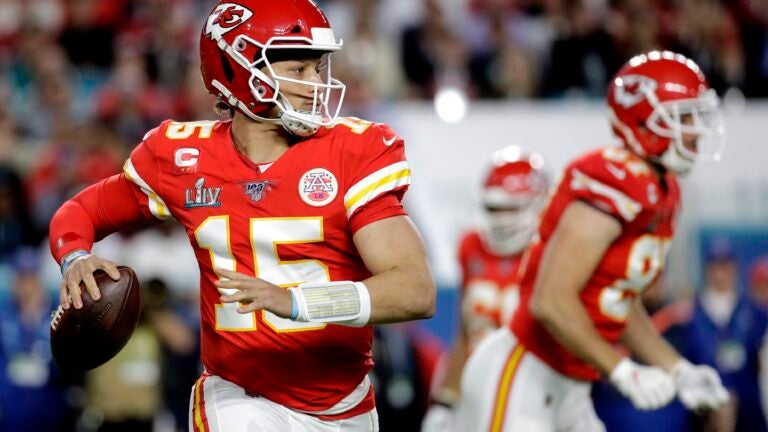 The Chiefs used an overwhelming fourth quarter, posting 21 points down the stretch to come away with a 31-20 win over the Niners and take Super Bowl LIV.
Patrick Mahomes led Kansas City back from a 20-10 deficit at the start of the fourth quarter, delivering touchdown passes to Travis Kelce and Damien Williams to take a lead. Williams added a 38-yard touchdown run in the last two minutes to put the game away.
Mahomes finished 26-for-41 for 286 yards with two touchdown passes and a pair of picks. Jimmy Garoppolo was 20-for-31 for 219 yards, with one touchdown and a pair of interceptions.
The Niners were feeling optimistic about their chances in the third, when Garoppolo led them to a 10-point lead, thanks to touchdowns from Kyle Juszczyk and Rahmeem Mostert.
But the Chiefs seized command down the stretch, and took the lead for good when Williams caught a 5-yard touchdown pass from Mahomes to make it 24-20 with 2:44 to go. A late Niners' comeback fell short when they turned the ball over on downs, leading to Williams' touchdown run that sealed it.
10:11 p.m.: That's it — 31-20.
10:02 p.m.: Forget the first down — that should do it. Williams to the house. Pending the extra point, it's 31-20.
10:01 p.m.: The Chiefs will get the ball back, but the Niners have all three timeouts.
9:51 p.m.: The call stands, and the Williams touchdown is good.
THE @CHIEFS TAKE THE LEAD!

Back-to-back scores put Kansas City on top! #ChiefsKingdom

?: #SBLIV on FOX
?: NFL app // Yahoo Sports app pic.twitter.com/fMDm3iaqAS

— NFL (@NFL) February 3, 2020
Jimmy Garoppolo has the ball, all three timeouts, and 2:44 to go. He's put together four game-winning drives this year. We'll see if he has some more magic left.
9:46 p.m.: If the Niners blow this one here, Kyle Shanahan could come in for a whole lot of second guessing when it comes to his play-calling.
9:36 p.m.: Chiefs cut it to 20-17 with that 1-yard pass to Kelce. Not the prettiest drive in the world, but at this stage of the night, it's the best possible outcome. There's 6:13 to go, and the Niners hold a three-point lead. San Francisco needs to string together multiple first downs — at the very least, the Niners need to take a good chunk of time off the clock.
.@PATRICKMAHOMES TO @TKELCE ?

Here come the @Chiefs! #ChiefsKingdom

?: #SBLIV on FOX
?: NFL app // Yahoo Sports app pic.twitter.com/L1IzAmwSy4

— NFL (@NFL) February 3, 2020
9:32 p.m.: That 44-yarder to Hill was the longest play from scrimmage tonight for either team. Chiefs in scoring range here.
9:23 p.m.: First punt of the night for the Niners. The Chiefs will take over, down 10 with 8:53 to go on their own 17-yard line. Have to get something here if you're Kansas City, which will likely run a little hurry-up to get some momentum.
9:16 p.m.: Look for the Niners start bleeding that clock — if they hike the ball with more than 7-10 seconds left on the play clock, something is wrong.
9:16 p.m.: A second interception for Mahomes, and it looks like the young quarterback is again looking his age. A few bad throws — admittedly, some have been tipped — and a hungry Niners' defense has made all the difference here in the second half. A score here from San Francisco could really put the Chiefs' in a tight spot — it's 20-10, with 11:57 to go in regulation.
Mahomes has been running for his life all second half. Niners' front four is getting after it

— Ben Volin (@BenVolin) February 3, 2020
9:08 p.m.: That's the end of the third quarter — Niners hold a 20-10 lead, but the Chiefs have the ball.
•Garoppolo is 17-for-20 for 183 yards with one TD and one INT.
•Deebo Samuel has three carries for 53 yards and five catches for 39 yards
•Mahomes is 16-for-25 for 145 yards and an interception.
8:59 p.m.: Niners DO take advantage of the turnover, coming away with a touchdown and making it 20-10 with 2:35 left in the third quarter. BIG score for San Francisco. I'd never count out that quick strike offense on the other side of the ball, but a double-digit lead for that Niners' defense late in the third quarter is an awfully tough hill to climb for Mahomes and the Chiefs.
8:54 p.m.: The Chiefs have been inconsistent on third down (2-for-8), and things got even muddier for them after that Mahomes pick. A case of a young quarterback just trying to do too much — not unlike Garoppolo's intertception earlier in the game. There are so few moments where we see Mahomes act his age, for lack of a better term, and that was one of them. The Niners have the ball and a 13-10 lead with 5:23 to go in the third. A potentially game-changing turnover here — we'll see if San Francisco can take advantage.
8:43 p.m.: A 42-yard attempt from Robbie Gould gives the Niners a 13-10 lead with 9:29 to go in the third. A mostly positive drive that stalled with a misfire on third down. The drive went nine plays and 60 yardsm and took 5:31. Always good to get points, but it really is another missed opportunity there, who will now turn back to their defense to try and hold the lead here.
8:36 p.m.: Nice level of toughness showed here by the Niners' WRs, particularly at the start of the second half. Good physical play from Sanders and Samuel. No surprise that Welker is their positional coach.
8:31 p.m.:
The receiver extends his arm and creates separation while the ball is in the air, therefore it is offensive pass interference. – AL#SBLIV pic.twitter.com/hxAvggDqhS

— NFL Officiating (@NFLOfficiating) February 3, 2020
8:19 p.m.:
Me trying to figure out if there is still a way we could win the Super Bowl pic.twitter.com/EfpuUSlcL3

— David Andrews (@dandrews61) February 2, 2020
8:10 p.m.: It's halftime. A few quick thoughts:
•Some missed opportunities for teams on both sides of the ball, but none bigger than what happened to the Niners at the end of the first half. The clock management and OPI were killer there — ultimately, it cost them at least three points. In a game of this magnitude with no margin for error, we'll see if that comes back to haunt them. On the other side of the ball, the Chiefs might end up regretting not being able to get seven after that Garoppolo pick.
•Mostly great work by both offensive lines in the first half. Both teams getting a good push, as the offenses have seemed to find their rhythm, for the most part.
•Love seeing Deebo Samuel involved in both the running and passing game. He has 62 yards from scrimmage total in the first half. Same thing for Damien Williams on the other side of the ball — 58 yards from scrimmage over the first two quarters. Mahomes is 12-for-18 for 104 yards, while Garoppolo is 9-for-11 for 89 yards, with one TD and one INT.
•The Niners will get the ball to start the second half.
8:01 p.m.: The 42-yard pass play to Kittle goes for naught, and we'll head into the half tied at 10. Rough clock sequence there for Kyle Shanahan and the Niners. No timeout there?
Not usually like Kyle Shanahan to make curious decisions in a Super Bowl.

— Jim Clark (@In_The_Slot) February 3, 2020
7:52 p.m.: The Niners will be trying to pull off the double-down maneuver here — they'll have the ball here with 59 seconds left in the half. They have all three timeouts, and they'll also get the ball to start the second half. It's tied at 10.
7:48 p.m.: Two minutes left in the first half, the game is tied at 10, and the Chiefs are driving. Garoppolo is 8-for-10 for 69 yards with one TD and one INT. Mahomes is 11-for-17 for 103 yards.
7:40 p.m.: Harvard's Kyle Juszczyk makes the play — he gets into the end zone for the Niners. It's 10-10 with 5:05 left in the second quarter. Great sequence there by San Francisco, which really got a nice offensive rhythm going, thanks in large part to its power running game — the Niners have 84 rushing yards so far.
FULL. BACK. TD. ?

(via @NFL) pic.twitter.com/aoxLAnjZqH

— SportsCenter (@SportsCenter) February 3, 2020
7:31 p.m.: A 31-yard field goal from Harrison Butker makes it 10-3 with 9:32 left in the first half. A nice stop there by the Niners' defense — it could have been much worse. Garoppolo and the San Francisco offense have to answer here with a nice sequence of their own. It'll also be interesting to see how Jimmy responds after that pick.
7:21 p.m.: Big play there for the Chiefs, who got good pressure on Garoppolo and forced a poor throw that led to the pick. Bad decision from Garoppolo, who made his bones as a smart quarterback — would have been the better play to take the sack there.
That was Patriots training camp cut Mike Pennel crushing Jimmy Garoppolo and leading to an INT for Breeland

— Ben Volin (@BenVolin) February 3, 2020
(As we said earlier in the week, you have to know when the journey is done.) If Kansas City cashes in here at the start of the second quarter, it could be off to the races for the Chiefs. It's imperative for the Niners to get a stop and force a punt on this series.
7:17 p.m.: The Brady Twitter post from last week that had everyone scratching their head? It was for Hulu.
I have an important announcement #ad pic.twitter.com/58KD1jmaC3

— Tom Brady (@TomBrady) February 3, 2020
7:12 p.m.: Excellent answer on that drive for the Chiefs, who caught the San Franciscoslinebackers out of position on that short TD run by Mahomes. Fifteen plays and 75 yards for Kansas City, and Mahomes finished it off. The Chiefs needed a big answer there, and they got one, thanks in large part to Mahomes, who was very impressive on that drive. He's 5-for-9 for 40 yards, and also has two carries for 11 yards and a touchdown.
7:03 p.m.:
My soul hurts on this day

— Julian Edelman (@Edelman11) February 2, 2020
7:01 p.m.: Kansas City starting to get a little offensive rhythm here on its second drive — the Chiefs are across midfield, as Mahomes is doing an excellent job spreading the ball out.
6:55 p.m.: Feels like the Niners had a good start to that drive, but lost some momentum somewhere along the way after they crossed midfield. They still got three with the field goal from Robbie Gould, but an inability to punch it in there feels like a missed opportunity. It's 3-0 with 7:57 left in the first quarter. Garoppolo goes 3-for-4 for 11 yards on his first drive.
6:47 p.m.:
Pats Nation ❤️ pic.twitter.com/bcUThqGsGF

— Tom Brady (@TomBrady) February 2, 2020
6:44 p.m.: One of the things that bedeviled the Chiefs (to a small extent) in their first two playoff games were slow starts. They go 3-and-out here to start this one. They CANNOT afford to do that this time here against San Francisco — the margin for error against this Niners team is razor-thin compared to the Texans and Titans. San Francisco can bury them in the early going if that happens.
6:34 p.m.: The Niners win the toss and defer. Now, it's time for some football.
6:30 p.m.: Coin toss is up next. It's almost time for football!
6:21 p.m.: Sounds an awful lot like a Kansas City home game.
6:09 p.m.:
Bill Belichick, Tom Brady, Rob Gronkowski, and Randy Moss are being recognized on the field for being named to the NFL 100 team. #Patriots #SBLIV

— Jim McBride (@globejimmcbride) February 2, 2020
A nice hearty round of boos for Belichick. His response: pic.twitter.com/amxJJET20J

— Ben Volin (@BenVolin) February 2, 2020
6:00 p.m.:
Pre-game moment of silence for Kobe, his daughter and the other 7 crash victims, and for Chris Doleman pic.twitter.com/HkztdKdCKV

— Ben Volin (@BenVolin) February 2, 2020
5:58 p.m.: All right, as I hinted at before, I'm going to go with the Niners in this one. The defense will remain stout enough, and the San Francisco running game will do more than enough to keep Mahomes and the Chiefs' offense off the field for an extended stretch. I'll go Niners 27, Chiefs 23, with Jimmy Garoppolo winning the Super Bowl MVP by default.
5:38 p.m.: Brady is in the building.
Touchdown Tom here to watch his former protege #SBLIV pic.twitter.com/0RWmyRAcgZ

— KNBR (@KNBR) February 2, 2020
5:37 p.m.: Looks like weather isn't going to be an issue tonight — according to weather.com, the conditions for Miami Gardens will be clear, with temps in the high 50s and low 60s.
5:21 p.m.:
Here are the #Chiefs official inactives for #SBLIV:

QB Chad Henne
RB LeSean McCoy
OL Jackson Barton
OL Andrew Wylie
LB Darron Lee
CB Morris Claiborne
OL Ryan Hunter

— BJ Kissel (@ChiefsReporter) February 2, 2020
#SFvsKC inactives ?#SuperBowlLIV pic.twitter.com/NAWXvJVJe5

— San Francisco 49ers (@49ers) February 2, 2020
5:19 p.m.: When it comes to tonight's prop bets, I'll leave that alone. The line for this one has stuck at 1 to 1.5 points for most of the last two weeks with the Chiefs as the favorite, and as I wrote here a few days ago, this one feels like it's going to be a close one. I'm going with the Niners and the under. (The O/U was at 48.5 or so as of this morning.) That San Francisco defense has been the difference for that team down the stretch and into the postseason. This really is the team right now that's best equipped to slow down Kansas City — the Niners can run the ball and they do a good job protecting it, which means they can keep Mahomes off the field for an extended stretch. The San Francisco defense is also really good from front to back, and will be able to control the game. I'll save my score prediction until kickoff, but right now, that's what I've got.
5:15 p.m.: I'm fascinated to see who Patriots' fans are rooting for this evening. The feeling I've gotten from most people is that they'd prefer San Francisco to win for a few reasons, including the fact that it would mean a ring for Jimmy Garoppolo, as well as a wish for Kansas City (the closest thing to a rival the Patriots have) to lose. (I have also come to understand this week that New England fans really don't care for Travis Kelce.) Andy Reid could certainly burnish a Hall of Fame resume with as long awaited title, which would be nice. But if push comes to shove, it sure feels like most local football fans are going to be rooting for the Niners tonight.
4:54 p.m.:
Couldn't ask for a more perfect weather day pic.twitter.com/hPirLdpEQM

— Ben Volin (@BenVolin) February 2, 2020
4:35 p.m.: Welcome to Super Bowl Sunday, and for the first time in four years, the Patriots aren't involved. Instead, it's the Chiefs against the Niners — Patrick Mahomes against Jimmy Garoppolo. We're going to have updates throughout the day, including all the game action. Before kickoff, we'll also have the latest betting news, weather information from South Florida, pregame analysis, and much more. We'll start this this afternoon with your pregame reading list:
We know now the meaning behind Tom Brady's cryptic social media post
Patriots are reportedly willing to pay Tom Brady $30 million per year to keep him in New England
What Jimmy Garoppolo's teammates are saying about his performance and leadership
Famous hippo Fiona throws up on Kansas City Chiefs in annual Super Bowl prediction
Wes Welker has a chance to win a Super Bowl as a coach after coming close as a player