NFL
What experts are saying about Jimmy Garoppolo's Super Bowl performance
"Jimmy Garoppolo is no Tom Brady."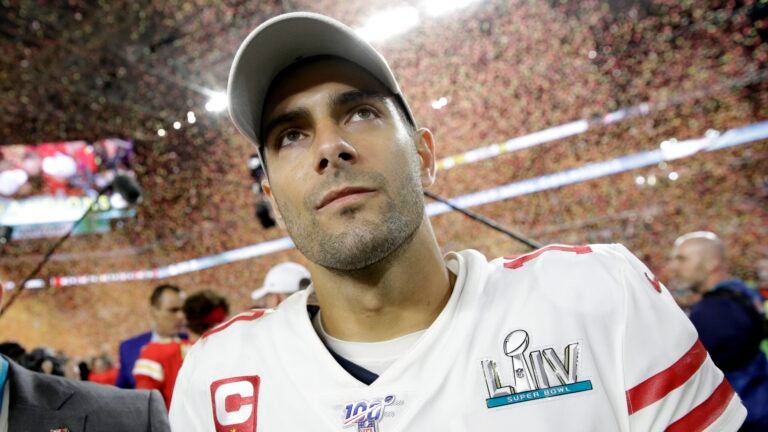 "Sunday's loss left him numb and speechless. He wore a black suit and black shirt to his press conference, appropriately dressed for a funeral."
That's how the Boston Globe's Ben Volin described 49ers quarterback Jimmy Garoppolo during his post-game press conference after the 49ers lost to the Kansas City Chiefs, 31-20, in Super Bowl LIV on Sunday. Leading up to the game, some expected Garoppolo to rise to the occasion — even predicting he'd win the Super Bowl MVP. But the loss, and a less-than-stellar fourth quarter that saw him connect on 3 of 11 passes for 36 yards and an interception, was an eye-sore for 49ers fans.
If Chiefs QB Patrick Mahomes has now been deemed the "best player in the NFL", here's what NFL experts are saying about Garoppolo:
Ben Volin, Boston Globe: "The loss will subject Garoppolo to some criticism. All season long he fought the perception that he was just a caretaker of the 49ers' offense, and that the team mostly succeeded because of its defense and run game. And with the Super Bowl on the line, Garoppolo couldn't preserve the lead or lead his team from behind. Garoppolo had a memorable season — coming back from a torn ACL suffered last year, starting all 16 games, and leading his team to the Super Bowl. But he still has much to learn from Brady and Montana about closing out a championship."
Bryan Curtis, The Ringer: "We've seen this fidgety character before. Blows the Super Bowl, gets stuck in a half state between actual greatness and the idea of it. The thing is, Jimmy G already seemed like that kind of player. There is a vast gulf between Garoppolo's trappings—strong chin, Patriots pedigree, girlfriend—and his actual accomplishments, between the swaggering nickname and the hardware. A Super Bowl loss just made the idea more pronounced."
Jeremy Bergman, NFL.com: "Garoppolo's latest loss, just the sixth of his career, will linger over him for an entire offseason and perhaps his career if he never reaches this game again. The next comeback Jimmy G will have to endure is San Francisco's year-long hopeful return to the Super Bowl, one that begins in earnest Sunday night."
Ryan Hannable, WEEI: "Garoppolo actually outplayed Mahomes, until the final 15 minutes.
"In the fourth quarter, Mahomes was 10-for-17 with 141 yards, two touchdowns and an interception, while Garoppolo was just 3-for-8 with 36 yards and an interception. The 49ers QB had a chance to win the game down by four with 2:39 to play, but the offense stalled at midfield and ended up by turning the ball over on downs…Personally, it was all a learning experience for the quarterback, who was in his first full season as a starter."
Christina D'Andrea, SBNation: "When the pressure was dialed up to max, from both a Super Bowl and pass rush standpoint, Garoppolo faded. He couldn't see through the fog of the Chiefs' onslaught, and that doomed Shanahan's pass-heavy approach to the fourth quarter. While San Francisco couldn't afford to let off the gas against Kansas City, Steve Spagnuolo's blitz-heavy defense meant the 49ers couldn't effectively pass, either…Even so, this wasn't a lost performance in the wake of his first season as a full-time, 16-game starting quarterback. For nearly 50 minutes, he looked like a Super Bowl MVP. Then, once the Chiefs figured him out, he didn't."
Jarrett Bell, USA Today: "Jimmy Garoppolo is not that guy. Not Joe Montana, not Tom Brady, not Steve Young. And certainly not Patrick Mahomes. The 49ers quarterback – whose "GQ looks" was one of the most hyped storylines in the buildup to Super Bowl LIV – had an opportunity to make his mark as a clutch performer on football's biggest stage. And this did not turn out well.
"Garoppolo couldn't raise his game – or his team's game – when the 49ers needed him the most en route to falling 31-20 to the Chiefs. Instead, the 49ers got a major meltdown from the former Tom Brady backup, the highest-paid player in Super Bowl LIV with a five-year contract worth $137.5 million."
"In the end, Jimmy G couldn't get it done. But the real culprit here is Kyle Shanahan. From being the offensive coordinator with a 28-3 lead in 2016, then head coach for this Super Bowl, he went away from the run and has been outscored 46-0 in both QT's and OT."
Dieter Kurtenbach, Mercury News: "Jimmy Garoppolo had won a handful of games for the 49ers this year — in big moments, he shined. That was not the case in Miami. In the final 10 minutes of Super Bowl LIV, he went 2-of-10 for 24 yards and an interception. His fourth-quarter quarterback rating of 2.8 is the lowest in Super Bowl history… He was a one-read quarterback who thrived when those reads were clear but showed every bit of his struggle when the water became cloudy, missing wide-open receivers on critical plays with his eyes and, critically, with his throws."
Micheal Hurley, CBS Boston: "Jimmy Garoppolo is no Tom Brady…Sure, Garoppolo was deadly accurate through the first three quarters of Super Bowl LIV, but the 49ers clearly did not want him to make any throws down the field. The one time he did, he completed it, but it got negated by an iffy offensive pass interference penalty.
"It's about a quarterback getting four cracks at leading his team on a game-winning drive in the Super Bowl and coming up very short on each attempt."
Skip Bayless, FS1's The Undisputed: "This is what I would do: I would cut Jimmy G and sign Tom Brady for 2 more years. Tom Brady would live and love to go home. He would live for it because he started as a 49er fan in San Mateo, California…There is some hay-wire gene in Jimmy G, I call him 'Jimmy Interception'. He's going to throw a couple a game, maybe three a game, but as you say, 'You gotta catch them, you got to be ready because they're going to come unpredictably quickly and he's got arm talent, so he'll throw some lasers.
"But I don't trust him, he's capable of having a big, good game like he did at New Orleans [but] he's also capable of last night. That was horrendous to me."
Gregg Rosenthal, NFL.com: "Shanahan didn't make a "safe" call. He dialed up a shot play and trusted his quarterback. Sanders got open, and Garoppolo didn't deliver. If that one play goes differently, perhaps Reid's breakthrough title never happens. Perhaps Shanahan is getting love in this article.
"That's the thing about assigning blame, in addition to credit. There's no one answer. Garoppolo could have saved some of Shanahan's tepid decision-making with one heroic throw, but instead they will both face questions for the remainder of this offseason and beyond. Shanahan coached Garoppolo in the Super Bowl like he still wasn't entirely sure what kind of quarterback he has."
Dave Lombardi, The Athletic:
"Had Garoppolo been able to lead just one more sustained drive, the 49ers likely would've staved off the Chiefs and celebrated on South Beach instead. But that drive never came. The 49ers managed 49 yards and three total first downs in the fourth quarter, during which Garoppolo finished 3 for 11 for 36 yards and a measly passer rating of 2.8.
"But the spotlight typically shines brightest on the quarterback, and Garoppolo will be one of the key pieces that the 49ers will count on to improve. This season saw a boatload of success, but they'd certainly like to avoid repeating the grim ending that's now associated with their trip to Super Bowl LIV."