Tom Brady
ESPN is airing a Tom Brady programming marathon on Sunday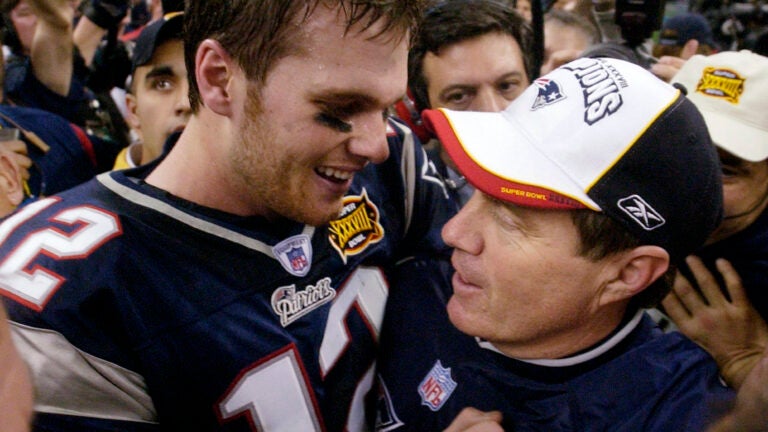 ESPN will present a seven-hour programming marathon Sunday featuring Tom Brady's best games and highlights during his 20 seasons with the New England Patriots.
While the obvious question is why not make it a month, since there's enough time for ESPN to fill and plenty of Brady magic moments to fill it, the network is planning to feature a lineup of some of his greatest hits.
The block, which begins at noon Sunday, includes:
Noon: NFL's Greatest Games: 2001 AFC Divisional Round: The Snow Bowl – some might call it the Tuck Rule game – between the Raiders, a sentimental favorite for any Patriots fans and pretty much where the Brady legend began. (Also: It was a correct interpretation of a stupid rule.)
1:30 p.m.: NFL's Greatest Games: Super Bowl XXXVI. The franchise's first Super Bowl win, as I suspect you may know. Enjoy the chuckle when John Madden tells the audience that the Patriots should take a knee and play for overtime as the Patriots embark on their winning drive.
3 p.m.: Super Bowl XXXVIII highlights from their 32-29 win over the Panthers, the wildest second half of a Super Bowl that no one ever talks about. This win, on another Adam Vinatieri game-winner, would be the best moment in almost any franchise's history. It doesn't crack the top five for the Brady-era Pats.
3:30 p.m.: Super Bowl XXXIX highlights. The Patriots make it three in four years, and the dynasty is official. Wonder what Freddie Mitchell is up to these days.
4 p.m.: NFL's Greatest Games: 2014 AFC Divisional Round. The Patriots overcome two 14-point deficits against a tough Ravens team.
4:30 p.m.: NFL's Greatest Games: Super Bowl XLIX. Still my favorite Brady performance. He dissected that cocky and loaded Seahawks defense with 14 unanswered points in the fourth quarter.
5:30 p.m: NFL's Greatest Games: Super Bowl LI. Might I suggest starting this one from where the Falcons lead, 28-3?
6 p.m.: NFL's Greatest Games: 2018 AFC Championship. Thanks, Dee Ford.
6:30 p.m. NFL's Greatest Games: Super Bowl LIII. You can watch the whole show if you wish. I'm just going to watch that late throw from Brady to Gronk on an endless loop.