NFL
Morning sports update: Mike Vrabel was asked about John Harbaugh's postgame reaction after Titans-Ravens
Former Patriots cornerback Malcolm Butler was also involved in a pregame incident.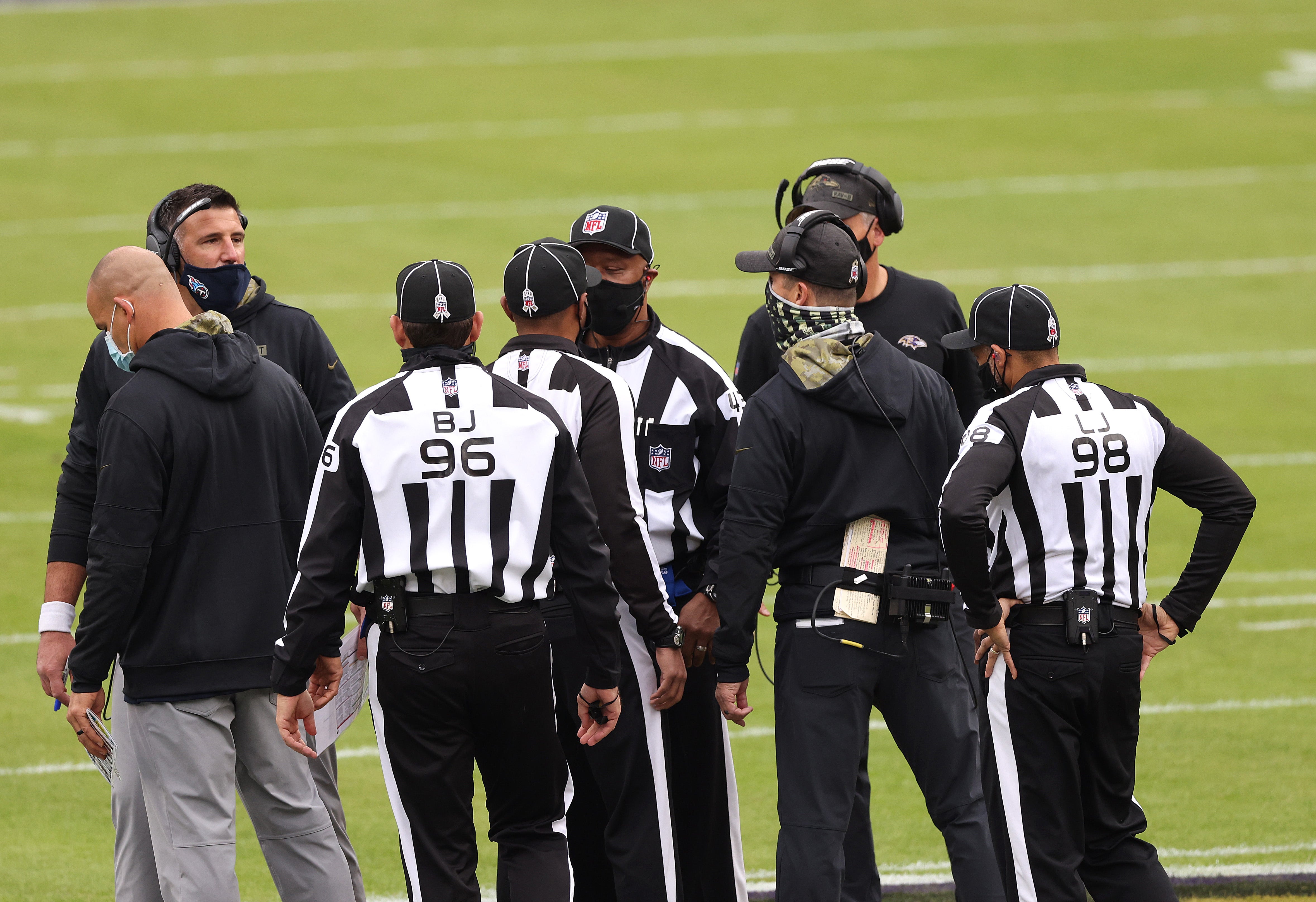 The Patriots lost to the Texans on Sunday, 27-20. The defeat drops New England to 4-6 on the season, and in an increasingly precarious playoff position.
Elsewhere, the Celtics reportedly signed forward Jayson Tatum to a five-year extension worth $195 million.
And the Revolution, who defeated the Montreal Impact 2-1 with a dramatic last-minute goal on Friday, face the Eastern Conference's top-seeded Philadelphia Union on Tuesday at 8 p.m. in a single elimination postseason matchup.
Mike Vrabel, Malcolm Butler, and the Titans-Ravens rivalry: The Titans, under former Patriot and current Tennessee head coach Mike Vrabel, upset the top-seeded Ravens in the 2019 playoffs, 28-12.
The budding rivalry between the two teams was reinforced on Sunday not only by the back-and-forth drama of the matchup — which the Titans won again, 30-24 in overtime — but also by pre and postgame incidents involving Baltimore coach John Harbaugh.
Before the game kicked off, Titans cornerback (and former Patriot) Malcolm Butler was seen shouting at the Ravens, eventually getting face-to-face with Harbaugh.
Malcolm Butler wants a piece of John Harbaugh! #TENvsBAL pic.twitter.com/j3W5VslbNP

— Jordan Dajani (@JordanDajani) November 22, 2020
And after the game was ended (thanks to Derrick Henry's walk-off touchdown for Tennessee), Harbaugh appeared to refuse a postgame handshake with Vrabel.
Mike Vrabel came over to shake hands with John Harbaugh and Harbaugh appears to wave him off.pic.twitter.com/37dvMU38QD

— Dov Kleiman (@NFL_DovKleiman) November 22, 2020
"No handshake," noted CBS commentator Tony Romo after seeing the replay.
Afterward, Vrabel was asked about the emotion clearly present in the matchup.
"It's a violent game, it's a physical game, it's an emotional game," said Vrabel in the postgame press conference. "So I hope we play with emotion. I hope we do things that help our team and not do things that hurt our team."
He was then asked specifically about the Butler incident, and Harbaugh declining to shake his hand.
"I went to celebrate with Derrick and the team to congratulate him, and then I ran back and shook his hand and asked what the issue was before the game and he said there wasn't an issue. So I went to celebrate with my football team."
Vrabel was then asked a follow-up if Harbaugh "declined to shake [Vrabel's] hand?"
"No, absolutely not," Vrabel replied. "A lot of respect for John, we shook hands."
Harbaugh, also asked about the moment, similarly downplayed the moment.
"After the game, there wasn't an issue," Harbaugh said. "Coach Vrabel, was down there celebrating in the end zone, and then he came back around and shook hands. [What happened] before the game is irrelevant."
The Titans moved to 7-3 with the win, and into a tie for the lead in the AFC South with their Week 11 opponent, the Colts. Baltimore, now 6-4, next face the 10-0 Steelers.
Trivia: The last time the Patriots didn't make the playoffs was the 2008 season. Who was New England's leading rushing that year?
(Answer at the bottom).
Hint: Originally drafted by the Bills, he eventually played for three of the AFC East's four teams.
More from Boston.com:
A stat to help place the Browns' 22-17 win over the Eagles in context:
The last Browns win vs. the Eagles came in 1994, with Bill Belichick as head coach 😮 pic.twitter.com/5drfjE2B3k

— NFL on ESPN (@ESPNNFL) November 22, 2020
Breakdown down Jayson Tatum's new contract:
MLS playoff matchup between FC Dallas and the Portland Timbers went the absolute distance: After ending regular time tied 1-1, the two teams couldn't be separated after extra time. Even after a normal number of penalty kicks, they were tied at five apiece.
Finally, with Dallas ahead 8-7, goalkeeper Jimmy Maurer made a game-winning save.
Penalty kick clinic. 🎯 pic.twitter.com/4LWfFoTqSS

— Major League Soccer (@MLS) November 23, 2020
On this day: In 2014, Norwegian Magnus Carlsen defended his World Championship title in chess, defeating Viswanathan Anand in the 11th game.
Carlsen, then only 23 but already a world champion, had to fight to regain the initiative in the final game, as Anand held an early advantage. In the end, the defending champion sussed out the challenger's plan and was able to overcome it.
Here's a recap of their epic final game:
Daily highlight: Five of Sunday's top plays from the NFL's daytime schedule.
Check out the Top 5 Prime Plays from Week 11 on #NFLRedZone! (by @amazon) pic.twitter.com/dWSqRv2b4R

— NFL Network (@nflnetwork) November 23, 2020
Trivia answer: Sammy Morris
Get Boston.com's browser alerts:
Enable breaking news notifications straight to your internet browser.