NFL
5 storylines to follow as Tom Brady pursues another Super Bowl ring
Tampa Bay's quest starts Saturday night against Washington.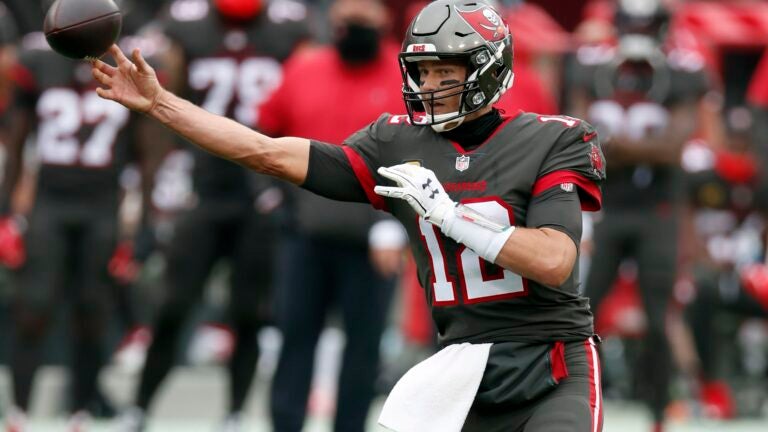 The time has come, Patriots fans. Those who supported Tom Brady for decades but were salty when he left are now faced with an important decision they hoped they'd never have to make.
With the Patriots out of the playoffs for the first time since 2008, and Brady and the Buccaneers predictably peaking at the right moment, it's time to decide whether to root for or against the Bucs.
They're set to face the Washington Football Team on the road this Saturday, Jan. 9, at 8:15 p.m., on NBC. It could be Brady's last game ever, it could be the launching point en route to another Super Bowl title, or it could be somewhere in between. Only time will tell.
Here are five questions to consider as Brady and the Bucs begin their playoff journey.
Can he keep the momentum going from the regular season?
Those who were hoping the 43-year-old Brady would decline considerably this season were in for a rude awakening.
He finished second in the NFL in touchdown passes (40) – the most ever for a quarterback over 40 and his most since 2007. Brady completed 65.7 percent of his passes for 4,633 yards and threw 12 interceptions.
After leading the Buccaneers to an 11-5 season, Brady has now won 11-plus games in 11 consecutive seasons. Tampa Bay won its last four games by an average of 18.25 points and is one of the hottest teams in football.
Brady most recently threw for 399 yards and four touchdowns in the Buccaneers' 44-27 win over the Atlanta Falcons in Week 17.
With another sterling regular season behind him, the question now becomes whether he can keep the momentum going into the playoffs.
"It's just the beginning," head coach Bruce Arians said after a win in late December. "We're going to be a pretty tough out."
Will Brady continue to throw the ball deep as often?
Fans who have watched Brady this season know he's operating in a much different offense than he was with the Patriots.
Brady leads the NFL in intended air yards per pass attempt (9.1) and intended air yards (5,539) by a significant margin, and he hasn't veered away from looking long even when the results have wavered.
Like many QBs, magic number with Tom Brady in the playoffs is 20 points. When his team scores at least 20, he's 27-3 all-time; when they don't, he's 3-8. Same on defense — when his team holds a playoff opponent under 20, he's 15-1, and when they give up 20 or more, he's 15-10.

— Greg Auman (@gregauman) January 5, 2021
Though he struggled at times in that area earlier in the season, he's picked up steam the last few weeks. He's thrown passes of 48, 46, 47, and 47 yards in the last four games, racking up 12 touchdowns to just one interception in that span.
Their offense has been explosive the bulk of the year, yet their opponents have run more plays overall and the Bucs have possessed the ball less than the other teams on average. It will be interesting to see whether Brady and the Buccaneers continue to air the ball out or if they alter their style to play a more possession-oriented game in the playoffs.
Which pass-catchers will he rely on most?
Part of the reason for the trend detailed above is because Brady got every toy on his wish list.
With Mike Evans (70 catches for 1,006 yards and 13 touchdowns), Chris Godwin (65 catches for 840 yards and seven touchdowns), old friend Rob Gronkowski (45 catches for 624 yards and seven touchdowns), and newer friend Antonio Brown (45 catches for 583 yards and four touchdowns in eight games) all on the roster, Brady has no shortage of targets to throw to. Evans is questionable for Saturday with a hyperextended knee (an MRI revealed no structural or ligament damage).
"The Bucs got a glimpse of life without Evans after the first quarter Sunday and they'll want to have contingency plans in place," ESPN's Jenna Laine wrote.
Scotty Miller, Cameron Brate, Leonard Fournette, and Tyler Johnson are all viable options, but Brady will likely lean on the players he knows best.
Gronkowski will have a chance to recreate some of the postseason magic Patriots fans saw over the years, and Brown will have a shot to remind Patriots fans what could have been. Brown's last playoff reception came in 2017 with the Pittsburgh Steelers.
How will he fare against Chase Young and the rest of the Washington defense?
Chase Young, a standout rookie defensive end for the Washington Football Team is clearly excited to face the Hall of Famer Brady.
"Tom Brady. Tom Brady, I'm coming," Young bellowed as he skipped off the field Sunday. "I want Tom. I want Tom."
Chase Young "I want Tom Brady"#WashingtonFootball pic.twitter.com/Q3eqgUuIHT

— Chris Bryant (@HogfarmerChris) January 4, 2021
Arians clearly wasn't intimidated by Young's confidence or bravado.
"It's one of those games that careful what you wish for," Arians told reporters.
Washington d-end Chase Young said he wanted Tom Brady after WFT clinched last night.
Arians response today: "It's one of those games that careful what you wish for." #GoBucs

— Sara Walsh (@Sara_Walsh) January 4, 2021
Much has been made about Washington sneaking into the playoffs after the Philadelphia Eagles took their foot off the gas in the teams' regular-season finale Sunday night. Washington finished the regular season 7-9, but it did boast one of the most dynamic defenses in the NFL this year.
Washington allowed the second-fewest yards per game (304.6), second-fewest passing yards per game (191.8), and fourth-fewest points per game (20.6). Tampa Bay was seventh in yards per game (384.1), second in passing yards per game (289.1), and third in points per game (30.8).
Something will have to give Saturday night.
Which quarterbacks will he be up against, and how far can Tampa Bay go?
The Bucs are one of two road teams expected to win on Wild Card Weekend, as they enter as eight-point favorites on William Hill Sports Betting.
They have the fifth-best Super Bowl odds (+1000), behind the Kansas City Chiefs, Green Bay Packers, Buffalo Bills, and New Orleans Saints.
No. 1 seed Green Bay will host the lowest-remaining seed, which could be the Buccaneers if Brady and Co. get by Washington, the sixth-seeded Rams lose to the third-seeded Seahawks and the seventh-seeded Bears fall to the second-seeded Saints.
If the Rams or Bears win, and the Bucs also win, Tampa Bay could face either the Saints or the Seahawks. If both Los Angeles and Chicago stage the upset, Tampa Bay would host the Rams.
A potential path for Brady could include matchups with some combination of Aaron Rodgers, Drew Brees, Russell Wilson, and Patrick Mahomes.
Brady's legacy doesn't need any more cementing, but a Super Bowl win this season would extend his own record to seven championships and put him in even more of a class of his own.
Get Boston.com's browser alerts:
Enable breaking news notifications straight to your internet browser.