NFL
Patrick Mahomes explained why 'you're crazy' if you don't look up to Tom Brady as a young athlete
"He's the type of greatness that you strive to be."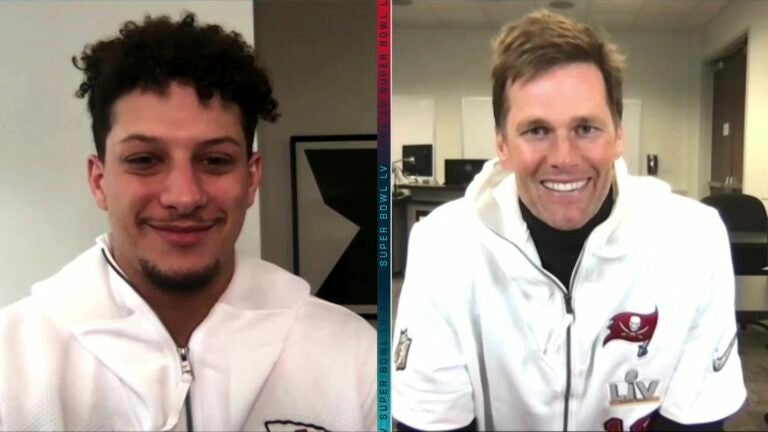 As Patrick Mahomes prepares to face Tom Brady in Super Bowl LV on Sunday, the kid in him is amazed that one of his childhood idols is still playing and excelling all these years later.
The competitor in him, however, is thrilled to have a chance to prove himself against Brady on the game's biggest stage. He's hoping to help the Chiefs become the first team to repeat since Brady's Patriots in 2004-05.
"It's going to be a great opportunity for me to get to play against Tom, an all-time great, the GOAT, everything like that," Mahomes told reporters. "But at the end of the day, all I can do is prepare myself to play the best football I can every single day I get the opportunity to."
Mahomes, whose Chiefs lost to Brady's Patriots in the AFC Championship Game in 2019, is aware of the talk that a win in this matchup would greatly help his odds of one day becoming the greatest quarterback of all-time.
He's choosing to brush those conversations aside, instead focusing on what he can do to win the game against the Buccaneers. He knows that at the moment he only has one Super Bowl to his name, so for now, he thinks the topic is premature.
"It's obviously really exciting to hear, but you understand that you're really far away," Mahomes said. "There's so much stuff that can happen in this league and this game that all I can focus on is trying to do whatever I can to win the next game that I'm playing."
"If Patrick Mahomes beats Tom Brady Sunday, there will be legitimate people who entertain the G.O.A.T conversation."

— @ColinCowherd on what's on the line for the Chiefs' QB: pic.twitter.com/J8lcXHmEUI

— FOX Sports (@FOXSports) February 1, 2021
Mahomes said he's always been impressed by Brady's ability to dissect defenses before the snap, noting that he's "trying to get to that level" in that specific area. He praised him for the way he's able to move within the pocket, reset his feet, and still make the throw on the money.
When thinking about their similarities, Mahomes said that he and Brady aren't concerned with how many passing yards they have as long as their teams win. They don't care how it happens, as long as it happens.
Patrick Mahomes was in kindergarten when Tom Brady won his first Super Bowl.

Now Mahomes will face Brady for the title 19 years later 🏆 pic.twitter.com/JKk7WefNBv

— ESPN (@espn) January 25, 2021
He knows this game carries a great deal of weight, and he's thrilled to face a player he's watched his entire life. Mahomes, 25, joked that Brady, 43, is playing in his 150th Super Bowl, and half-joked that he's been playing high-level football for Mahomes's entire life – which is essentially true.
"If you're a young athlete, and you're playing any sport, and you don't look up to guys like Tom Brady, you're crazy," Mahomes said Monday. "The guy that's had success year in and year out, continues to make himself better and not be satisfied with where he's at. He's the type of greatness that you strive to be, to be like and to be towards as you grow up."
Get Boston.com's browser alerts:
Enable breaking news notifications straight to your internet browser.