NFL
Morning sports update: Antoine Winfield Jr. explained why he 'had to' taunt Tyreek Hill in Super Bowl LV
"It was only right that I gave him the peace sign right back to him."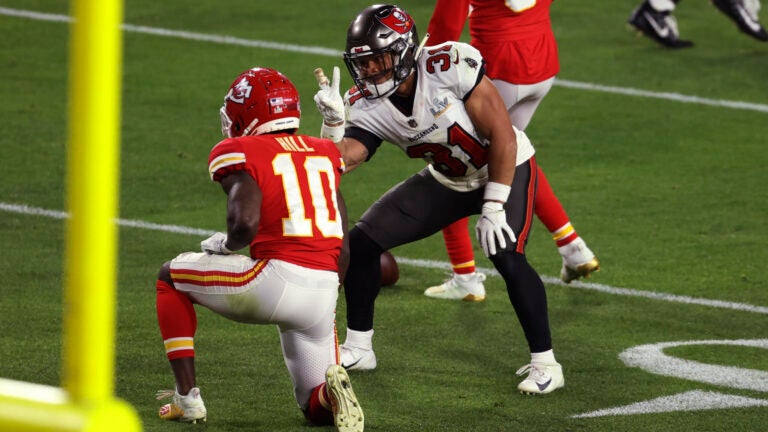 On Sunday, Tom Brady led the Buccaneers to a 31-9 win over the Chiefs in Super Bowl LV. It was Brady's seventh win on the NFL's biggest stage.
Brady threw three touchdown passes, all of which went to former Patriots. Rob Gronkowski caught two, while Antonio Brown added one himself.
Elsewhere on Sunday, the Celtics lost to the Suns, 100-91.
Antoine Winfield Jr. on his taunting penalty: Towards the end of Super Bowl LV, with the Buccaneers holding a commanding lead, a desperate Chiefs drive ended with an incompletion on fourth down.
The pass was intended for Chiefs receiver Tyreek Hill, but it was knocked away. In the moments after the play, Buccaneers defensive back Antoine Winfield Jr. — who made the pass breakup — held up the peace sign in Hill's face, earning a "taunting" penalty from the referees.
Though it appeared to simply be an over-the-top moment of early celebration from the soon-to-be champions, it had some context.
In the two teams' earlier meeting in the regular season (which the Chiefs won, 27-24), Hill had celebrated his explosive performance with a similar celebration in Winfield's face. Erupting for 13 catches for 269 yards and three touchdowns, Hill also marked one of his touchdowns by backflipping into the end zone.
After the Super Bowl, the Buccaneers rookie — who also collected one of Patrick Mahomes's two interceptions — spoke about his moment of revenge.
"The taunting, man it's something I had to do," Winfield told reporters. "When we played them earlier, Hill went off on us. He backflipped right in front of my face and gave me the peace sign. So, it was only right that I gave him the peace sign right back to him. It felt amazing to be able to do that."
Antoine Winfield Jr. got his revenge against Tyreek 👀 pic.twitter.com/PPwFxvYJBB

— ESPN (@espn) February 8, 2021
Trivia: Tom Brady now has a clear lead in the category of most Super Bowl wins by a player. What player is second on that list?
(Answer at the bottom).
Hint: He won two with the 49ers and three with the Cowboys.
More from Boston.com:
CBS' James Brown on the lack of diversity among NFL head coaches and executives: "Can we really attribute this to an issue of unconscious bias when the numbers tell an unambiguous story?"
.@JBSportscaster reflects on diversity hirings in the NFL. pic.twitter.com/XnEBXzdrRG

— CBS Sports (@CBSSports) February 7, 2021
Putting a Montreal local tie into the headline:
Former Montreal Expos draft pick wins #SuperBowl, named MVP https://t.co/HrKutQBMmq pic.twitter.com/sJ1inpHqVX

— Montreal Gazette (@mtlgazette) February 8, 2021
ESPN released another teaser for the upcoming documentary on Tom Brady: "Man in the Arena: Tom Brady" will be released in the Fall of 2021.
On this day: In 2014, American snowboarder Sage Kotsenburg won the first gold medal of the 2014 Sochi Olympics. It was also the first time the event he participated in — snowboard slopestyle — was included in the Olympics.
After having to go through a semifinal qualifying round, Kotsenburg found his best form when it mattered the most, walking away with a memorable win.
Daily highlight: Serbian basketball player (and former Los Angeles Clipper) Milos Teodosic produced a Globetrotters-style highlight in Virtus Bologna's 89-62 win over Reggiana.
MILOS "IL MAGO" TEODOSIC 🧙‍♂️🌟🔥

Numero da playground, ubriacato il povero Candi, e canestro assurdo del serbo della #Virtus 😱😱😱#LBASerieA | #EurosportBASKET | @Virtusbo pic.twitter.com/I75HSFnzFH

— Eurosport IT (@Eurosport_IT) February 7, 2021
Trivia answer: Charles Haley
Get Boston.com's browser alerts:
Enable breaking news notifications straight to your internet browser.