NFL
Coach resigns from Jacksonville Jaguars after outcry over his past
"Chris (Doyle) did not want to be a distraction to what we are building in Jacksonville."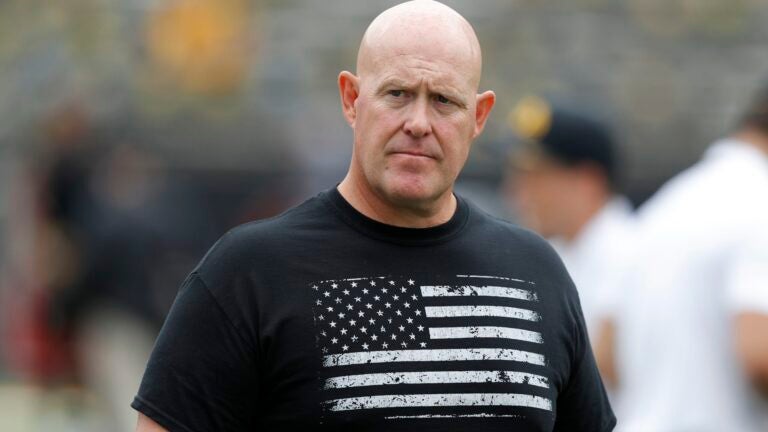 The Jacksonville Jaguars announced the resignation of strength coach Chris Doyle on Friday night, not long after an organization that promotes diversity in the NFL called the recent decision to hire Doyle "simply unacceptable."
Doyle, whom the Jaguars announced they had hired Thursday, left the University of Iowa's football staff last year after a number of current and former Hawkeyes players said he had fostered a culture of bullying and racism.
"Chris did not want to be a distraction to what we are building in Jacksonville," Jaguars coach Urban Meyer and general manager Trent Baalke said in a statement. "We are responsible for all aspects of our program and, in retrospect, should have given greater consideration to how his appointment may have affected all involved. We wish him the best as he moves forward in his career."
Statement last night about the resignation of Chris Doyle from the Jaguars' coaching staff was from both HC Urban Meyer and GM Trent Baalke. pic.twitter.com/DsJyuOXZKh

— Adam Schefter (@AdamSchefter) February 13, 2021
Earlier Friday, Rod Graves, executive director of the Fritz Pollard Alliance, which is named for the first Black head coach in the NFL, released a statement that said: "Doyle's departure from the University of Iowa reflected a tenure riddled with poor judgment and mistreatment of Black players. His conduct should be as disqualifying for the NFL as it was for University of Iowa."
Doyle, who was Iowa's strength and conditioning coach, reached a separation agreement with the university in June, ending two decades of work there.
The Jaguars' hiring of Doyle, who is white, came at a time of intense scrutiny of the NFL's hiring practices and questions about whether minority candidates for coaching jobs have equal opportunities to be hired.
"I've known Chris for close to 20 years," Meyer said Thursday when questioned about hiring someone who had been accused of mistreating athletes, particularly Black players. Doyle was the strength coach at the University of Utah in the late 1990s, a few years before Meyer was hired as the head coach there.
"Urban Meyer's statement, 'I've known Chris for close to 20 years,' reflects the good ol' boy network that is precisely the reason there is such a disparity in employment opportunities for Black coaches," Graves said in his statement.
Meyer, who won two college national championships as head coach at Florida and one at Ohio State, has not coached since 2018 and has not worked in the NFL before. He officially hired Doyle as Jacksonville's director of sports performance and said that the decision had been scrutinized at the highest levels of the franchise.
"We did a very good job vetting that one," Meyer told reporters Thursday.
During a news conference last week, NFL Commissioner Roger Goodell said that he was not satisfied with the rate at which coaches of color have been hired in the NFL.
"It wasn't what we expected," he said of the diversity in the round of hirings after the 2020 season, "and it's not what we expect going forward."
Of the seven head coaches hired since the end of the regular season, just two were nonwhite. Last year, one of five head coaching jobs went to a minority candidate, and the year before, just one in eight.
Over the last three years, 80% of head coaching jobs have gone to white candidates, though players of color made up 69.4% of the NFL this season, according to the Institute for Diversity and Ethics in Sport.
After the Jaguars hired Meyer and Baalke, who are both white, last month, Graves praised the organization for interviewing several minority candidates and for seeking input from the Fritz Pollard Alliance.
"I cannot argue that the process didn't meet the standard of fair, open and competitive," Graves told The Florida Times-Union.
The hiring of Doyle, however, raised issues beyond the NFL's commitment to diverse hiring.
Before Doyle left Iowa, Emmanuel Rugamba, a former Hawkeyes defensive back, gave multiple examples of the coach demeaning players with negative racial stereotypes. Rugamba said in a tweet that one day, after a Black player walked away from Doyle, the coach said, "Why you walking wit all that swagger I'll put you back on the streets."
James Daniels, a Chicago Bears offensive lineman and a former Hawkeye, tweeted over the summer: "There are too many racial disparities in the Iowa football program. Black players have been treated unfairly for far too long."
Doyle also presided over an offseason workout in 2011 that resulted in the hospitalization of 13 players.
Get Boston.com's browser alerts:
Enable breaking news notifications straight to your internet browser.