NFL
Tom Brady & Co. prep for Rams – a West Coast version of Bucs' title team
"It will be a very, very difficult game for us."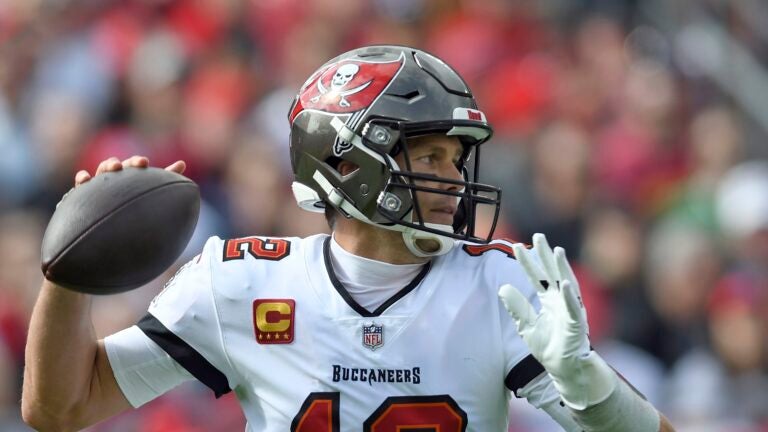 Tom Brady has been on TV a lot lately. His "Man in the Arena" documentary is rolling out, he's a promoter of cryptocurrency and selling foot-long subs, and of course he's the face of the country's most popular sport. This week, however, he told a Tampa Bay Buccaneers media relations official he wanted to ease back on camera time.
"I just want to do football," he said. "That's all I want to do to prepare and get ready."
Brady always cranks up the intensity in the playoffs, but he knows Sunday's matchup against the Los Angeles Rams brings a special challenge.
"It will be a very, very difficult game for us," he told reporters Thursday. The Rams are a team with layers of complexity on offense and defense – so many different approaches and attacks – that Brady spent a chunk of time rifling through them Thursday.
"Rush passer, cover you really well in the secondary, they make a lot of turnovers, sack the QB, strip sacks, they have a lot of dynamic players," he said. "Jalen Ramsey's one of the great corners in the league. Between the guys they have in the secondary as well as in the front, you have no plays that you can take off. They can turn you over. They can make big plays."
He knows exactly what his team is up against Sunday. The story of the Rams' season is oddly parallel to the Bucs' championship run last year: bring in a next-level passer and assorted name-brand stars to vault a team from also-ran into elite status. Although few would compare Los Angeles quarterback Matthew Stafford with Brady in terms of accolades, the go-for-broke mentality is certainly there – and so is the momentum that has been built over the course of the regular season.
Just like the Bucs brought in Antonio Brown and Rob Gronkowski to complement Mike Evans and Chris Godwin in 2020, the Rams got Von Miller and Odell Beckham Jr. to help Aaron Donald and Cooper Kupp this season. Tampa Bay's rushing addition of Leonard Fournette last year is matched by the Rams' acquisition of Sony Michel. And just like the Bucs thrived more on the running game as last season's playoffs drew near, the Rams have gradually balanced out their passing attack this season.
Tampa Bay Coach Bruce Arians said something about the Rams this week that an opposing coach easily could have said about his own team last year at this time:
"They've added some more pieces," he told reporters. "They're running the ball more. Defensively they're playing as good as anybody in the league right now."
Even the path is the same: Tampa Bay won road playoff games last year on its way to a Super Bowl in its home stadium, and that's where the Rams want to end up in a few weeks: back in Los Angeles.
The plot to this Bucs sequel has not been nearly as linear as the original. The team returned all 22 starters from last year's title team but has been unable to keep several of them on the field. Godwin is out for the season, and Brown was cut after ripping off his jersey and running off the field midgame. Fournette has been on injured reserve since December, linchpin linebacker Lavonte David has missed time, all-pro tackle Tristan Wirfs was in a walking boot this week, and Pro Bowl center Ryan Jensen sprained his ankle last week. A Bucs team that seized on an incomplete Kansas City Chiefs blocking group in the Super Bowl now must worry about its own front flank in these playoffs.
"I'd be worried if they were all healthy," Arians said. "If they're not healthy, I'm hellaciously worried."
Meanwhile, like the 2020 Bucs, the pieces have fallen into place for these Rams. Running back Cam Akers has almost miraculously returned from an Achilles' injury just in time to give the Arizona Cardinals fits last week. And the receiving corps – now with Beckham – has enough depth to prevent opposing teams from blanketing Kupp.
"You can't double him, that's for sure," Arians said. "They have too many other weapons."
And simply blitzing Stafford may not yield much. The Bucs like to send extra rushers, but Stafford has held up well against blitzing this year.
"Everything – everything in this game is going to come down to getting pressure," Bucs linebacker Shaq Barrett said.
If they can't? Then the Rams look even more like last year's Bucs. Stafford threw for 41 touchdowns – second only to Brady's 43. Few would dispute that the Rams are better than the team that beat the Bucs earlier this season in Los Angeles. More confident, too.
"They have a lot of superstars, a lot of great players. They always play really hard, bring a lot of energy," Evans said, "and talk trash."
The good news for Tampa Bay? While the offense tries to heal in time for Sunday, the defense has most of its original pieces in place. Brady is always the focal point of any game, but just as much will be happening when he's off-screen.
"We just have to make sure we contain all those players," safety Antoine Winfield Jr. said Wednesday. "That's what we're working on now."
That alone may determine how much we will see of Brady on TV beyond this weekend.
Sign up for Patriots updates🏈
Get breaking news and analysis delivered to your inbox during football season.