NFL
Q&A: Legal analyst Aron Solomon talks Brian Flores versus NFL
"It could create a fissure in the NFL that it may never recover from, and the NFL knows this."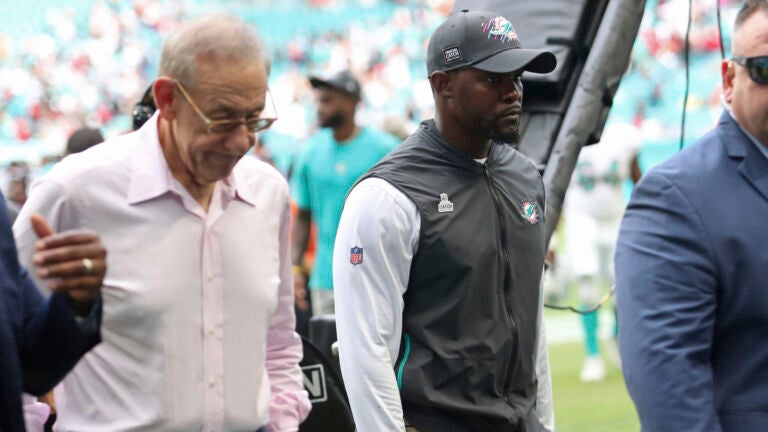 The shockwaves of Brian Flores bringing a racial discrimination lawsuit against the NFL and multiple teams are still reverberating throughout the sports world.
Even as the league and named teams in the lawsuit aim to refute the former Dolphins head coach's allegations, several NFL players, including Patriots safety Devin McCourty, have come out in support of Flores.
Meanwhile, fellow Black coaches like Hue Jackson and Marvin Lewis are speaking up about their experiences during their coaching days, raising alarms of a growing class-action lawsuit against the league.
Boston.com spoke with Aron Solomon, chief legal analyst for Esquire Digital, about the legal side of Flores's case and what it could mean for the NFL.
What was your reaction when you heard about this lawsuit?
The first thing that occurred to me, honestly, is that Brian Flores is stepping into the role of the extension of Colin Kaepernick. I say that as an invariably positive comment. I think he's amazing, and I think it's great that we now have logical legal extensions of the work that Kaepernick began in the league.
Brian Flores is a great guy. In my opinion, as a fan, he is a very good coach, certainly head-coaching material, and I would have placed his efforts with Tua Tagovailia, an average quarterback, and what he achieved during his last two seasons in Miami as very, very good results. So I think Brian Flores is a fantastic guy and he's going to be a fantastic plaintiff. He's highly credible. His lead lawyer (Douglas Wigdor) is regarded as one of the top 10 or 15 employment lawyers in the United States, so he's got a very, very heavy hitter on his side.
Brian Flores, in the court of public opinion and maybe eventually in front of a jury, comes off as a very humble person. I love one of the quotes that he gave yesterday: "God had gifted me with a special talent to coach the game of football, but the need for change is bigger than my personal goals."
I think that he realizes his NFL career is done. Brian Flores might not be able to get a job selling peanuts at the concession stand in any NFL stadium. His career for the NFL is as over as Kaepernick's was, but he's willing to take that gamble with his career and his future earnings and do the right thing. I think he's going to come off as a credible person.
Based on what we know of the timeline Flores laid out — which seems to show the Giants might have violated the "Rooney Rule" by deciding to hire Brian Daboll before interviewing two minority candidates — how much of a case does he have?
[The Giants] will have 100 percent violated both the spirit and the letter of the "Rooney Rule." But I say this with my legal hat on: so what?
The Rooney Rule has been a joke since it came into effect in 2003. It has no teeth. This is what I was writing in the piece before this came out with Brian Flores: a court needs to put teeth in the Rooney Rule and say, "Listen, we're not just telling you anymore that you have to have two black or other visible minority candidates for a head-coaching job. We're going to hit the franchises and the league where it hurts."
The only thing the National Football League understands is money. So let's talk to them about money. That's what this is going to be all about as well. Given the fact that Flores is never going to work in the NFL again, the amount of damages he and his lawyer are going to claim — put your seat belt on when you see it. This was a guy who was making $3 million a year in his first head coaching job. Had he continued to do well, he's probably somewhere between $7-10 million a year in expected income. Play that out over a certain number of years, plus punitive damages? He's not going into this thing asking for $600.
Aside from potentially getting a payout, can Flores do real legal damage to the NFL with this suit?
Oh, for sure. So, I think that he honestly is a genuine enough person that while he wants money for himself, as he should, he really does want and does believe in moving the league forward. The NFL particularly is a league that needs to be dragged forward rather than led forward or pushed forward a little bit.
So one of the things to me that doesn't matter in this case at all is the fact that he and also Hue Jackson, who used to be with the Browns, were offered money to lose games. That speaks against the NFL's own rules about competition, but does that have anything to do with the fact that the Rooney Rule and these interviews were sham? No. What it does for Brian Flores — we have to talk about the narrative that gets created around these black coaches.
Brian Flores, the rap on him was that he was a bad communicator, a bad team player. Brian this morning on CBS — and he also inferred in his documents — that he got that reputation because he wouldn't accept [Dolphins owner Stephen] Ross's money to throw games for higher draft picks. So that's how he got marked as a bad communicator because I guess a good communicator loses games for the billionaire owner.
Part of what's going to come out in this legal case and, trust me, the thing that the NFL fears the most about all of this is the legal process of discovery. Not only are these receipts going to be fair game, but [former Las Vegas Raiders coach] Jon Gruden's receipts are going to be fair game. All of this is going to be fair game. (Gruden stepped down as coach of the Raiders after several emails leaked of him using racist, homophobic and misogynistic language. Some of that correspondence implicated former Washington Commanders executive Bruce Allen.)
You mentioned the possibility of emails incriminating Washington coming out. How deep could this potentially go league-wide?
It could create a fissure in the NFL that it may never recover from, and the NFL knows this. Believe me, the NFL understands that paying out money for bad actions is the cost of doing business. The NFL would love nothing more than to make this go away with a settlement or wage. I don't think Brian Flores is going to be down for that. So his lawyers in the discovery process are basically going to try to get every single text message between anybody who was working with the NFL — there's going to be hundreds of thousands of millions of text messages. And then, of course, the NFL is going to argue, "These aren't relevant, these aren't relevant." Any text message that ever involves race over a number of years, Flores's lawyers are going to go after to prove the Rooney Rule has always been a joke, and white billionaires were always intent on hiring white coaches.
Somebody like [Kansas City offensive coordinator] Eric Bieniemy, [Tampa Bay offensive coordinator] Byron Leftwich, [former Chicago Bears head coach] Lovie Smith — you're telling me they're not better than even some of the guys that have gotten the four filled coaching vacancies in the off-season? The NFL is actually affirmative action to get lesser-qualified white coaches jobs over better qualified black coaching candidates. This is insane.
So what might materially change about the NFL's hiring practices as a result of this legal challenge?
What could change is the court saying something like: "Listen, this business is going to need to have 'X' percentage of new hires of head coaches be black or other visible minority. And then the year after that, it's going to have to go up 5 percent and then 5 percent until it gets closer to the representation of people that you employ in your business office. That's approximately 70 percent Black and minority players. We also know the NFL has an 80 percent white fan base, right? Don't think that these things aren't intertwined.
Then the court could say, for each percentage that you fall short of this sliding scale, there's going to be a penalty. I think the court has to mandate penalties for not following the Rooney Rule, and that is going to cause the league to say, "Hey guys, you actually have to go and hire black coaches. It's serious, the court's involved."
This is very closely tied to affirmative action, and the Supreme Court is going to look at the law of the land in the United States for affirmative action during its next term. So this is a much much bigger issue than this guy from Brownsville, New York got fired as a coach and is filing a lawsuit. This is about affirmative action in the United States. It's about access to the kinds of jobs in the NFL that Black coaches have been promised for a very, very long time.
This is going to be a very metrics-driven lawsuit. It's not going to be about, "He said, she said." It's going to be about a lot of numbers, and that's going to be very good for the plaintiff.
Sign up for Patriots updates🏈
Get breaking news and analysis delivered to your inbox during football season.